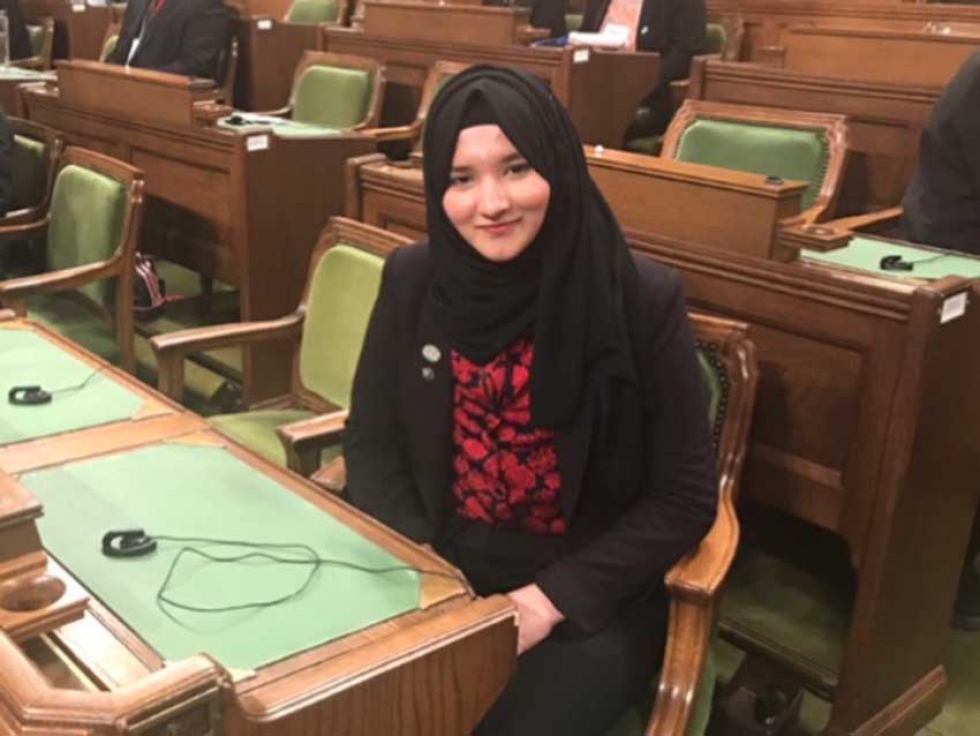 Imam Berry visits Parliament Hill with Forum for Young Canadians
Courtesy of Iman Berry
13
Jun


2018
Windsor High School Student is Crowdfunding for Trip to China with Global Vision
Written by Iman Berry
My name is Iman Berry. I was recently selected as one of thirty youth in a national competition with hundreds of Canada's top leaders to represent our great nation on an international trade mission in China. I will be participating in this mission through Global Vision a Non-Profit organization aimed at teaching Canadian youth skills they will need to succeed in the global economy. Delegates were selected for their ability to lead, communicate effectively, work in a team and most importantly their dedication to their community and country.
I am raising $6000 towards my trade mission. Global Vision funds the rest of the costs through national and regional partnerships.
I am currently in the eleventh grade, in high school. After high school, I would like to study topics such as political science, commerce or mathematics. After my undergraduate, I would like to attend law school and pursue a career in politics eventually. I have always been interested in politics and have recently had the opportunity to visit Ontario's Legislature as an MPP for Ontario Model Youth Parliament and then Parliament Hill in Ottawa with Forum for Young Canadians. These programs are for politically active youth who are looking to make a change in their communities. At both of these programs, I was able to meet with government officials including MP's, MPP's and Senators. I spoke to them about what I thought about issues facing our country. Not only was I able to experience two amazing cities but I was also able to make a difference by speaking to our decision makers.
I am of Pakistani descent and a proud Urdu speaker. I am a proud Canadian and Pakistani and am looking forward to representing our nation on a global scale.
When I attended Forum for Young Canadians a friend of mine, and I was speaking about our experiences. My friend had mentioned that they recently went on a mission with Global Vision to the Arctic and how this experience had changed their life. From these, I searched up Global Vision and saw that they were providing our youth with incredible opportunities to build their skills and gain international business experience. As I was perusing Global Vision's Website, I came across their global trade mission to China. The more I read about the mission, and the more intrigued I was. This was a once in a lifetime opportunity, an opportunity for me to gain experience in the field which I want to pursue. I applied for their mission to China, and I was accepted due to my eagerness and previous experience in the field of business and politics. I am very grateful for this opportunity and very excited to see what doors this opportunity will open up for me!
Working with the Embassy of Canada, the Canada-China Business Council and other in-market partners, Global Vision coordinates opportunities for JTC to engage Chinese industry, government, education and youth leaders to obtain market intelligence and key contacts for our Canadian partners. During the Mission, JTC will focus on commercial opportunities for Canadian enterprises in economic sectors with particular growth potential in the Chinese marketplace such as agriculture, biotech, clean-tech, education, engineering, information communications technology, manufacturing, mining, natural resources, and tourism.
Upon our return, JTC will produce market sector and tailored reports for our partners which will include a summary of the Mission, market intelligence gathered, opportunities identified and key contacts made. While I am there, I am hoping to fulfill all my mandates but also learn about the fields which I would like to pursue a career in.
Global Vision is a non-profit organization that provides various opportunities to students all over Canada. They hold roundtables and different conferences and events several times year. For example, Global Vision holds events in Ottawa, The Arctic, Peru, and several other places. The purpose of raising $6000 is to get our youth engaged in their respective communities so that when they return, they will be able to make a difference in their communities using the connections they made while fundraising. The mission is also about representing Canadian Economy abroad, and a big part of this is partnering with local businesses and promoting these local businesses overseas.
I am an active member of the Windsor Islamic Association and various other organizations in my community. On this mission, I will be learning several skills such as business etiquette, fundraising, forging connections and many more. These skills will be beneficial while organizing events in my community and taking on other endeavors. I will also be partnering with businesses in my community and promoting these businesses and organizations overseas. I will be promoting Canadian culture and economy abroad and bringing back fundamental research and contacts back to my partners.
I love to get involved in my community. If I am to go on this mission, I will be learning so many skills and be gaining valuable experience that will help me enhance my community involvement. This is a once in a lifetime opportunity. I am so thankful that I was selected for this opportunity and I cannot wait to make the best of this opportunity and use it to better our community.
To help support Iman Berry's Crowdfunding campaign, click here
This article was produced exclusively for Muslim Link and should not be copied without prior permission from the site. For permission, please write to info@muslimlink.ca.