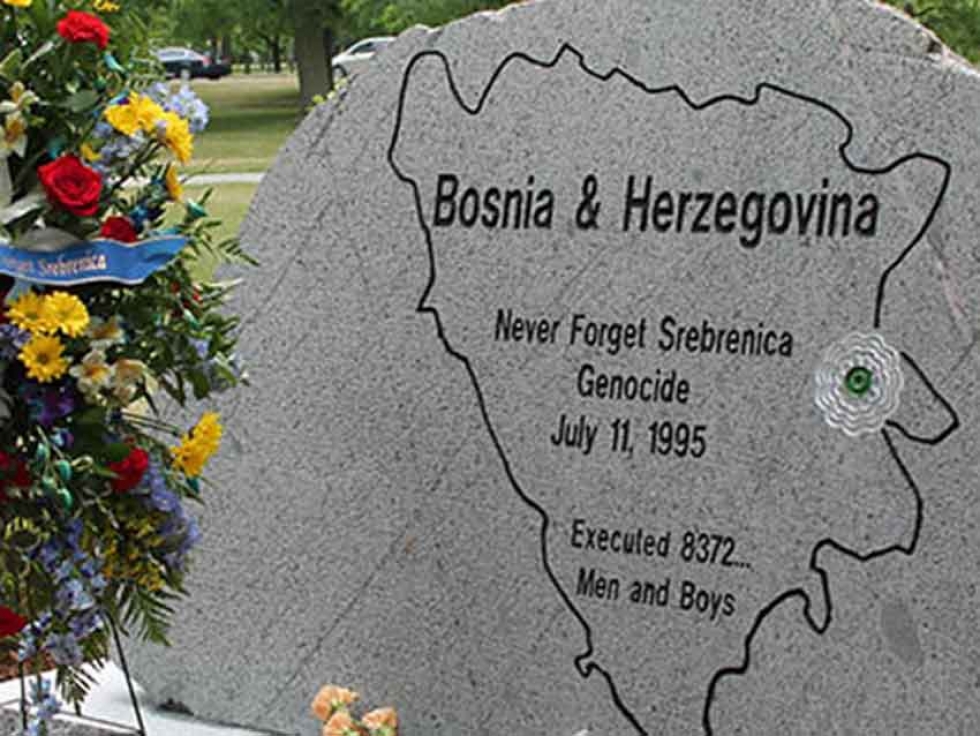 The monument to victims of the Srebrenica genocide in Windsor, Ontario.
30
Dec


2018
Why Bosnian Canadians Want to Make Srebrenica Genocide Denial Illegal in Canada
Written by Chelby Daigle
The deadline to collect signatures for the e-petition is January 10th, 2019. 
Muslim Link interviewed Bosnian Canadian Denis Suljic about why the success of this petition is important to many Bosnian Canadians. 
1. Tell us about yourself
My name is Denis Suljic and I was born in Bihac, Bosnia and Herzegovina. I emigrated to Canada in 2006 with my family. I earned a B.A (double major) degree in Political Science and Sociology from the University of Ottawa. Currently I am in the last year of my Master's program at the Norman Patterson School of International Affairs, Carleton University. Although my thesis focuses on violent extremism in Muslim communities in Canada I am interested in studying the history of Bosnian War and current political issues and events in the Balkans.
2. How did you get involved with the Institute for Research of Genocide Canada (IGC)?
Before I became involved with the IGC I followed the work of the organization through its Facebook page. Considering that I am of Bosnian heritage and highly interested in Bosnian history and politics, I was compelled to learn more about the work of the organization. I was intrigued to learn that the IGC is not only a scientific institution engaging in analysis and research of the Srebrenica genocide but it also studies crimes against peace, crime of genocide, and other grave violations of international law worldwide. Being a student of international affairs I naturally gravitate toward these topics, hence it was a matter of time before I became formally involved in the work of the IGC. Eventually, Suzana Vukic, one of the members of the Institute, recommended me as a potential member to Dr. Emir Ramic, the founder of the organization.
3. Why do you feel there is a need for Petition 1837? Have Canadians been denying that the Srebrenica genocide took place?
Genocide denial is the eight stage that always follows a genocide, as Gregory H. Stanton, the President of Genocide Watch has indicated. Among other methods, genocide perpetrators cover up the evidence of their crime by hiding the mass graves and burning the bodies of the victims. Moreover, victims are often blamed for the brutal and inhumane crimes. We have seen this occurrence, for instance, in Cambodia during the Khmer Rouge regime, Rwandan Genocide, but also in Srebrenica, Bosnia and Herzegovina. Failing to prevent genocide denial not only leaves space for deliberately crooked interpretations of historical facts, but it softens our understanding of the weight of this horrendous crime. The International Court of Justice (ICJ) and the International Criminal Tribunal for the former Yugoslavia (ICTY) both ruled that the Srebrenica massacre was genocide.
Through Petition-1837, Canadians, alongside eight other European countries, will stand on the side of justice. Srebrenica genocide has practically been denied from Serbia to Canada. Indeed, certain academic circles driven by the ultra-nationalist Serbian ideology in Canada have continued to deny the genocide. This behavior does not produce fertile soil for reconciliation between the Serbs and Bosnians. Bridges are built by bringing truths out into open. We cannot do that by denying crimes.
4. MP Brian Masse is supporting this petition. He has a long history of engagement with Bosnians in Canada. Could you share more about this?

Mr. Brian Masse has been a friend of Bosnia and Herzegovina, Bosnians in Canada, and all of those Canadians committed to peace, justice, and the promotion of inter-cultural dialogue. Mr. Masse previously launched a motion M-416 in 2010, establishing July 11 as Srebrenica Remembrance Day in Canada and has even traveled to Srebrenica to meet the surviving victims. He also contributed to the passing of motion M-587 in 2015 that included the Srebrenica genocide, and Srebrenica Remembrance Day as part of "Genocide Remembrance Condemnation and Awareness Month" every April.
5. Why is the success of this petition important for you? Do you feel that the denial of the Srebrenica genocide by some Canadians has a negative impact on you, and other Canadians of Bosnian descent?
The success of this petition is important for me and those who share the same grievances because it is the least we can do to honor the victims that were brutally murdered simply because of their religious affiliation. In recent years the idea of free-speech has become a hot topic. While undoubtedly we ought to be able to express our views and opinions on different topics, there ought to be limits that preserve human dignity and minimize the potential for future crimes that could occur as a result of the absolute free speech. The success of this petition will give peace of mind to all those Bosnians that were displaced as a result of war, and have suffered material and human loses. It will undoubtedly reinstate our beliefs that Canada has a history of being on the side of the good.
6. What has been the response to the petition so far, both positive and negative, from Bosnian Canadians, Muslim Canadians, and other communities?
The response has been positive. We have collected over 1500 signatures up to date and we are hoping to collect 500 more before January 10th, as our initial objective was to collect minimum of 2000 signatures. The Canadian Muslim community has been supportive. Bosnian Canadians and local Arab communities have come together to sign and share the petition. Both Muslims and non-Muslims understand the importance of this cause.
7. Have you participated in efforts to bring together Bosnian and Serbian Canadians, particularly youth? Do you think such initiatives could be helpful for both communities now that they are all living together as Canadians?
I don't know of any formal efforts seeking to bring Bosnian and Serbian Canadian youth together. However, informally the relationships often function well. Most people from former Yugoslavia have found commonalities that form the basis of their friendships. These include things like our common language and similar cultures, the love for football, Balkan popular culture and so on. I personally grew up with Bosnian Serbs in a Canadian high school. I was the only Muslim from former Yugoslavia. However, they have always respected my political and religious affiliations and I have respected theirs.
Generally, the topics as such as the Srebrenica genocide and the Bosnian War in general are taboo. I believe by increasing our education and teaching the future generations to accept historical facts, we will bring truths out into open and our relationships will be healthier and function better. This education mainly starts from the parents who need to teach their children that their ancestors made mistakes that they can never repeat.
8. Is there anything else you would like to add?
I would like to thank the Muslim Link for sharing the Petition-1837 details. The IGC is extremely thankful to all of those that supported this noble initiative.
Learn more about the Petition 1837 and how to sign it, click here.
This article was produced exclusively for Muslim Link and should not be copied without prior permission from the site. For permission, please write to info@muslimlink.ca.