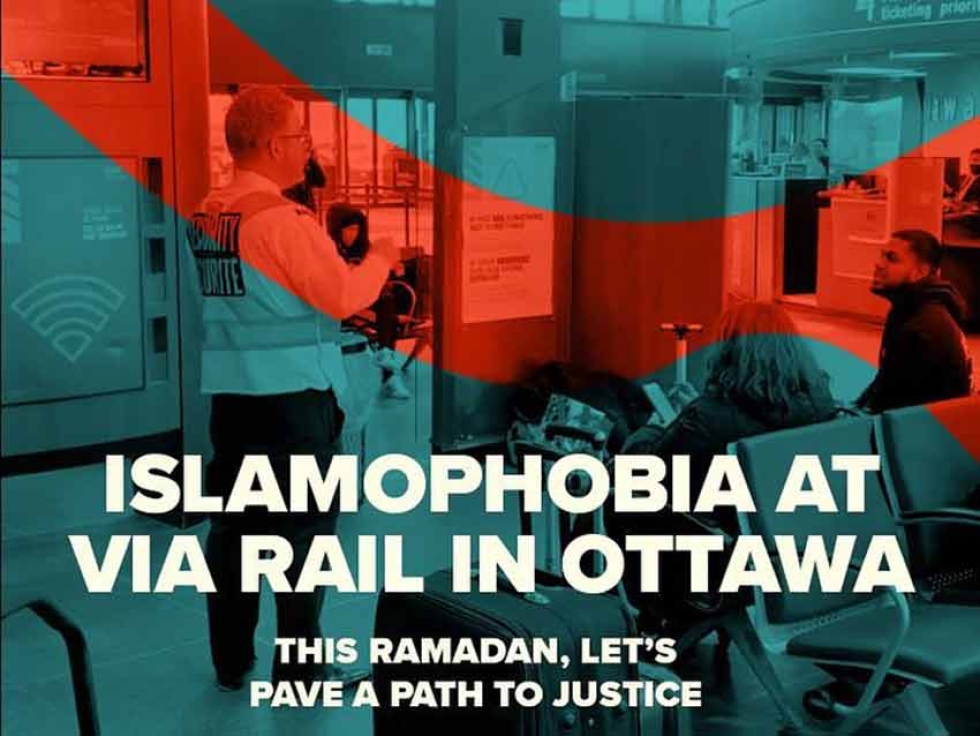 24
Mar


2023
Asalamu alaikum / Peace be upon you all, 
We are so blessed to be back here again, back in the blessed month where we began.
This is a month when we surrender by putting aside worldly things to cleanse our inner selves, and by humbling ourselves every night in prayer. It is a blessing to live each Ramadan, but every day also comes with challenges—individually and collectively. We can only overcome them by bowing toward God.
As we begin our devotions this month, I need to share with you a story about that choice to bow in front of our Lord. It is the choice of a young man who chose to bow in prayer. It is a story about how we worked with him to overcome challenges.
I'm sure you have seen the story about Ahmed, a young man in Ottawa who was praying in a quiet hallway in the city's VIA Rail station. Ahmed was then accosted by a guard associated with VIA Rail who berated him for praying and even threatened to call his employer.
It appeared to be a blatant act of Islamophobia and exclusion. We were called into intervene—to stand with Ahmed as he stood up for his rights.
Our Legal Team immediately got in touch to help Ahmed navigate the situation. No incident like this happens in a vacuum. We needed to address the incident, and the underlying issues.
We helped Ahmed get his story out in full.
We got in touch with VIA Rail and the Minister of Transport to let them know that we, as a community, will not stand for such xenophobia. Not now, not ever. Not anywhere.
Finally, after tireless work by our Legal Team, we are happy to say that VIA Rail has 
committed to wholesale change
 by working with NCCM for a fulsome process to combat Islamophobia. Such incidents don't happen in a vacuum. They indicate that deeper, more systemic change is necessary. We made sure that all parties understood this.
But this is not the end. In reality, this incident is just one of over 150 that our Legal Department has taken in for the past year. Our team is staffed by only two full-time lawyers who work day and night to address the dozens of similar cases every week. Our services are seriously oversubscribed.
These everyday issues are also just a fraction of what our Legal Team does. The same staff members fight systemic Islamophobia inside institutions like our security agencies and the police. They listen to and address issues at the border, involving Canada's border agency. They work to strike down Islamophobic laws, like Bill 21 in Quebec. This is way beyond a normal case load.
But it is only by engaging and challenging the legal system that we can make it better and more alert to systemic Islamophobia and hate. This is a colossal task.
We need your help. We need to grow our Legal Team so that we have the capacity to handle issues that arise across Canada. We need to launch campaigns that take the individual files we receive and mobilize them toward systemic change.
This will take around $300,000 to accomplish.
With your support, and with the Mercy of Allah, we will pave a road to justice.
Anger won't change the past.
We must become more.
We have to build the power to endure. 
And the strength to fight. 
This Ramadan, let us build together. I ask you 
donate today
, we cannot do this without your support.  
Wasalam, 
Stephen Brown 
Chief Executive Officer, NCCM
NCCM is Zakat-eligible according to the Canadian Council of Imams (CCI) and various Islamic scholars, under the category of "fi-sabillilah".