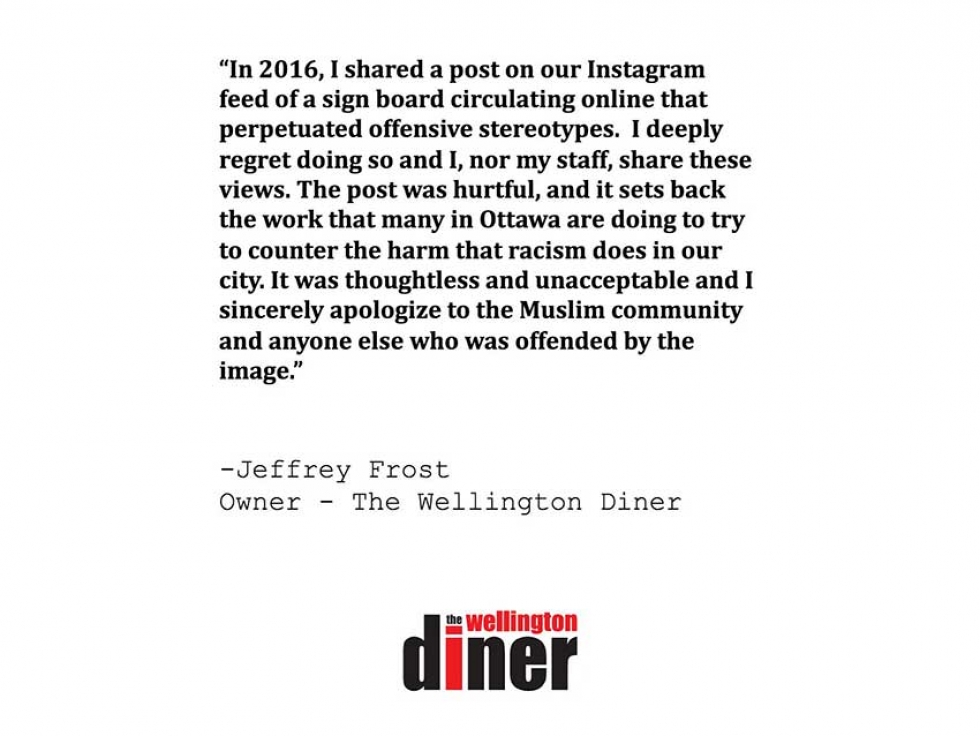 The owner of the Wellington Diner has issued an apology about the Islamophobic 2016 Instagram Post.
30
August


2018
The Wellington Diner Issues Apology for Islamophobic Post, But Concerns Remain
Written by Chelby Daigle
The owner of the Wellington Diner in Ottawa has apologized for posting an Islamophobic photo on the Diner's Instagram in 2016. 
This apology came after the photo was discovered and led to backlash and calls for a boycott of the restaurant over the past week on social media.

The Wellington Diner is located in Kitchissipi Ward. The local city councillor Jeff Leiper reached out to the owner as did Mayor Jim Watson.

This likely because so many residents were messaging them but also because Leiper in particular has been active during his time in office on the issue of trying to address concerns around racism, Islamophobia and other issues of inclusion in such a diverse municipal ward.
The National Council of Canadian Muslims (NCCM) has officially accepted the apology.
However, concerns remain and with students returning to Ottawa universities next week, it is not unlikely that further engagement on this issue may take place emerging from campus communities.
Although people may feel that the fact that this photo was posted in 2016 should somehow reduce the negative impact of the post or the problematic intentions behind posting it, what it actually reveals is a bigger problem.
Because 2016 was a major year for discussions about hate and inclusion in Kitchissippi Ward.
Why?
First, you had the death of Abdirahman Abdi, a Somali Canadian who was beaten by police in front of his home in the Ward after being involved in an altercation at a Bridgehead also located in the Ward. There were also calls to boycott that Bridgehead at the time because of concerns over racism and ableism in how the situation was handled.
Later that same year, the Ottawa Muslim Association, the mosque located in Kitchissippi Ward, was vandalised. The Parkdale United Church, also in Kitchissipi Ward, was also vandalized with anti-Black racist hate speech because the Reverend of that church is Black.
So was the Wellington Diner just completely oblivious to all of this happening in its own neighbourhood in 2016?
To have shared such a post during a year when discussions around hate and inclusion were on a lot of people's radar in Kitchissipi Ward, or to have not thought about deleting it over the last two years as those discussions emerged and continued, raises concerns about the role of business owners in communites impacted by hatred and violence.
Clearly, educating local businesses is a role we hope city councilors will continue to do, and after this incident, clearly they need to do it better and more thoroughly.
This is all the more reason for us to make an effort to vote in our local municipal elections this fall and to quiz the candidates on their attitudes around diversity and inclusion and what work they plan to do to make sure local businesses also do their part to make our city a more welcoming place.
But whether that happens or not, clearly an important take away of this situation is the role of constructive community engagement in holding institutions accountable for their actions. People did not just tweet out their outrage into the void of cyberspace, they connected with municipal government and local media. Those outraged also were not just members of the Muslim community but also many non-Muslims from various communities, including, and importantly, actual patrons of the Wellington Diner.
This article was produced exclusively for Muslim Link and should not be copied without prior permission from the site. For permission, please write to info@muslimlink.ca.