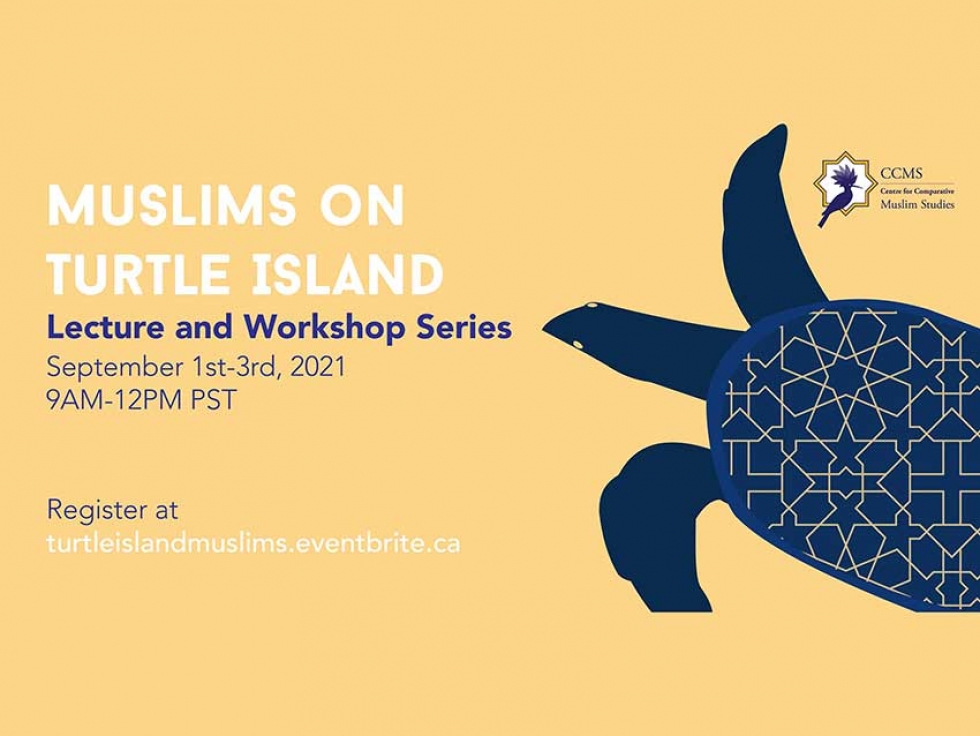 30
Aug


2021
Watch the Centre for Muslim Studies Muslims on Turtle Island Online Series Exploring Indigenous-Muslim Relations September 1 to 3
Written by SFU Centre for Muslim Studies
Muslims on Turtle Island is a 3 day series of public talks, panels and workshops that focus on Muslims as settlers on Turtle Island/North America.
This will be a space of learning, relationship building and discussion for students, academics, artists and activists to think about what it means to be Muslim on this land, the ethical and moral implications of being settlers/migrants, as well as some of the complexities that arise from Muslim lands being colonized.
All events will happen online through Zoom.
Dates: 1-3 Sept 2021
Time: 9:00-12:00 PST (Vancouver, BC Time), daily
Register online here
Program:
Sept 1, 9 am - Setting the Table
How can we set the table for a rich, meaningful and application focussed Indigenous & Muslim collaboration? What steps can Muslim organizations and community members take to move forward with reconciliation? What are the cognitive frames we need to open? Join us as we discuss the development and next steps for Edmonton-based organization Islamic Family and Social Services Association (IFSSA)'s Indigenous Collaboration Framework. A draft of the framework can be found at share.islamicfamily.ca/indigenous Presented by Elder Sempulyan Gonzales, Seemi Ghazi, Omar Yaqub
Sept 1, 10 am - Muslims in Turtle Island and Abya Yala: Understanding the Intersections of White Supremacy, Islamophobia and Anti-(Afro)Indigeneity
This participatory presentation will focus on understanding the relationship between Muslims in Turtle Island/Abya Yala, their experiences of oppression (including Islamophobia) and their role in perpetuating Anti-(Afro) Indigeneity in these lands. Participants will be encouraged to reflect on their own experiences with the settler state and allyship with Indigenous and Afro-Indigenous peoples. Presented by Eren Cervantes-Altamirano
Sept 1, 11 am - Poetry
Poet Efemeral and Timiro Mohammed
Sept 1, 12 pm - Being Human
Often times discussions of allyship, colonialism, solidarity and sovereignty are difficult to imagine in the real, everyday world where capitalism, patriarchal power relations and Indigenous genocide continue to operate. This session is a story in motion and still unfolding and welcomes a more personal consideration of Indigenous sovereignty and jurisdiction and the importance of being human. Presented by Anuskha
Sept 2, 9 am - Photography: Halal activism on Turtle Island?
Join Fatima Jaffer for a short presentation and discussion where she'll share photos, histories and stories from her life as a photo-journalist and activist. Learn about the tensions and lessons that come from being a queer Muslim woman who has been engaged in Indigenous solidarity work for the last 30+ years. Learn how she has navigated community pressures, built strong, trusting relations and strived to respectfully photograph everything from ceremony to protest as one of her contributions towards making change.
Sept 2, 10 am - Searching for Home: Indigeneity, Displacement, and Colonization
A conversation between a Palestinian and a Rohingya advocates on what indigeneity, displacement, and colonization mean to them. Drawing on their lived experiences of displacement, migration, and statelessness, Nada and Yasmin will reflect on what it means for them to build a home on stolen lands of the Coast Salish peoples. Presented by Nada Elmasry, Yasmin Ullah
Sept 2, 11 am - Problematizing the claim to being a 'settler colonist'
In this session, Nandita Sharma discusses the problematic assumption underpinning claims by people of colour in Canada to being "settler colonists." She argues that such claims are part of broader anti-immigrant politics that conflate human migration with practices of colonial domination. She clarifies the distinction between "immigrants" and "colonizers" and in so doing, challenges the view that Indigenous national sovereignty will lead to a decolonized society.
Sept 3, 9 am - Holding Faith on Stolen Land: Lessons, Learnings from the United Church and a Path Forward
In this session, experienced facilitator, Chris Corrigan will share stories and learnings from the past few decades working with the United Church community to be in better relations with the Indigenous people of Coast Salish lands. Following his brief presentation he will welcome and guide a dialogue that might reveal how the Muslim community could approach its presence here and a way forward. 
Sept 3, 10 am - Islamic Texts and Indigenous Rights: Rereading the Canon
This panel explores the ways in which foundational Islamic texts - namely, the Qur'an and hadith - can be engaged in the light of settler colonialism on Turtle Island and Muslim solidarity with indigenous struggles. The Conquest of Canaan is the prime textual obstacle in the Bible when it comes to supporting native rights amongst anti-colonial Christian theologians, and Shadaab Rahemtulla will enter this debate as a Muslim liberation theologian, offering a Qur'anic (re)reading of Canaan. As the Prophet Muhammad (peace be upon him) is known as The Walking Qur'an, it is important to look at how he (pbuh) lived and taught the early and growing Muslim community to embody an ethical life. Hazel Gómez - a student of sacred knowledge and community organizer - will delve into Prophetic sayings uplifting land justice.
Hazel Gomez, Shadaab Rahemtulla
Sept 3, 11 am - Reflecting on Muslims on Turtle Island Series
Maysa Haque, Azwa Alam, Abida Alam, Nafisa Naik Mohammad


Sept 3, 12 pm - Aboriginal Women's Council of Saskatchewan
*Program subject to changes. This is a drop-in event with each session being a stand-alone event. Participants are welcome to attend one or more sessions with a single registration