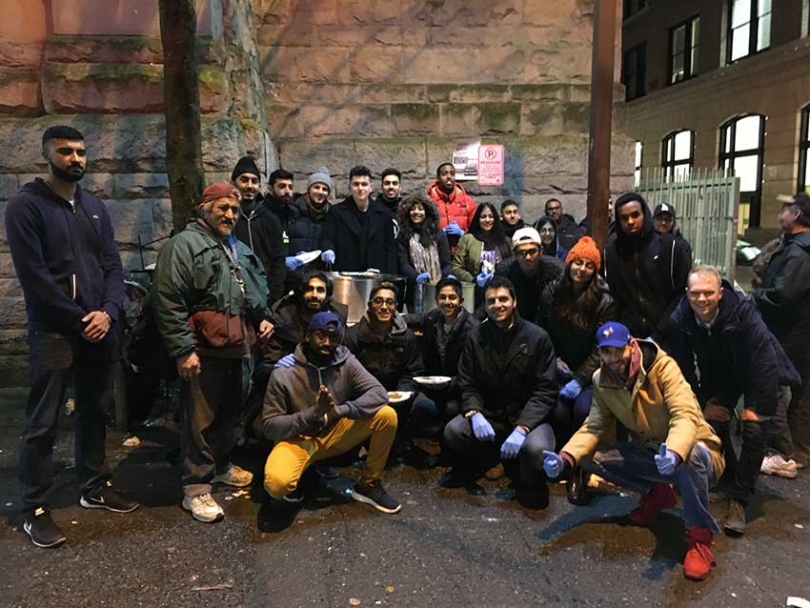 The team that helped turn a Vancouver mosque into a temporary homeless shelter
Courtesy of Abubakar Khan
20
Jan


2017
How Youth Turned a Mosque into a Homeless Shelter and Showed Us What Community Looks Like
Written by Chelby Daigle
Al Jamia Masjid made headlines in late December, when it became a temporary overnight shelter for Vancouver's homeless during a cold spell that cost people their lives.
Muslim Link reached out to 22 year old Pakistani Canadian Abubakar Khan, who spearheaded the initiative, to learn more about how he and his multi-faith group of friends made such a great act of community service possible.
1. How did you learn that homeless people were dying because of the cold in Vancouver?
It was hard not to hear about the deaths occurring in Vancouver. The drug crisis was plastered all over the news, the Downtown Eastside would come up in almost all conversations. People were not dying due to the drugs or the cold, they were dying due to being dehumanized. We realized that giving a person food is the first most basic step, but that does not truly aid in the underlying problem. You will satisfy their hunger for a few hours, but their situation will still stay the same. Sheltering them, providing them with good conversation and acceptance, that's what they needed most of all. It just so happened that at the same time we decided to open up the mosque the coldest weather in the past 30 years was occurring.
2. Why did you decide that you would personally try to do something about it? What role did your faith as a Muslim play in why you felt it was important to do something about this crisis?
I had gone to a big interfaith meeting at the city council prior to opening the mosque. I had heard the firsthand account from the morgue's office about the "bodies piling up". I listened to all the old religious leaders talk about what they were doing, but I did not see what they were doing collectively. This made me want to dig deeper into the issue. I began to read many books on mental health, and was reading books on Islam as well. Islam teaches us that we are supposed to serve the creator, and serve his creation. For me this meant anyone in need regardless of their faith, ethnicity, or predicament. Islamically the word "Ummah" is meant for everyone not just Muslims as people believe. During the Prophet's (pbuh) time, he conducted business with everyone. This realization aided me in getting everyone together. Once I began talking to my friends that were a part of other faith groups, we all realized our religions are much more similar than different, as is the societal belief. This principle is taught in each of our religions. This made us come together as human beings more so than anything.
3. How did you and your friends go about getting the mosque to agree to take in homeless people? How did the city support your efforts?
I gave my uncle Haroon Khan, a call. He is the president of the organization that helps run the mosque. He gave me permission, as long as I stayed there the duration it was open with my friends. We were able to bypass the politics that is usually and unfortunately associated with masjids (mosques).
The city of Vancouver also did an incredible job to help us. A woman named Jodi Sturge that works for the city call line made sure the mosque became a first responders' area. She also let all the shelters know we were open, so that they could send anyone that they couldn't accommodate to us.
We utilized social media, and our poster went viral. Through our poster, people from all over the city would come and donate their time, energy and money to the cause. We had a non-profit called Blanket BC give us 500 blankets, we had people from synagogues and churches come by and support us. A young Jewish man named Gabe Garfinkle, that's running for a political position, aided us in getting some things that were very much in need. It was instrumental that the inhabitants of the city came together, because without their support this never would have come to be.
4. You worked with a team of friends from different faith communities including many young Sikh community members. How did the Sikh community in particular contribute to this initiative?
They were truly instrumental. People forget that Sikhs, Muslims and Hindus lived in harmony for many years in history. The youth from the Sikh community got Langar (food made as part of the Sikh tradition of community service) from the Gurdwara (Sikh religious centre) on multiple occasions, for us to distribute to the homeless downtown in front of a church. They also provided food for us to feed the people staying at the shelter. They stayed at the mosque every night alongside the Christian, Muslim, Jewish, Hindu and Atheist youth. We are all human beings I cannot echo this sentiment enough. Every member of this group agreed. The amount of love and compassion that they embody alongside the rest of the youth truly made this experience beautiful.
5. How did you get members of the mosque to accept that people would be sleeping there overnight?
There were some slight conflicts that would arise, because this had not occurred before. That was to be expected. Once I had a conversation with certain members of the mosque and reminded them the mosque is not theirs or mine, it is Allah's, and that the Prophet (pbuh) was selfless, it made it easier to get acceptance. There are many hadiths about the Prophet (pbuh) that go hand in hand with the caring of homeless people. We let people sleep at the mosque during Ramadan yet the 11 other months we lock the doors. This is something that never sat well with me. The mosque should be open for everyone 24/7. Once I talked to them and assured them that we had taken every step to guarantee that the mosque would be well taken care of, they accepted it and some even volunteered to help out.
6. Tell us about the people who came to sleep at the mosque. What key lessons did you and your team learn from them?
They were nothing like what the media paints them out to be. They were truly incredible people. They were people that suffered from childhood trauma, people that just had some bad luck and had become homeless. Just normal people. We spent hours sitting and chatting with each person. Here are some stories about just a few of them.
We had a resident whose name is Louis. He was a scientist that worked in Alberta. He had lost his job and thus he became homeless over time. He was an incredible person. He opened up to us and said he suffered from trauma due to being sexually abused as a child. This changed the narrative for many of us. We were raised to believe that homeless people were all addicted to drugs which they did for no good reason. Louis showcased to us that was not the case. He stayed at the mosque for three nights, and every night we could see how he was getting better. He just needed some company. He sent us a message on Facebook after the shelter closed. It read " You saved my life. Would be dead or in hospital without the mosque. Allahu Akbar" This truly showcased to us what we were doing was the right thing.
A man named Daye stayed at the shelter for two nights as well. He was a good looking man that truly had us baffled when he said he needed shelter. It was only on the third night when he came to thank us for sheltering him that we learned about his story. He had two degrees, he had a great job before, but life just hit him back to back. Before he knew it he couldn't make rent and then one day he became homeless. Three of my friends aided him in creating a resume, and they helped him get a job the week after our initiative began!
There are countless stories about the people that came to the mosque. Each one of them was truly an incredible person. We came to realize that we could easily be in their position. This brought us to the realization that we have to be thankful every moment of the day. We take everything for granted. These beautiful people helped broaden our horizons. They helped us much more than we helped them in the end.
7. What does your team hope to do to continue to address the homeless crisis in Vancouver?
We had one major goal that we hoped to achieve during this initiative in regards to the homeless crisis. It was to showcase that when we come together as a community we can solve the homeless crisis in many ways. If every religious institution opens up when the weather is horrid we will have nobody that is lacking a roof over their head. It has to be us doing it collectively. Religious institutions are supposed to be social service centres, not places to come and just pray. If all the religious institutions can work together and begin to share services, we can aid the community. We can help the homeless people get counselling. By giving them shelter and acceptance rather than looking down on them, we can help them on the road to recovery.
8. Is there anything else your team would like to share?
We are human beings first and foremost. Every person that aided in the mosque had that commonality. We are tired of focusing on our skin color, or our different sets of beliefs. We wanted to showcase that coming together out of love, we can do some truly incredible things.
That was our goal and we believe we achieved that with our first initiative! We look forward to bringing many other people together in the near future!
Abubakar Khan would like to thank the following key team members, all under the age of 25, who he credits for making this initiative possible:
Sukhman Bajwa, Jeriah Newman, Kelso Curtis, Satnam Brar, Jas Randhawa, Haytham Alhamaydeh, Suk Hayer, Bhavraj Saran, Jessy Rai, Talha Masood, Kojo Obilie, and Erin Sandhu
To connect with the organizers of this initiative visit their Facebook Page Vancouver Helping Hands Foundation.
This article was produced exclusively for Muslim Link and should not be copied without prior permission from the site. For permission, please write to info@muslimlink.ca.