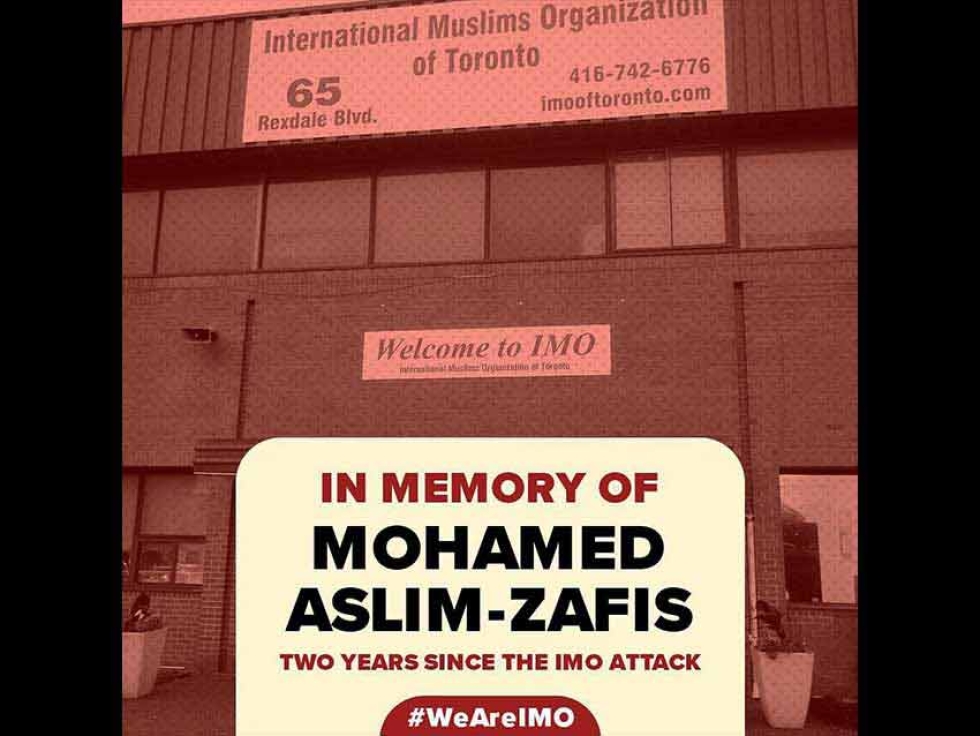 12
Sep


2022
Toronto - September 12, 2022
The National Council of Canadian Muslims (NCCM) commemorates two years since the devastating murder that took the earthly life of Mohamed-Aslim Zafis, a beloved and dedicated volunteer caretaker at Toronto's International Muslim Organization (IMO) mosque.

Mohamed-Aslim Zafis had spent the summer of 2020 on the front lines of the Covid-19 community response, handing out food to the needy. The primary suspect in his murder appeared to have ties to the neo-Nazi and Islamophobic white supremacist group O9A.
In the aftermath of the attack, NCCM, alongside allies, successfully worked to dismantle white supremacist groups leading to the listing of several groups (like the Proud Boys and the Base) as terrorist entities.

"Our community has not forgotten, and neither have the loved ones of brother Zafis," said Steven Zhou, NCCM's writer and researcher who has a background in investigating white supremacist actors. "In a lot of ways we are still shocked, but the incident has further affirmed the fact that our community is in the crosshairs of hateful actors. While we saw some steps from government to dismantle organized white supremacist groups, we have only scratched the surface of the problem. It's a danger and threat we cannot afford to ignore."

Canada is now the leader among G-7 countries when it comes to Islamophobia related fatalities from 2017-2022. Mohamed-Aslim Zafis' passing is a stark reminder of this truly horrific fact. NCCM will continue to hold our leaders accountable when it comes to truly combatting hate in all spaces throughout Canada.

Mohamed-Aslim Zafis' example was one of giving back and consistent service. He was a pillar of the IMO community and his memory is cherished. His legacy, faith, and love for others easily outweighs the cowardly hate of one person. He is sorely missed.

The NCCM is an independent, non-partisan and non-profit organization that is a leading voice for civic engagement and the promotion of human rights.