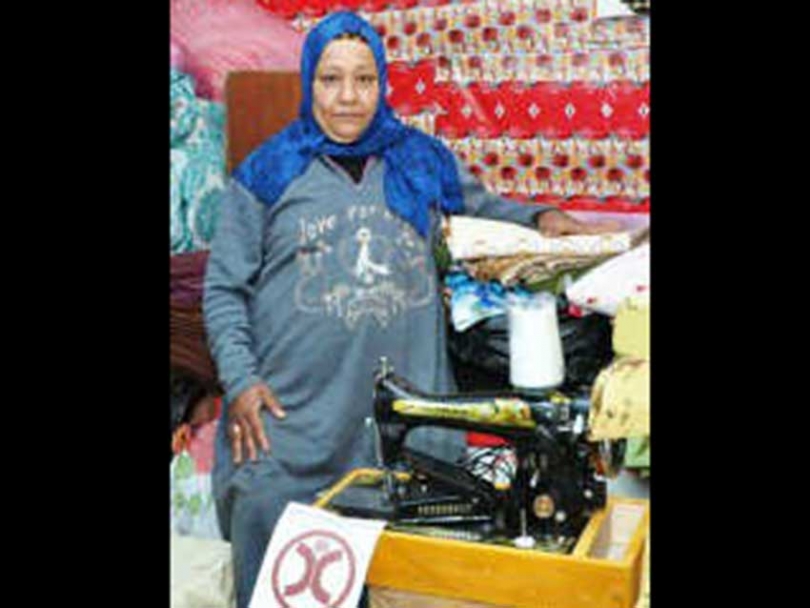 Nagah, 65, a beneficiary of Human Concern International's micro-financing programmes in Egypt. She and her daughter (who is in the final year of high school) previously lived on handouts from the local mosque. Today Nagah is the owner of a sewing business.
Photo Credit: http://hcime.org/wordpress
18
Aug


2012
University students and recent graduates of Egyptian heritage successfully teamed up with local community organizations and individuals last month to raise over sixty thousand dollars for micro financing and education projects in Egypt.
Heba Eid, one of the July 28 fundraising dinner's energetic organizers, wrote in an email interview that the team of young people was originally just hoping to be able to raise forty thousand dollars to kick start an ambitious program that would help finance 25 projects in a Cairo slum.
So the youth were thrilled with the total sum raised (and which is continuously growing through online donations).
"That is something the organizers and volunteers did not think feasible," said Ms. Eid of the additional twenty-three thousand dollars. ". . . Just because we have no history of this happening [in Ottawa]."
While Canadian Egyptians living in Ottawa have raised money to support poor communities and families back home in the past, the fundraising dinner was likely the highest-earning charity event for that country to ever take place here.
Ms. Eid said young Canadian Egyptians, both Muslim and Copt, wanted to do something to help Egypt get back on its feet after the startling revolution and current shaky steps towards democratic and economic freedom.
"We felt that it's up to us to change the future of Egypt, by trying to better the lives of those who live below the poverty line," wrote Ms. Eid. "We felt that Egyptians were talking more rather than actively doing something to change Egypt. [We wanted to] change the attitude that "˜I can't change the world/Egypt', when in fact we can ALL do something, albeit a small change. We wanted to get the community together, which we did."
The dinner and silent auction was well-attended by members of the Egyptian and Muslim communities, many of whom had also donated items to sell.  Representatives from Human Concern International -- who co-organised the event, and will be sending the funds to their partner in Egypt, the Gozour foundation -- were on hand, along with the imams of Ottawa's Main Mosque and the South Nepean Muslim Community, as well as representatives from the Egyptian embassy and the Muslim Association of Canada (MAC).
The dinner also included poetry reading by Mostafa AbdelRazik and several speeches by representatives of the supporting organizations.
Members of Carleton University's Egyptian Student Association as well as other organizers hope to create an official group to continue to hold similar events to raise awareness around the ongoing needs in Egypt and send even more funds to help.
"This is a work in progress," said Ms. Eid.
To donate, visit Human Concern International's website where you will find detailed information on the projects in Egypt and elsewhere.  
This article was produced exclusively for Muslim Link and should not be copied without prior permission from the site. For permission, please write to info@muslimlink.ca.