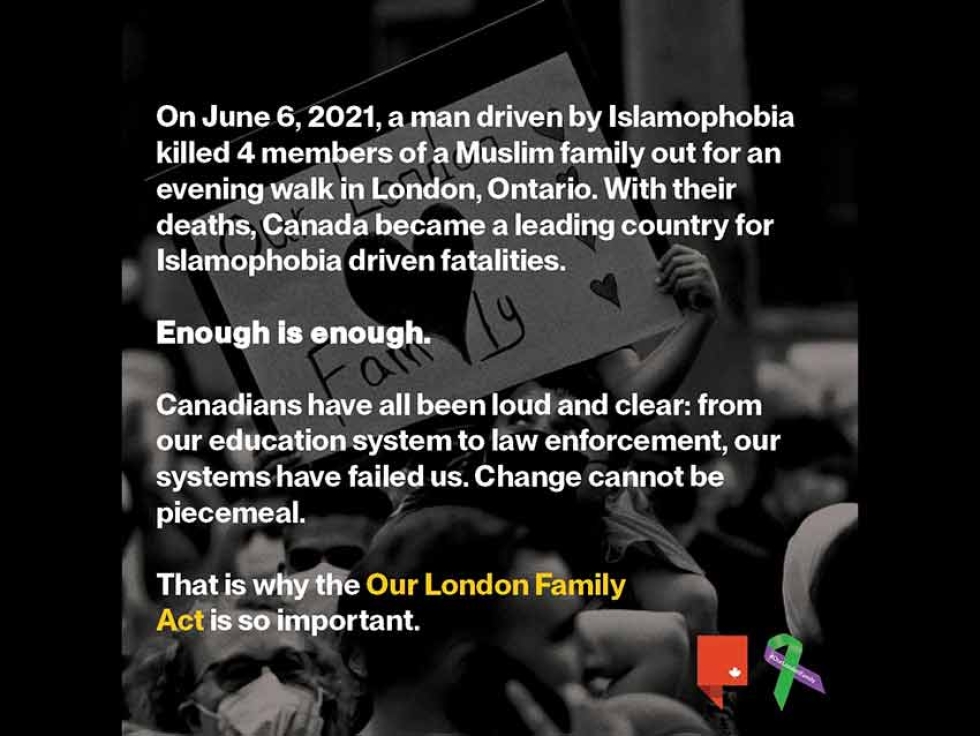 23
Feb


2022
After the London attack, we promised that we would fight not for words and condolences, but for action.
[On February 23], we take a step closer to ending all forms of violent and systemic forms Islamophobia in Ontario.
You told us that we needed education reform - so that young men and women grow up learning more about the Canadian Muslim community and challenging Islamophobia.
You told us that we needed a system change in dealing with hate crimes.
You told us that we need to develop changes to human rights legislation.
You told us that we need to confront white supremacist groups and degrade their ability to mobilize outside our mosques.
You told us that we need to work across party lines to pass change.
That's what the Our London Family Act does.
[On February 23], the Ontario NDP put forward the Our London Family Act, crafted by NCCM, explicitly endorsed by the Ontario Liberals and Ontario Green Party (and supported in principle by the Ford government) into Queen's Park, where it passed first reading.
Between the Quebec City mosque shooting on January 29th, 2017, the murder of Toronto mosque care taker Mohammed Aslim-Zafis on September 19th, 2020, and the mass murder of three generations of a family last June in London, Canada has become the leading G7 country when it comes to fatalities resulting from Islamophobic attacks.
The Act will, among other things, ensure a provincial review of hate crimes and hate-motivated incidents in Ontario; provide anti-racism and anti-Islamophobia strategies for schools; establish safe zones around religious institutions; prevent white supremacist groups from registering as societies and gathering to intimidate; and establish an Ontario Anti-Racism Advisory and Advocacy Council to make sure that racialized communities have a say on government policies.
Help us pass the Act today by: