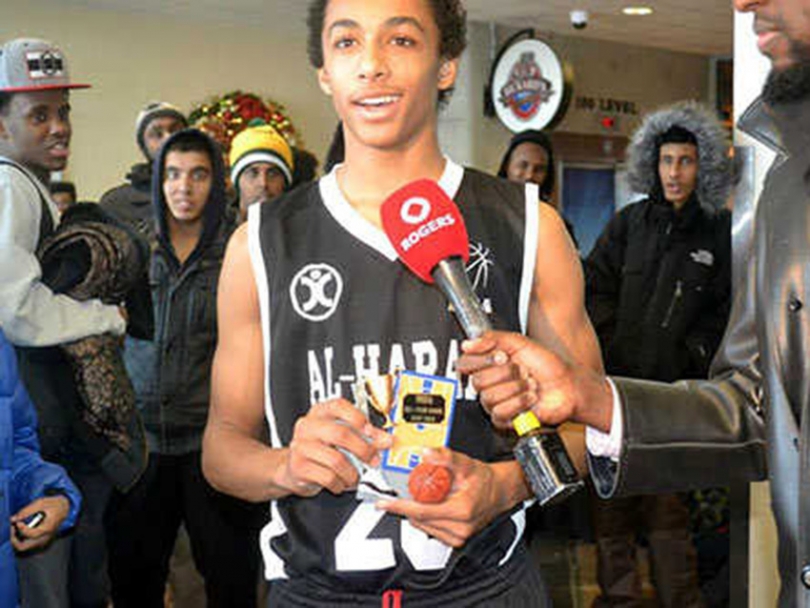 Ali Sow, the MBA Senior League's youngest player, receives the 2013 All-Star MVP Award.
12
Jan


2014
The Muslim Basketball Association plays at the Canadian Tire Centre
Written by Abdirashid Jama
The Muslim Basketball Association of Ottawa (MBA-Ottawa) ended its season with a sold-out All-Star game at the Canadian Tire Centre with Team Arafat facing off against Team Baqi.  As an added bonus, those who attended the MBA-Ottawa game were also able to attend an Ottawa SkyHawks game. During the SkyHawks game, the MBA-Ottawa's Most Valuable Player (MVP), Ali Sow,  was congratulated during half-time in front of a crowd numbering over 2,000. The MBA All-Star game was also recorded by Rogers TV to be broadcast sometime in January.
MBA-Ottawa was able to play their final game at the Canadian Tire Centre through its partnership with another Muslim sports organization, ThinkFit. This partnership gave MBA-Ottawa the opportunity to speak with Ottawa SkyHawks' management, who, after hearing about MBA-Ottawa's charitable work with youth, agreed to host the organization's All-Star game at the Centre.
Team Arafat trailed behind with a slow start until the second quarter where they gained momentum and took the win. Team Baqi member Hanad Yusuf, known for his quick blind passes during the game, explained, "[Team Arafat] had more talent, but we had the better team chemistry." Despite the loss, Amin Miyir of Team Baqi appreciated the opportunity to be "Just a couple of Muslim brothers playing a team sport, having fun in the nation's capital arena in front of friends & family."
When asked why playing at the Canadian Tire Centre was important, Samiir Sameer, coach of Team Arafat said, "We just wanted to reward them and give them a luxury we didn't have growing up". He further added that the event exceeded expectations and that the MBA-Ottawa will work to accommodate a greater number of community members at their next event.
MBA-Ottawa's main goal is to use sports as a tool to shape positive Muslim youth culture on and off the court, a method which is particularly effective when trying to engage Muslim boys. Despite its successes, MBA-Ottawa is in need of financial support and welcomes any donations. In particular, it is planning for an upcoming project that will take youth on a life altering journey to the Holy City of Makkah for umrah (pilgrimage to Makkah).
Abdirahman Hussein, a MBA-Ottawa volunteer who regularly delivers religious lectures to youth at events such as Resurrection, described umrah as a chance for youth to turn their lives around for the better.
MBA-Ottawa is always looking to engage as many members of the community as possible in its activities. So whether you are a youth looking to do community hours, a business looking to sponsor a team, or anyone who loves basketball and/or is looking to donate to a worthy cause, here is how you can connect with MBA-Ottawa:
Twitter:
Facebook:
http://www.facebook.com/Mba.Ottawa
Email:
This email address is being protected from spambots. You need JavaScript enabled to view it.
To donate:
Abdirashid Jama is studying Human Kinetics at the University of Ottawa and volunteers with MBA-Ottawa.
This article was produced exclusively for Muslim Link and should not be copied without prior permission from the site. For permission, please write to info@muslimlink.ca.