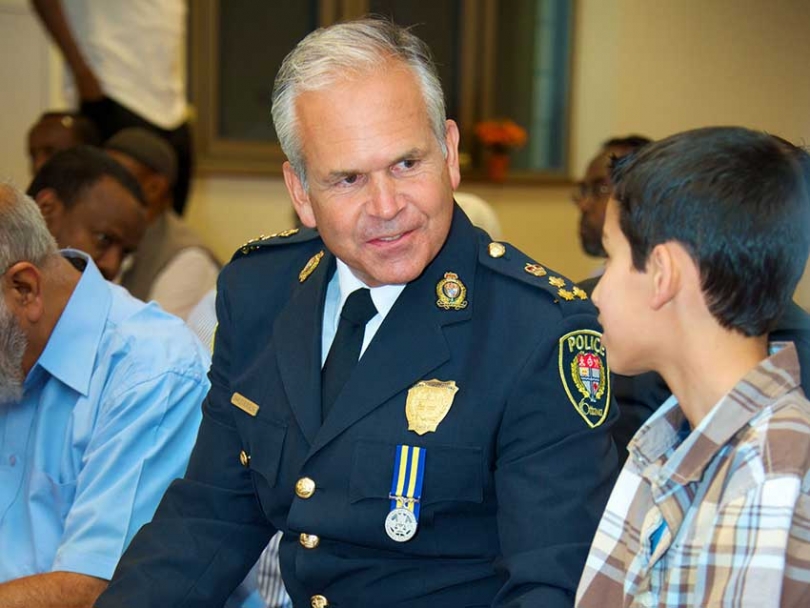 OPS Chief Bordeleau at Community Iftar Photo Credit: OPS
24
Dec


2012
Strengthening relations with the Ottawa Police
Written by Chelby Daigle
The Ottawa Police is inviting all Muslim residents to attend a community information session at Masjid Dar Assunnah on Jan. 24, 2013.  The event, organised in partnership with several Ottawa Muslim organizations, is aimed at strengthening relations between the Ottawa Police Service (OPS) and local Muslims.
"The Muslim Community is one of the fastest growing communities in the city.  The event will contribute to strengthening the existing relationships that the OPS has in the community and will help build new partnerships in the community," says Sergeant Walter Duhme of the OPS' Diversity and Race Relations Section.
Ottawa Police Service members have been regularly attending community iftars (evening meal to break the fast) over the past several years during the month of Ramadan.
"The iftar celebration inspired the idea of a community information session to expand and strengthen the understanding between the Muslim community and OPS," says Sgt. Duhme.
Ihsaan Gardee, Executive Director of CAIR-CAN, has been involved in organizing the event and is excited about the opportunity it provides not only for Muslim community members to learn about the OPS, but for OPS members to learn more about Ottawa's Muslim community.
"This is a chance for both parties to learn about each other. We will be demystifying the police services in the eyes of the community and when it comes to the members of the police service, it helps them to understand that being Muslim is just one part of a multidimensional identity that Muslims carry with them," he says.
Ottawa Police Chief Charles Bordeleau, City Councillor Eli El-Chantiry and Community Police Action Committee (COMPAC) Co-Chair Awad Loubani will be speaking at the event along with local imams. The session will include information about "Making the Right Call"-- the correct numbers to call if you have to report a crime, get immediate assistance for a life-threatening emergency, or just make a general inquiry to the Ottawa Police Service. There will also be in-depth presentations about specific sections of the Ottawa Police Service such as Partner Assault. Community members will have an opportunity to ask questions and share their concerns.
Those who attend will also learn how to apply to work with the Ottawa Police Service. The OPS' outreach recruitment project is actively encouraging qualified members of Ottawa's diverse communities to consider careers in policing.
"The Ottawa Police Service knows that they need to be more representative of the communities they serve," says Mr. Gardee.
The event will take place Thursday, Jan. 24, 2013 from 6:00 to 9:00 pm at Masjid Dar Assunnah, 1216 Hunt Club Road. For more information, contact the Ottawa Police Service's Diversity and Race Relations Section at 613 236 1222 ext. 5014 or This email address is being protected from spambots. You need JavaScript enabled to view it..
Chelby Marie Daigle is the Administrator of the Community Police Action Committee. 
This article was produced exclusively for Muslim Link and should not be copied without prior permission from the site. For permission, please write to info@muslimlink.ca.