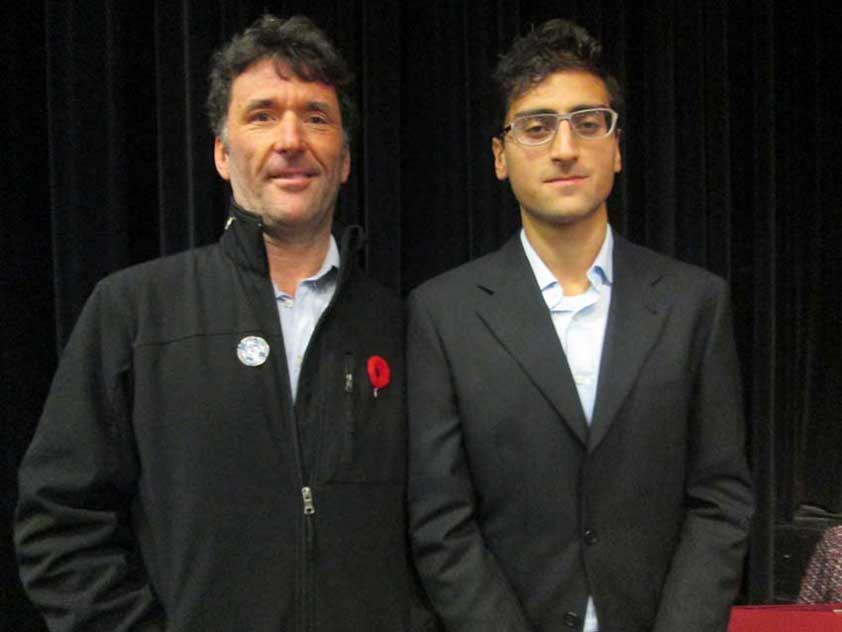 MP Paul Dewar with panel organizer Afnan Khan of the Muslim Coordinating Council
Chelby Daigle
04
December


2014
Speaking on the Panel Turning the Tides A Discussion on Youth Radicalization
Written by Chelby Daigle
The panel included a number of representatives from government organizations currently working on the subject of national security and radicalization including:Angus Smith, Senior Special Advisor in the National Security Policy Division of Public Safety Canada; Dr. Tasleem Budhwani with the Royal Canadian Mounted Police (RCMP); Staff Sergeant David Zackrias of the Diversity and Race Relations Section of the Ottawa Police Service; Hamid Mousa of the Ottawa Police Service's Community Development Section.
Also on the panel were Iman Ibrahim, who works with the University of Ottawa and specializes in conflict resolution and is involved with the Ottawa Police Service in working on the issues of radicalization, Sherif Awad of the Muslim Association of Canada (MAC) and Imam Mohamed Jebara of Cordova Academy—an institution teaching Classical Arabic and Qur'an education.

I was asked to speak on the subject of youth radicalization in my capacity as Editor in Chief of Muslim Link. I shared my own perspective that radicalization is connected to the prevalence of hate speech and discrimination within our communities. This perspective is informed by my background working as a public educator on issues of equity, inclusion and anti-discrimination, something I have been passionate about since childhood....when I was first exposed to radicalization.
In this blog post, I will share what I discussed during the panel.
*******
I grew up in social housing in the West End of Ottawa. In the early nineties, Heritage Front, Canada's Neo-Nazi Movement, started trying to recruit young men in my neighbourhood. This was very scary for myself, a mixed race Black child, and my White mother, particulalry as this group had a history of violent attacks on people of color and immigrants. I was afraid that my neighbours might turn against me. I learned from my friends whose parents had been approached that Heritage Front members were saying that immigrants and Jews were to blame for why we were all poor. No one likes to be poor and if you can blame someone for it, there is comfort in that. I was worried that my neighbours might be convinced by these arguments. But Heritage Front members faced a lot of resistence from my neighbours but this resulted in sometimes violent confrontations, which were quite terrifying to witness as a child. The RCMP and CSIS were involved in trying to dismantle Heritage Front, even working with moles. The violence of Heritage Front in Ottawa culminated in a major violent riot on Parliament Hill in 1993.
On the panel, I shared this personal story. Member of Parliament Paul Dewar, who was in attendance, spoke to me afterwards as he remembered the riots and the anti-racism groups that fought back against the Front.
My experience with Heritage Front led to me becoming a public educator on issues of inclusion and discrimination with particular sensitivity to anti-racism and anti-Jewish discrimination (anti-semitism). But it also made me aware that social inequalities, like poverty, could be used to manipulate people into joining radical groups, so these inequalities need to be addressed in the interest of social justice and social cohesion. It was a formative experience in my life and my committment to inclusion is something I bring with me in all of the work I do. It is something I have brought with me to Muslim Link where I spearheaded the development of a Diversity, Equity and Inclusion Policy.
During my short time with Muslim Link since 2012, I began addressing a number of issues which concerned me about how the paper reflected the diversity of Ottawa's Muslim communities. This is not to take away from the hard work of everyone who had been involved with the paper and its survival over the last ten years and more, but, given my work as a public educator on equity, inclusion, and anti-discrimination, I really did need to address some critical issues. These included how women were portrayed in the paper, there used to be an official policy of not showing photos of women without hijab which has now been dropped; the absence of coverage of stories from the Twelver Shia Muslim Community; and the lack of coverage of stories from the Somali community.
In order to tackle these issues, I worked with the paper's editorial advisor and professional journalist Amira Elghawaby, to develop a Diversity, Equity, and Inclusion Policy to help guide Muslim Link's content. This allowed the Muslim Link team to engage in some serious and even difficult discussions on issues of discrimination within Ottawa's Muslim Communities and how this could impact whose stories get told in the paper and whose don't. Muslim Canadians are quite critical of how the media portrays Muslims and rightly so but we often do not apply that same level of scrutiny to the media we produce or the prejudices we hold ourselves. We need to start being more self-reflective if we seriously want to address the issue of radicalization as, much like White Supremacist movements, ordinary prejudices that go unchallenged can often open a door to more extreme hateful and dehumanizing views of other people.
On the panel, I explored Muslim Link's journey with this policy, a journey which we have only just begun, in the context of preventing radicalization. From my perspective, groups like ISIS should be seen the way we see hate groups like the Klu Klux Klan or Heritage Front. They are based on an ideology of hatred and supremacy. However, in order to address such ideologies, you need to challenge the more subtle forms of discrimination and biases that exist within our societies that help to give them legitimacy. We also need to address the social inequalities and injustices that might make people vulnerable to being recruited into these groups.

So, for example, Muslim Link taking an anti-sectarian stance means that we will not discriminate between Muslim groups. We are countering a form of discrimination which often underpins a lot of radical Muslim ideologies but which, unfortunately, you can also find promoted in spaces that would never consider themselves radical but who just take for granted the hate and prejudices they have been raised with when they speak about Muslims from other sects or religious orientations. By telling the stories of a variety of Muslims, irrespective of their affiliations, we are challenging these prejudices, while trying to unlearn them ourselves.
********
On the panel, I discussed one of my favourite articles about Ethiopian-Canadian Spoken Word artist Nasra Adem from Edmonton. The photo that accompanies the article shows a young Black woman with dyed blonde hair and thick eye makeup-hardly what is expected as an ideal portrayal of a young Muslim woman. But her story has resonated with many readers who understand why we are sharing real stories about real people who identify as Muslim. And not everyone who identifies as Muslim necessarily dresses the same. They are still part of our community and our experience as Muslim Canadians.

Muslim Link is not a religious authority, we cannot dictate what proper religious practice is and we do not dare to. Instead, what we try to do is show the diversity of Muslims in our city and in Canada to help our readers, both Muslim and non-Muslim, get a better understanding of what Muslim reality is in this country. This is important for anyone who is serious about engaging with our communities. Our slogan is Community-Building Through Story-Telling. We work to provide a somewhat neutral space to explore the stories of Muslims, which is incredibly important at this critical time for Muslims in Canada. This is also important in the context of addressing the issue of radicalization, which often involves perspectives that have no room for Muslims who do not fit one specific and rigid standard of what a Muslim should be.
********
I was surprised to discover that my fellow panelist Angus Smith, who has written extensively on the issue of radicalization and currently works with Public Safety Canada, was already familiar with Muslim Link. Actually, he said on the panel he was one of our biggest fans!

Needless to say, in this current climate, it is a bit scary when you find out that someone involved with Canadian National Security is a big fan of your Muslim website. But during the panel, he explained that what he liked about the site was that there were so many stories about the accomplishments of young Muslim Canadians in a diversity of fields. He felt that these stories are important to share in order to address some of the issues of belonging and alienation Muslim youth in Canada are coping with, issues which could make them vulnerable to radicalization.

The reality is the median age of Muslims in Canada is 28, so Muslim Link has made it a priority to share the stories of Muslims in their teens and twenties, and even younger when we can, because they make up half of our community. Also, young Muslim Canadians are just doing a lot of mind-blowingly awesome and inspiring things, so who wouldn't want to read about them?
********
I feel compelled to share a critical point that I felt was not explored enough on the panel, but was touched on somewhat by several panelists: "Who speaks for Muslim Canadians?".

During my own presentation, I talked about how we have to be more aware of the actual structure of Muslim organizations. For example, the reality is that most imams are employees of a board. You actually need to engage with the mosque's board, who are the real leadership of the organization, not just the imam. I also shared the reality that the majority of Muslims do not belong to any Muslim organization. So you can't equate meeting with the boards of Muslim organizations with meeting with "the Muslim community", nor can you even be sure that any message you share with these board members will get to the wider Muslim community.

In an article for Police Chief Magazine, Angus Smith writes:
"Networks of influential community contacts have a tremendously important role to play in terms of both day-to-day community relations and crisis response and management. It can be difficult to know who, exactly, speaks for or represents communities of concern. Some community leaders are gateways; others are gatekeepers who can foil even the most concerted attempts to reach out to the right people.
Reaching out to the wrong people—self-styled leaders and spokespeople who have no real credibility—can exacerbate the very tensions that a prevention of radicalization strategy is trying to alleviate. Again, it is critical that any prevention strategy is advised by comprehensive understanding of community dynamics and of the pressures that at-risk members of those communities face."

I think it is important that law enforcement is aware of this reality. Also, based on some of the concerns raised by audience members after the panel, it is clear that your average Muslim community members are seriously concerned that law enforcement isn't aware of this reality and are not pleased that people who they haven't even heard of are speaking on their behalf.
********
While on the panel, I countered the tendency of some of the community panelists to pin the current crisis of radicalization on Muslims who identify with the Salafi religious movement. I know that this is a common habit among both Muslims and non-Muslims alike, but I think it is something as a community we need to unpack. Frankly, it is causing my anti-discrimination antennae to go up.

Michael Perez, a Senior Editor for the Islamic Monthly, in an article discusses the need for Muslims to challenge how they are using the label Salafi.

"The stigmatization of the Salafi is, I believe, evident in the fact that some Muslims use the term almost exclusively to say something like "disagreeable" or "bad" Muslim. To be a Salafi is to be identified as a Muslim at odds with what seems to be an unquestionable ideal of Islam that itself needs examination. This is not to say that people who identify as Salafis don't exist in our communities. Nor is it to say that these people shouldn't be challenged by competing ideas and methodologies in Islam. It is to say, however, that the term shouldn't be taken as a label for all things we disagree with. To do so risks generalizing in ways that don't actually solve the issues that real Salafis might present to other Muslims. It risks ignoring the fact that not all expressions of Islam considered conservative are examples of Salafism and, more importantly, it risks denying Salafis a legitimate place within our communities."

As there are hundreds, maybe even thousands of Muslims among the 70,000 plus Muslims in Ottawa-Gatineau who might fall under the category of Salafi, brandishing the whole community of men, women, and children as being extremist doesn't seem fair or even accurate. It also seems counterproductive to effectively combating radicalization in our communities because we would be excluding and alienating whole chunks of the community from engagement efforts right from the start.
Instead of writing off certain religious orientations, we should be focusing on challenging the  hate-mongering language and ideas which can unfortunately be found in books, online sites, videos, social media, and yes, unfortunately, some sermons within our community. Again, most of this hate speech is actually directed at other Muslim communities such as Shia and Sufi communities.
I think it would make more sense to target the ways that hatred manifests itself in our communities by looking at strategies, like that proposed by the Islamic Society of North America (ISNA), to address hate speech by religious leaders. ISNA encouraged both Sunni and Shia imams to sign a declaration agreeing to not preach hate speech against each other's respective communities. I think it would be great to see similar proposals taken up here in Ottawa. Why should hate speech against any community, Muslim or non-Muslim, be tolerated in our religious spaces? Actually if we could get a declaration against hate speech about any community, Muslim or non-Muslim, in our mosques and musullahs, and Friday prayer services across the city, that just might be one concrete solution to countering radicalization in our communities.
This will not be easy as it will require asking some difficult questions of ourselves and challenging a lot of prejudices that people may have just taken as given. But if we are serious about countering hateful ideologies in our communities, we need to challenge ourselves first to be the role models that Muslim youth deserve. They deserve better than people who, consciously or unconsciously, are teaching them to hate and dehumanize their fellow Muslims and their fellow human beings.
Taking a stand against hatred and challenging our own prejudices will also put us in a better position morally when demanding justice and respect for ourselves and for the many Muslims around the world currently experiencing persecution and violence and whose terrible suffering is often used to manipulate people into supporting groups like ISIS.
Recommended Reading:
Radicalization to Violence: What It Is, and What It Isn't by Angus Smith in Police Chief Magazine

Policing for Terrorism-Community Outreach on Rogers TV

Youth Online and at Risk: Radicalization Facilitated by the Internet (Royal Canadian Mounted Police)

National Security Outreach

2014 Public Report On The Terrorist Threat To Canada

Building Resilience Against Terrorism: Canada's Counter-terrorism Strategy

Canadian Network for Research on Terrorism, Security and Society (TSAS)

Perceptions of Muslim Faith, Ethno-Cultural Community-based and Student Organizations in Countering Domestic Terrorism in Canada (TSAS Working Paper)

(Mis)Understanding Muslim Converts in Canada: A Critical Discussion of Muslim Converts in the Contexts of Security and Society (TSAS Working Paper)

Professor Lorne Dawson Presentation on "Why Do Some Canadians Become Terrorists?"
This article was produced exclusively for Muslim Link and should not be copied without prior permission from the site. For permission, please write to info@muslimlink.ca.