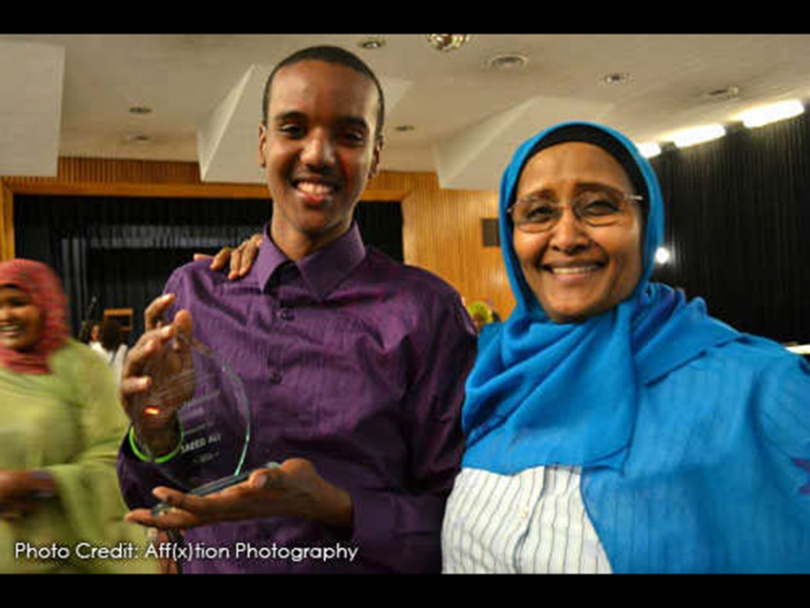 06
Jul


2013
Somali youth raise funds to support local communities
Written by Staff Writer
Members of the Somali community, and many supporters, came out to raise money for deserving community projects in late May.
The Somali Youth Support Project (SYSP), a community driven initiative operating out of Pinecrest-Queensway Community Health Centre, held its 8th Annual Fundraiser to raise money for a project of their choosing.
This year, funds were raised for the Somali-Canadian Youth Mentorship Program and a youth-led project in one of the West-End Ottawa Community Housing neighbourhoods.
Since 2005, SYSP has raised over $30,000 for various projects in Ottawa and Somalia. This year's theme was "Fostering Community Resilience" and many of those asked to speak reflected on how far SYSP and Ottawa's Somali community has come over the years.
In an interview with Muslim Link, Councillor Rick Chiarelli remembered how the idea for SYSP came out of a meeting with Somali community leaders he attended.
"If we don't put positive alternatives in front of our youth, they will be hijacked by "˜bad guys," Councillor Chiarelli remembers leaders stating. "And what I found really interesting was that they were willing to talk about it. But nobody in municipal government was ready to talk about it. So, I just found that Somali community leaders assessed the problems ahead of time and then they proposed solutions."
They also never gave up and over about four years, eliminated the bureaucratic and funding barriers in the way of making SYSP a reality.
Ayana Aden, a student of Environment Science at Carleton University and alumni of SYSP, started with the program at 15. Now at 22, Ayana is a SYSP Leader who volunteers to support the next generation of participants.
Ms. Aden, who grew up in Barrhaven, appreciated the fact that in SYSP she was free to discuss controversial issues like racism.
"I'd like to think that racism is dying out and it's not as big as it used to be. I'd like to think that but it's not. It's just the way it is. It sucks. It's important to have spaces like [SYSP] to feel safe and be able to address these issues without somebody being like "˜Oh, she's playing the Black card!'" Ms. Aden says.
She says she also appreciated being able to discuss the inevitable culture clashes that arise as a second-generation Somali Canadian. "Sometimes, there's friction with our parents because they see us changing. Our culture is changing. It's a blend now. It's Somali and Canadian. We're Canadians with a spicy kind of twist."
The keynote speaker was Sarah Musa, 20, a Human Rights student at Carleton University and accomplished Spoken Word artist. In her speech, Ms. Musa expressed the challenges facing her fellow youth, including "the complexity of identity, being children of the diaspora, having this strange and powerful love for a country that some of us have never set foot in. But the images that we see and the stories that we hear are recollections that we see through our families eyes."
Deputy Chief of Police Jill Skinner presented Saeed Ali with the 2013 Somali Youth Support Project's Youth Leadership Award. A Grade 11 student at Woodroffe High School, 16 year-old Saeed Ali is active in leadership roles both at the Boys and Girls Club and with SYSP.
Mr. Ali volunteers with the SYSP's Literacy Program which engages Somali children between the ages 6 to 12.
"I help them with reading and field trips to the library. It gives me something to do on Sundays "˜cause there's really nothing to do on Sundays except homework. Working with the little ones is a lot more fun," Mr. Ali explains.
Since participating in the Ottawa Police Service's Youth In Policing Initiative (YIPI) over the summer, Mr. Ali has decided to pursue a career in policing.
"During the program, I was with police officers every single day and they really love their jobs. I really love helping people and I want a job where every day is different and policing is like that." Mr. Ali admits that many of his peers don't understand his interest in policing. "A lot of people say "˜You're coming from this area and you're Black so how can you be a police officer?' but I say that doesn't mean a thing."
To learn more about The Somali Youth Support Project and to view the short documentary about the project Sahan: A Journey of Hope visit: http://www.pqchc.com/youth/somali-youth-support/  
This article was produced exclusively for Muslim Link and should not be copied without prior permission from the site. For permission, please write to info@muslimlink.ca.