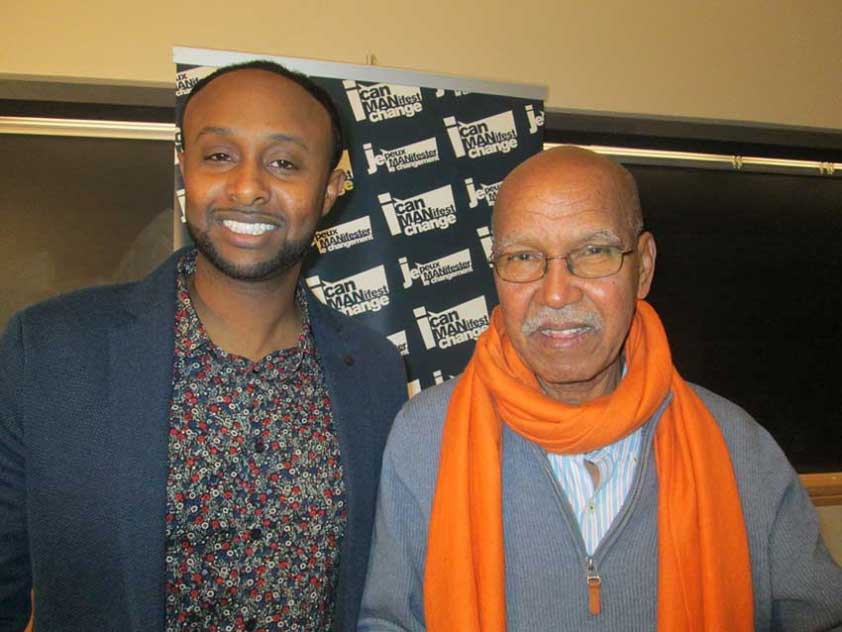 Crime Prevention Ottawa's Sharmaarke Abdullahi with novelist Nuruddin Farah, sporting a orange scarf in recognition of the 16 Days of Activism against Gender Violence.
Chelby Daigle
05
December


2014
Somali Novelist and Women's Rights Advocate Nuruddin Farah in Ottawa
Written by Chelby Daigle
Event organizer Ifrah Hassan led the attendees in a dua (prayer) for Abdille and her children. Abdille had fled to an abused women's shelter last year where she tried to get an emergency court order for the custody of her children but she did not have enough evidence to prove her children were in danger, she could not afford a lawyer and she did not qualify for legal aid, so Abdille felt she had no choice but to return to her violent home. Abdille's inability to find the support she needed is unfortunately proof that Canadian society still has a long way to go in order to protect women and children from violence.
World renowned novelist Nuruddin Farah was the guest of honour at the event. Women's Rights has been a major theme of his novels, which have also traced the history of Somalia from the late 1960s to today. Currently living in South Africa, Farah has frequently visited Canada, with stops in Ottawa to visit friends. The event was also the launch of the Basra Farah Fund, a non-profit organization started by Nuruddin Farah in order to honour the memory of his sister, Basra Farah, who was killed on January 17th 2014 by a terrorist attack at a restaurant in Kabul, Afghanistan. Basra Farah, who specialized in human nutrition, had been working with UNICEF in charge of Emergency Aid. Her brother Nuruddin informed the audience that there is now a baby in Kabul whose father named her Basra in memory of Basra Farah's work in his community. Basra Farah had worked in many crisis zones over her career including Pakistan, South Sudan, and Darfur.
Community activist Mohamed Sofa mc'd the event which opened with a poem by Sudanese Canadian spoken word poet
. The poem describes the reality that women often must live in fear of sexual violence from both strangers and people they know. In the poem, Roua, who wears hijab, challenges the idea that because she dresses "modestly" she could not be a victim of rape. 85 year old Nuruddin Farah was impressed by the poem which he refered to on several occaisions. His talk explored his own history of advocating for women's rights in his writing and the need for men to see this as their fight too, but to allow the women to take the lead it.
The co-founder of the Somali Women's Circle Network, Naema Ali, who also teaches at Abraar School, also spoke about her experiences working in Somalia with the Ottawa-based NGO Horn of Africa Development Assistance (HADA) where she has seen the toll of violence in the lives of Somali women. She spoke with emotion about how Islam is often used to justify this violence, something which she found, as a woman of faith, to be quite tragic, but as many women do not know enough about Islam themselves, they are not in a position to challenge these misinterpretations.
Sharmaarke Abdullahi, who works with Crime Prevention Ottawa, challenged men at the event to take the I Can Manifest Change Campaign pledge which asks men and boys to take a pledge to end violence against women by challenging the sexist attitudes and behaviours of other men. The campaign is an initiative of the Ottawa Police Service in partnership with Crime Prevention Ottawa and the Ottawa Coalition to End Violence Against Women (OCTEVAW). Abdullahi took a personal pledge in front of the audience stating: "I can manifest change by recognizing and being accountable for my own privilege as a man and supporting causes that empower women and other marginalized groups."
Here is a link to the video of the event.
This article was produced exclusively for Muslim Link and should not be copied without prior permission from the site. For permission, please write to info@muslimlink.ca.