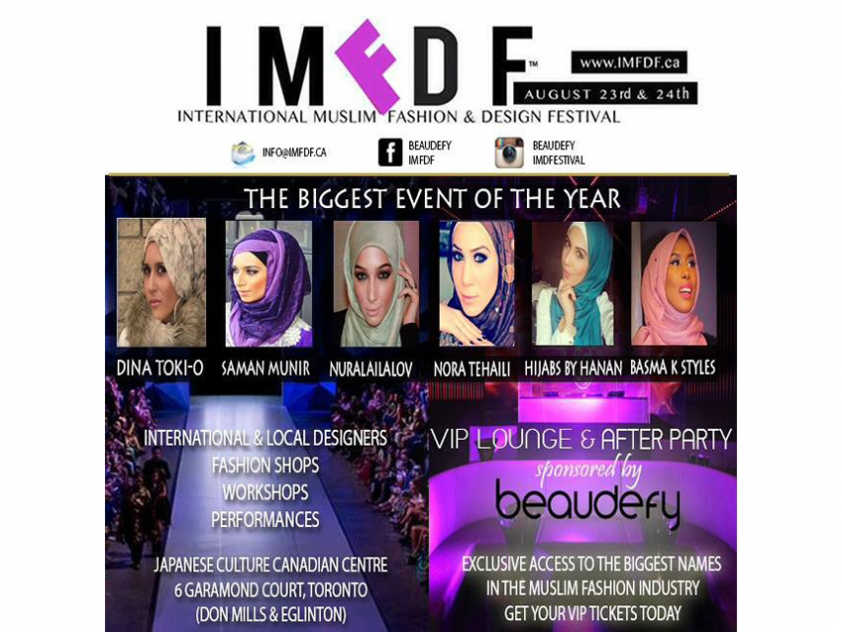 19
August


2014
Social Justice and Haute Couture Collide at Toronto's First Muslim Fashion Festival
Written by Chelby Daigle
Toronto's Muslim fashionistas will be converging on the Japanese Canadian Cultural Centre on August 23d and 24th to take part in the city's first International Muslim Fashion and Design Festival (IMFDF).
Although the event will bring together some of the world's Muslim fashion royalty with an array of leading designers, models, bloggers and YouTube hijab tutorial celebrities, time is also being prioritized to provide educational opportunities on issues like fair trade and ethical consumerism.
To understand the vision that could create such a convergence of social consciousness and style fabulousness, you need to know more about the event's founder, twenty-six year old Nateka Pitter.
Nateka Pitter grew up in a Jamaican Canadian family in Toronto. She often was involved in organizing the "behind the scenes" activities of fashion shows, galas, and music video shoots within Toronto's bustling entertainment scene. But then she became Muslim and she had to reassess her passion for fashion, as well as her social life.
Like many converts, Pitter went through a stage where she abandoned everything, only to slowly realize that maybe the answer lay in creating an alternative. This led to Pitter starting her own clothing and jewellery line, Victorious Me, which caters to modesty-minded women from Muslim, Christian, Jewish and other faith communities as well as women who just prefer the elegance of a more covered look. Victorious Me's motto is to promote "Fashionable Expression Without Exposure".
She then put her event planning talents to the test in order to fill the void left in her social calendar.
"When I became Muslim it was a bit of a struggle for me because I was used to having a pretty active social life but found that there wasn't that many things happening in the community," Pitter explained.
Since starting Victorious Me, Pitter has organized fashion shows and ladies only parties in order to provide opportunities for women who are passionate about fashion and want a chance to get dressed up in their best without having to wait for the next friend's or family member's wedding.
Pitter has stayed involved in events she respects such as Toronto's Natural Beauty & Hair Show, Toronto Fashion Week and African Fashion Week, but she began to wonder why there were not similar events that catered specifically to women in Toronto's Muslim community.
"I would be involved with these events and then ask myself, why doesn't our community have this? So that's why I decided to create a space," she explained.
Pitter feels that is it time that women come together to connect, collaborate and promote the emerging modest fashion industry and that's what the first annual International Muslim Fashion and Design Festival (IMFDF) is all about.
She credits Saman Munir, the Mississauga-based makeup artist, hijab stylist and YouTube sensation of makeuphijabs' fame, for helping her navigate the world of hijabi fashion celebrities in order to ensure a diverse mix of designers and bloggers at the Festival.
Saman, who was recently profiled in Flare Magazine, will be one of the many celebrity bloggers Festival participants will get a chance to meet. Others include fellow Canadians Nora Tehaili, Hijabs by Hanan, Basma K and Dina Torkia from the UK, and Miss Balde and Nuralailalov from the US.
The designers are also a mix of home-grown and international with Canadians Sahara Swag, Iman Designs, and Iman Nakhala, whose work was a highlight of last year's Ottawa Fashion Week, along with international designers such as Maya Square from Tunisia.
Partnering with Muslim businesses like Dine Halal, Halal Foodie, Urban Muslimahs and Nikah.ca has also helped Pitter make planning the event a success, as each are experienced organizing large-scale events catering to Toronto's Muslim communities.
When she is not running a successful online clothing store and organizing fashion shows, Pitter works as a social worker. Her work has focused on supporting community development in Toronto Community Housing. Pitter doesn't believe in separating her passion for fashion from her concerns as a social worker, and the Festival will create a forum to showcase the work of some of Pitter's favourite local grassroots social justice initiatives, such as Studio 89, a youth-led social enterprise based out of Mississauga, which provides a café and drop-in space along with workshops on art education as well as global justice issues such as fair trade. The initiative, spearheaded by Pakistani-Canadian Zehra Abbas, is currently leading a campaign to raise awareness about human trafficking in the GTA. Pitter has invited Studio 89 to run workshops at the festival on such issues as fair trade and human trafficking. She has also invited Fizza Mir of The Azadi Project to discuss ethically sourced and environmentally friendly fashion.
"As Muslims we need to be thinking about this stuff," Pitter stated, "This is an issue in our communities. There are people in our communities, in our own city, who are getting paid like nothing to produce the clothes we wear," she stated. Muslims need only to think back to the tragedy of the factory collapse in Bangladesh last year at Rana Plaza, where the Canadian retailer Joe Fresh sourced some of its clothing line, to consider the connection between ethical consumerism and Muslim communities.
Pitter has also worked to make sure that the community's aspiring fashion designers have a chance to shine at the event. She's connected with Arts Starts, a charity which uses the arts as a vehicle to encourage social change in Toronto's underserved neighbourhoods. This includes an innovative fashion design program called Sew What?! Students from the program have been invited to attend the Festival as well as share some of the designs.
Pitter is confident that IMFDF will be the starting point not only for a revolution in the modest fashion industry in Toronto, but also for important discussions between Muslims about how we need to go beyond worries about the "halalness" of food and the modesty of fashion, to reflections on issues of social justice and consumerism. 
To learn more about the International Muslim Fashion and Design Festival visit their website, Facebook, and Instagram.
To learn more about Pitter's clothing store Victorious Me visit the website
This article was produced exclusively for Muslim Link and should not be copied without prior permission from the site. For permission, please write to info@muslimlink.ca.