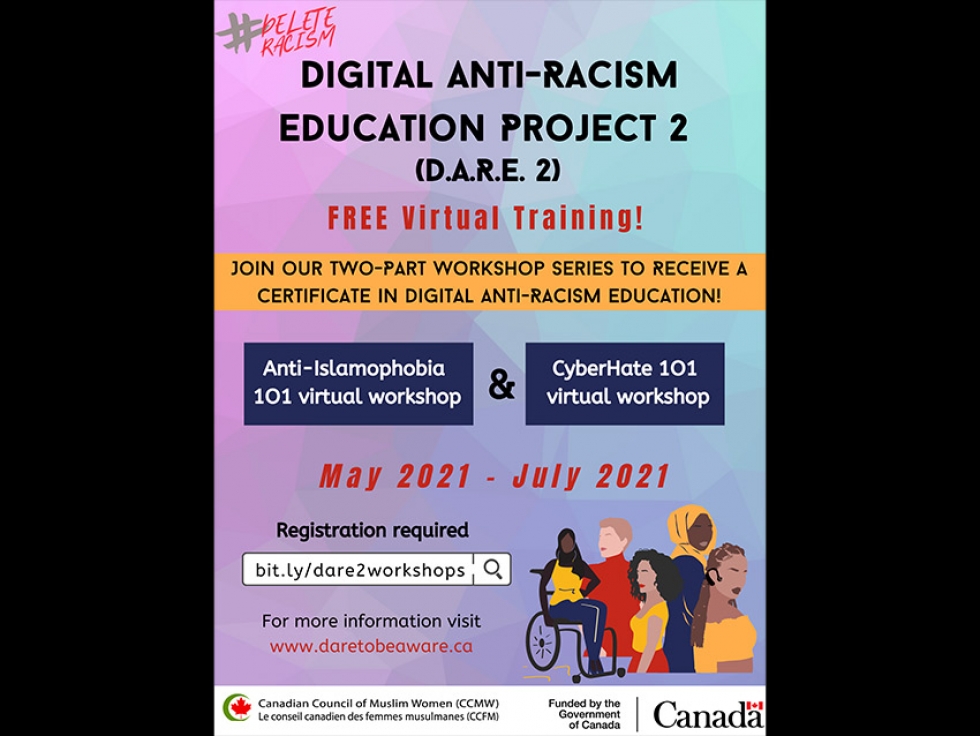 10
May


2021
Register for Canadian Council of Muslim Women's (CCMW) 's Two-Part Virtual Workshop Series to Receive a Certificate in Digital Anti-Racism Education 
The Digital Anti-Racism Education (D.A.R.E.) Project is the Canadian Council of Muslim Women's (CCMW) national program designed to raise awareness of online hate and Islamophobia and to empower racialized women, girls and allies with the resources needed to counter online hate and #DeleteRacism.
A two-part virtual workshop series on Anti-Islamophobia and Countering Cyberhate will launch May 2021. The workshop series, offered in English and French, are part of CCMW's Digital Anti-Racism Education (D.A.R.E.2) Project funded by the Government of Canada.
The workshops are aimed at empowering racialized girls, women, trans and non-binary people across Canada with bilingual training and tools on:
How Islamophobia further marginalizes Black and Indigenous Muslims, queer Muslims and Muslims with disabilities.
Understanding cyberhate and online extremism to effectively counter online hate speech and narratives effectively.
The workshops are part of Phase 1 of CCMW's virtual training sessions offered via Zoom, and are free to the community. Participants successfully completing both workshops will receive a 'Digital Anti-Racism Education' certificate. Registration is required.
Based on the 'Train the Trainer' model, participants will go on to train individuals from the larger community across Canada from settlement agencies, law enforcement agencies and community organizations. The community training sessions (Phase 2) will be held between September and December 2021 this year.
About the Workshops:
Anti-Islamophobia 101
According to Statistics Canada, hate crimes against Muslims increased by 253% in just four years. There's been a rise in Anti-Muslim sentiments perpetuated in media reporting, pop culture and on social media. This has had detrimental effects on the lives of many Muslims in Canada.
Islamophobia is a system of oppression that can be defined as a fear or hatred of Islam and its adherents. This hatred and fear translates into ideological and systemic forms of oppression and discrimination against individuals. Islamophobia targets expressions of visible or perceived Muslimness. Anti-Islamophobia 101 seeks to address the realities of islamophobia and the way in which it operates within Canadian society. Learners will have an opportunity to challenge their own thoughts and think outside of their perceptions. Through critically examining the impacts that this system of oppression has on the lives of Muslims living in Canada, learners will be equipped with the required tools to be an active ally to counter Islamophobia.
Countering Cyberhate 101
Online hate and cyberviolence have emerged as extensions of violence against women. Exposure to hateful speech and attitudes in digital spaces may escalate the risk that people will act on these views through physical violence. Young women aged 18-24 are most likely to experience the most severe forms of online harassment, including stalking, sexual harassment and physical threats. Women who face multiple forms of discrimination, such as racial or cultural discrimination homophobia, and transphobia, may be at increased risk of online hate and cyberviolence. While people of all genders experience cyberviolence, women and girls are at greater risk of experiencing violence online, especially severe types of harassment and sexualized abuse.
The Countering Cyberhate 1O1 Virtual Workshop aims to empower racialized women and girls to better understand online hate speech and extremism, including counterspeech and counter-narrative. With the incorporation of real-life examples, alongside live discussions on effective strategies to counter online hate, participants will have an increased capacity to recognize online hate and build the required skills and resources to counter it.