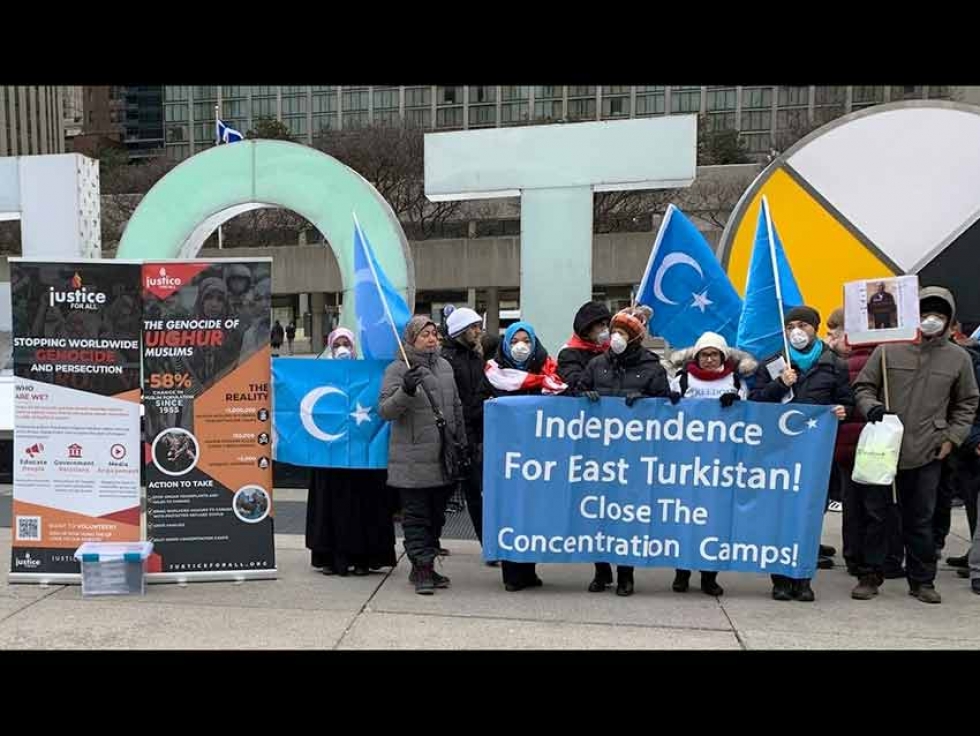 Justice for All Canada supporting a demonstration by Uyghur Canadians in 2020.
Justice for All Canada
06
May


2021
Justice for All Canada: Seeking Justice for Muslim Minorities Around the World
Written by Chelby Daigle
Justice for All Canada has been working on campaigns to raise awareness about the plight of Muslim minorities around the world.
Muslim Link interviewed Taha Ghayyur, Executive Director of Justice For All Canada, about the organization's work and why they are seeking support this Ramadan.
1. What are the origins of Justice for All?
Our headquarters, Justice For All, was established in Chicago in 2001, to address and counter the rise of Islamophobia and racism in the United States and worldwide. A non-profit organization, Justice For All is a human rights body having operated significant past and ongoing advocacy campaigns that target harmful policies against persecuted Muslims and ethnic minorities. Starting with Bosnia Task Force in early 90's, the organization began its anti-genocide defence work concerning mass persecution in Bosnia. Over the years, Justice for All worked on campaigns raising awareness about injustice in the Central African Republic, Mali, Bosnia, and Burma. On a domestic scale, Justice For All conducts smaller-scale projects and partnerships to confront xenophobia and anti-black racism targeting minorities in the US and Canada. The Save Uighur Campaign was also launched to protest mass incarceration of Uighur Muslims and Turkic ethnic peoples in China.
Justice For All carries consultative status with the United Nations, and in 2017, regularly responded to women's rights concerns, especially through gathering and sharing the testimonies of Rohingya women survivors of mass rape. Justice For All organized panels at the Status of Women (CSW) conferences in 2015 and 2016 and conducted numerous visits to the Women's Caucus members in Congress. Our head office established values of Muslim-led advocacy, and has worked to raise awareness of a range of human rights concerns impacting vulnerable minority groups. In 2017, this included support for the Paris Accords (UNFCCC) and vulnerable communities facing environmental crises, such as Flint, Michigan.
2. Why was the decision made to create a branch of Justice for All in Canada?

As a branch and official Canadian extension of our head office, in 2013, Justice For All Canada began by launching a special Burma Task Force campaign focused on lobbying the Canadian government to undertake diplomatic and humanitarian action concerning the genocide of Rohingya Muslims. We launched a series of advocacy and education initiatives that targeted and challenged discrimination and racist violence of Rohingya, Kashmiri and Indian ethnic minorities. Through collective action, Justice For All Canada's impact took off by demanding perpetrator accountability under international customary law, and holding the Federal government to their legal human rights obligations. In 2018 and 2019, Justice for All Canada held over 60 meetings with government officials and 20 physical rallies and peaceful demonstrations in Ontario. We've formed several human rights coalitions and partnerships, organized educational lectures and seminars, and issued alerts and campaigns with tens of thousands of action takers.
Building on the success of the Burma Task Force, Justice for All Canada has launched four new human rights advocacy campaigns over the last three years: Save Uighur, Free Kashmir, Save India and Sri Lanka Task Force.
3. Justice for All has run several campaigns over the last few years, in particular related to the situation in Kashmir, Rohingya refugees, and the plight of the Uyghur in China. How has Justice for All Canada ensured that the voices of Canadians from these communities have been represented in their work (ie give specific examples of how members of these communities have been included in organizing committees, been speakers on panels, been at meetings with elected officials and diplomats, etc).

Justice For All Canada's effective human rights reach is reinforced by shared solidarity from fellow Canadian social movements, civil society organizations and student groups. Our Canadian coalition partners have supported our mission to pursue human rights policy changes and developments defined by protection and respect. We have engaged Canadian members of Rohingya, Uighur, Kashmiri and Indian diasporas in our awareness events, speaking engagements, educational workshops and webinars. Justice For All Canada is also a frequent collaborator and organizer of creative cultural arts projects involving Canadian youth in expressing their lived experiences with racism and discrimination.
More specific examples include:
Burma Task Force Canada launched a coalition of 20 plus organizations in 2016, which included all key Rohingya and Burmese Muslim groups and leaders.
We ensured that all parliamentary hearings and meeting on Rohingya genocide included Rohingya leaders and activists as the main presenters.
The coalition on Kashmir in Canada is primarily led by Kashmiri leaders, where strategies for collective action and advocacy are decided.
Part of our core team and staff in the US and Canada, we have Uighurs, Kashmiris, Rohingya working on their respective campaigns.
In all our campaigns, we amplify the plight and demands of the impacted community through our community organizing, education and lobbying efforts. And we ensure to centre the right voices of the impacted communities in our educational programs, rallies, meetings with parliamentarians, and media stories.
4. What are some key accomplishments that Justice for All Canada has made over the years?

Between 2018 to 2019, Justice For All Canada held multiple meetings with the Federal Government, and we established a close relationship with Canada's Special Envoy to Myanmar, Bob Rae, who consulted the Burma Task Force on all major recommendations and decisions related to Canada's actions on the Rohingya. Our action alerts and strategic campaigning both amplified the pinnacle of Burma's crimes against humanity, while shaping Canada's discourse and perception of the Rohingya genocide. Justice For All Canada's human rights work was instrumental in helping prompt the Canadian Government to demand meaningful accountability on behalf of Rohingya Muslims. The Canadian Federal cabinet ministers pledged over $300 million in funds, diplomatic
leadership, and a promise to spearhead international efforts to stop the campaign of ethnic violence against Myanmar's ethnic Rohingya people. Secondly, through the direct lobbying of Burma Task Force and its Rohingya allies, the Canadian parliament unanimously adopted a motion recognizing the brutal crackdown against Rohingya Muslim minorities in Burma as an act of genocide. Moreover, the government engaged in impunity measures of Burmese military officials through sanctions. Also in response to our advocacy, Burma's Civilian leader, Aung San Suu Kyi, became the first person to be stripped of honourary Canadian citizenship for her role in gross human rights violations against the Rohingya people.
In 2020, Justice For All's Save Uighur action alerts, campaigns and personal meetings with Canadian lawmakers, in coordination with our Uighur partners, helped contribute to 9 Members of Parliament sponsoring and presenting their Uighur Muslim genocide petitions in Parliament. During this time, the Parliament Subcommittee on Human Rights also formally pressured the Federal government to recognize the Uighur genocide, impose sanctions, and condemn China's crimes against humanity targeting Muslims in the region.
Also in 2020, Justice for All's Free Kashmir campaign, along with its Kashmiri Canadian allies, pushed for 3 parliamentary motions condemning the ongoing siege and clampdown of Kashmir since summer of 2019 by the occupying Indian forces. For the first time in 17 years, the plight of Kashmiris was highlighted in the Canadian parliament.
Justice for All Canada is the only global human rights organization led by Muslims focused on ending genocide of Indigenous minorities around the world. Justice for All Canada presents a platform for Canadians and Canadian Muslim to channel their grievances into peaceful actions and advocacy that impact policies around global peace and justice.
5. You are currently fundraising to continue your work. What are the funds needed for? Is your organization considered Zakat Eligible?

Justice For All Canada fundraises as a Canadian-Muslim nonprofit human rights and advocacy organization challenging global and domestic Islamophobia, crimes against humanity and genocide​.
Our work has been designated as zakat-eligible by the Canadian Council of Imams. Our team is the sole Canadian Muslim-led advocacy organization working in the human rights space today, focused on defending Muslim minorities around the world.
We focus on defending affected communities who are persecuted, without status, and living in global regions. Justice For All Canada conducts high-level advocacy across 5 active human rights campaigns, including Burma Task Force, Save Uighur, Free Kashmir, Save India, and Sri Lanka Task Force.
6. What are other ways that readers can support and/or become involved in Justice for All Canada's work?
Justice for All Canada is actively engaged in partnership building, interfaith dialogue and advocacy for human rights, peace and justice of Muslim and religious minorities in key persecuted regions, including Burma, Sri Lanka, India and Kashmir.

Our advocacy campaigns have been designed to make it easy for Canadians to participate in action taking necessary to demand policy-level action from the Federal Government. People of all ages and backgrounds can add their names to our 1-click human rights campaigns, and help circulate the parliamentary petitions we endorse.

Justice For All Canada heavily relies on collective action on our campaigns, so that we can advance our human rights goals and asks when interacting with Canadian lawmakers. We are always seeking to connect with like-minded human rights defenders and volunteers for advocacy opportunities.

Justice For All Canada's virtual volunteer opportunities include joining a parliamentary letter-writing and calling campaigns, including and writing articles for our upcoming blog page. We are also seeking college and university students to set-up Justice For All Canada chapters at their education institute.
Testimonials from Canadian members of Muslim minority communities supported by Justice for All Canada's advocacy:

"As a Rohingya Canadian, I watched my people get exterminated just because we believe in Allah and his rasool (sw). The situation was simply hopeless for the most part; however, it is thanks to organizations like Justice for All Canada that we were able to take some international political action for my people through the Government of Canada. The work done by Justice for All is incredibly crucial to raise awareness of the plight of my people, the Uyghur, the Indian Muslims, and other persecuted minorities, who would otherwise be forgotten." - Raees Ahmed, Rohingya Canadian human rights activist
"We appreciate that JFA Canada has been working hard to raise awareness about the Uyghur genocide among Muslims communities. Their work is important for us to clear out misinformation about Uyghurs and establish a bridge between us and other communities." - Arzy, Uyghur Canadian human rights activist
This article was produced exclusively for Muslim Link and should not be copied without prior permission from the site. For permission, please write to info@muslimlink.ca.
This article was produced exclusively for Muslim Link as part of a paid advertising package. For more information on how to advertise through Muslim Link and support the running of Canada's Online Hub go here.