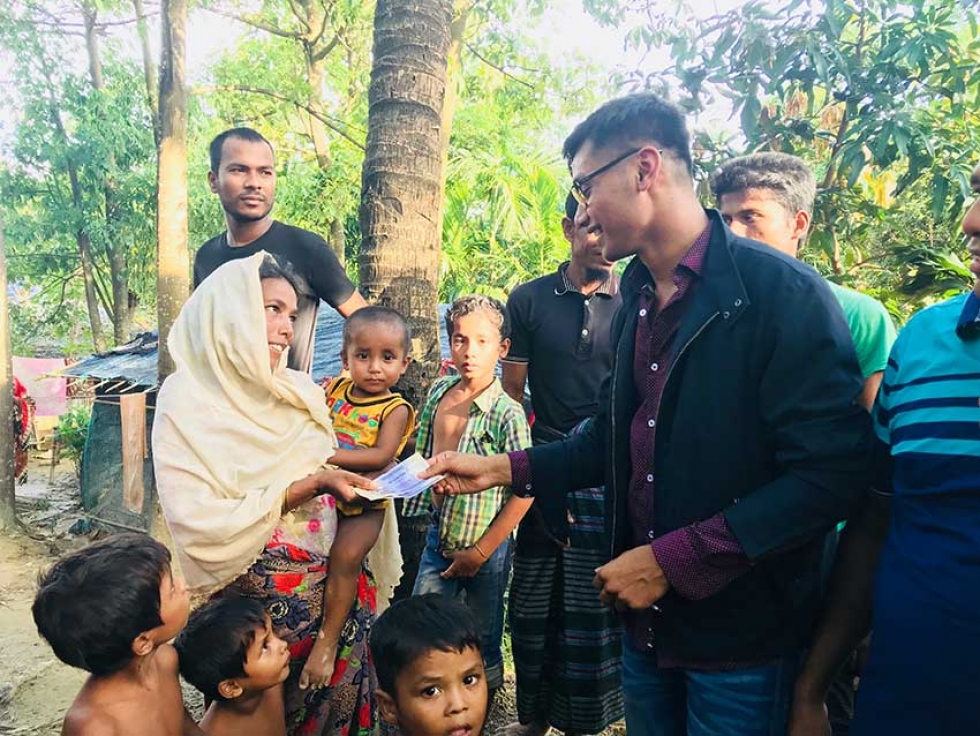 Ahmed Ullah distributing funds to Rohingya refugees who are living outside of the refugee camps on rented land in Bangladesh.
CRDI
16
Jan


2018
Rohingya in Canada Are Crowdfunding To Provide Winter Blankets for Refugees in Bangladesh
Written by Chelby Daigle
The Canadian Rohingya Development Initiative (CRDI) is a registered non-profit organization established by young members of the Rohingya community across Canada. CRDI works with prominent Canadians from different communities and organizations to advocate for the cause of Rohingya in Canada and abroad. 
They are currently crowdfunding on LaunchGood so they can purchase winter blankets for Rohingya refugees in Bangladesh.
Muslim Link interviewed Rohingya Canadian Ahmed Ullah, CRDI's co-founder, about why, despite all of the funds that have been raised nationally for Rohingya refugees, there is still a need.
1. Why have you launched the Winter Blanket Appeal?
First of all, our people know us, they do not know many charities in Canada so they always call or send us messages for help. Over the past few weeks, the Canadian Rohingya Development Initiative team in Bangladesh has been approaching the team in Canada with the winter blanket appeal with videos and audio messages. As the cold weather bites in Bangladesh, people living in the hill tract area are suffering a lot and they are desperately in need of warm clothes.
2. Bangladesh is not a country many in Canada would associate with cold, is Bangladesh colder than usual this time of year due to climate change?
As everyone knows, this year, the weather is terrible and there are nearly a million people living in the make-shift huts without the proper roof on their heads. This year is different than others according to people living in Bangladesh. We Canadians can afford warm clothes or our government supports us if in need. But those refugees in Bangladesh are hopeless, helpless and their future is bleak.
3. Many Islamic Charities have already done major fundraising to support Rohingya refugees, and these donations were matched by the Canadian government? How come this is not also covering providing winter blankets to refugees?
Yes, many charities have already done major fundraising to support Rohingya refugees. But some are not allowed to work there without local partnerships and some are not allowed due to the Myanmar government's influence on the Bangladeshi economy. And some charities are invisible in the camps. Everyone must hand over their donations to the government authorities. The authorities only provide or distribute from one place where thousands of people line up for daily survival. Some people even line up for two to three days to reach the distribution place. Rohingya refugees are not located in one place only, they are in different parts of the Cox Bazar district and some are living in the hill-track area and they are the most vulnerable people among the newcomers. No humanitarian aid is reaching them. Some people who do not have children or children without parents are really suffering.
4. Are you partnering with other Canadian charities for this initiative?
We are not partnering with any charity yet but we are trying to approach some charities to help us to raise funds or help those who are desperately in need of warm clothes and blankets in this cold weather.
5. If inshallah you are successful, where do you plan to purchase the blankets from?
InshaAllah, if we are successful in raising fund, we will purchase blankets from Bangladesh and distribute it there. We will also raise funds. Our spokesperson Washim Ahmed is visiting the camp at the end of this month with his own expenses. Our plan is to distribute blankets and some food items during his visit.
To contrbute to the Winter Blanket Appeal, click here
This article was produced exclusively for Muslim Link and should not be copied without prior permission from the site. For permission, please write to info@muslimlink.ca.