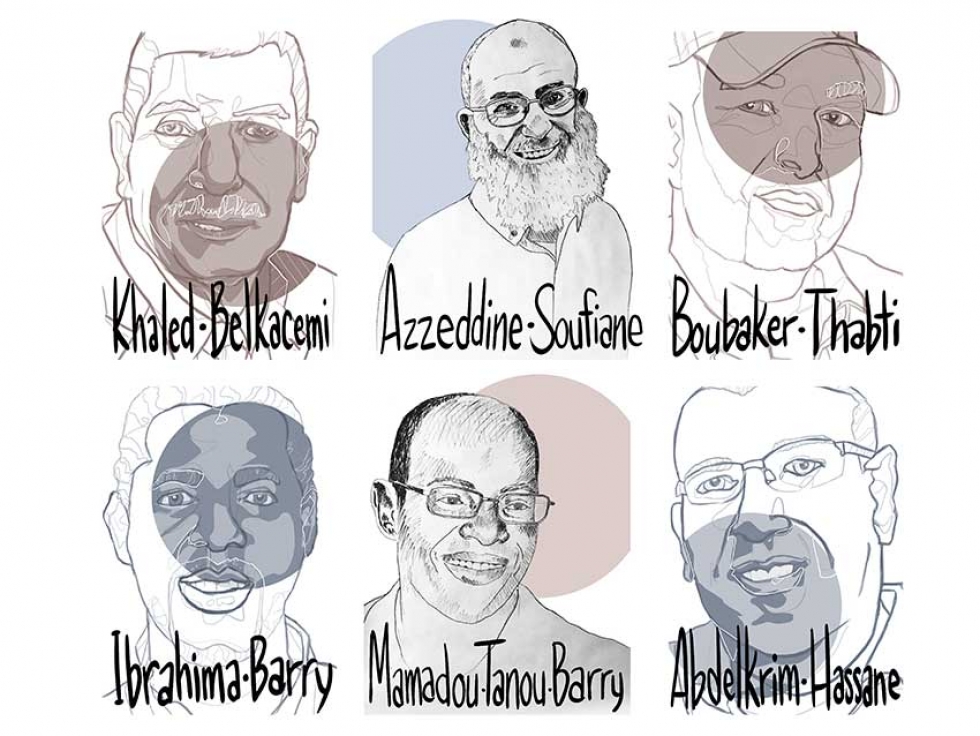 The Council of Canadians partnered with artists Melisse Watson and Syrus Marcus Ware to create these portraits to commemorate the six victims of the attack on a mosque in Quebec City on January 29 2017: Azzeddine Soufiane, Mamadou Tanou Barry, Khaled Belkacemi, Aboubaker Thabti, Ibrahima Barry and Abdelkrim Hassane.
Melisse Watson and Syrus Marcus
11
February


2018
#RememberJan29: Commemorating the Lives Lost in the Quebec City Mosque Attack Across Canada
Written by Chelby Daigle
On January 29th, 2017, six Muslims were murdered and nineteen injured at the Islamic Cultural Centre of Quebec City, a mosque in the Sainte-Foy neighbourhood of Quebec City, Canada.
A year later, Canadians found a variety of ways to commemorate this tragedy.
Canadian media interviews their family and friends
Dawanet was able to successfully raise over $400,000 for an accessible home for Aymen Derbali and his family. 
"Your Last Walk in the Mosque", Dawanet's documentary about the impact of the Quebec mosque attack on the families of those who died and the Muslim community in Quebec City was screened at Ottawa City Hall and Hamilton City Hall on January 29th.
Ontario Premier Kathleen Wynne spoke at a screening of the film at the Noor Cultural Centre in early February.
The National Council of Canadian Muslims (NCCM) called upon the Canadian federal government to officially recognize January 29 as the Day for Remembrance and Action against Islamophobia.
That didn't happen.  
However, the day has now been officially recognized in the following cities:
St. John's, Newfoundland

Markam, Ontario

Hamilton, Ontario

Toronto, Ontario

Brantford, Ontaro

Vancouver, BC

Also, Ontario MPP Dr. Shafiq Qaadri will be introducing a motion this month for the day to be officially recognized by the province of Ontario.
The City of Ottawa proclaimed a day against hatred and bigotry but avoided using the term "Islamophobia".

With the hashtag #RememberJan29 Canadians reflected on the impact of the Quebec Mosque attack via social media. Many of these reflections have been compiled on this website.

This article was produced exclusively for Muslim Link and should not be copied without prior permission from the site. For permission, please write to info@muslimlink.ca.