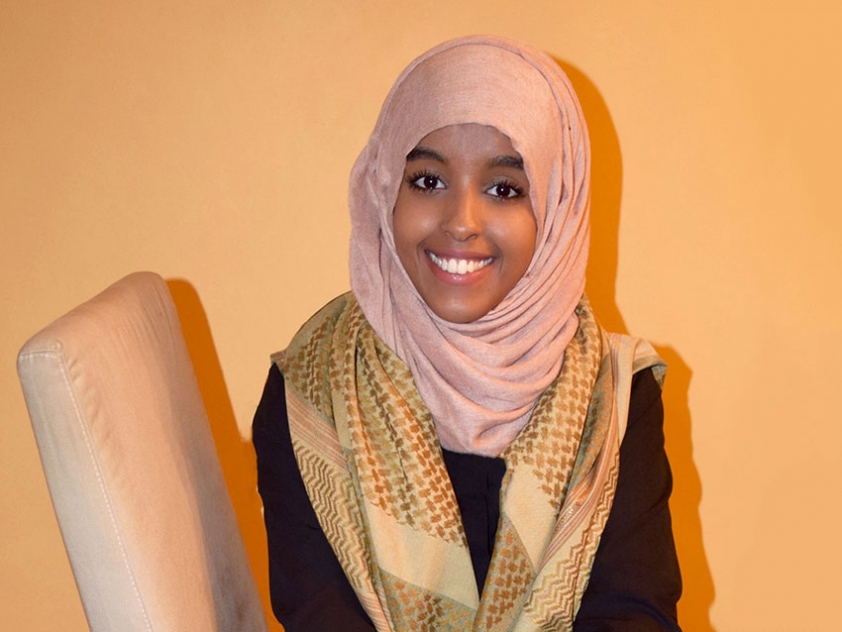 University of Ottawa student Zein Ahmed is fundraising for Yemeni refugees in Djibouti.
Courtesy of Zein Ahmed
17
October


2016
Ottawa Student Fundraising for Yemeni Refugees in Djibouti
Written by Chelby Daigle
Muslim Link interviewed university student Zein Ahmed who is fundraising to support Yemeni refugees to have fled to Djibouti, a small country in the Horn of Africa. She will be visiting them during this Christmas break when she returns to Djibouti to visit family. She hopes to raise $8000 by December 22nd. Check out her GoFundMe Page.
Tens of thousands of Yemeni refugees have sought refuge in Somalia, Djibouti and Ethiopia, countries which are themselves struggling with food insecurity. Ahmed reflects on the little attention the world has given to the Yemeni crisis, and what she hopes Muslims and other Canadians will do to support her community.
Tell us about yourself and your connection to Yemen.
My name is Zein Ahmed. I am a 20 year old Canadian of Djiboutian/Yemeni descent and I was born and raised in Ottawa. I am currently a 4th year student completing an undergraduate degree in Biomedical Sciences at the University of Ottawa. Both of my parents were born Djibouti and lived most of their lives there. However, my father's family come from a southern city of Yemen, called Tai'z.
Despite the fact that I have never visited the beautiful country of Yemen, I have always had the desire to do so. My father would constantly take yearly trips to visit his family and return with pictures and souvenirs from his home city. Before the war started, I had plans on visiting Yemen for the summer to finally be able to reconnect with my roots as well as with my extended family of whom I have not seen. Unfortunately, that wasn't possible. Inshaa Allah (God willing), I still hope that the country will find its stability and that one day I can experience a visit there.
Tell us about Obock Camp, how you learned about the plight of people there, and why you decided to fundraise for this community.
Obock Camp consists of the only refugee camp for Yemeni refugees in Djibouti. Since March 2015, Djibouti has accepted 35 000 refugees into the country that have fled on boats across the Bab Al-Mandeb, a strait separating Djibouti from Yemen.  This number is expected to grow even higher in the next few months. Located in the north of the country, Obock has settled more than 3 000 people in the UNHCR camp of Al-Markazi, and 100 families in an unfinished orphanage called Al-Rahma centre. Refugees get first placed in Al-Rahma centre to get documents assigned and later get transferred to the Al-Markazi camp.
However, the living conditions of Obock are dreadful. The camp is located in a dusty hot region where sandstorms are very common. In terms of food, their rationings have been unfair causing some refugees to walk 5km to the next town in order to buy food items necessary to survive despite the little money they have. Their plight has worsened to the point where 600 refugees have recently left the camps to return to Yemen.
A couple of months ago, I decided to visit Djibouti for the upcoming Christmas break. Since I will be a couple hours away from the south of Yemen, I realized that there must be some way to help my community by being in Djibouti. After doing some intense research, I had discovered the isolated refugee camp of Obock.  I've decided to fundraise for this community not only because of the dire state they are living, but also due to the fact that the Yemeni crisis is a problem that the world has forgotten.
Why do you think that we are not hearing much in Canada about the plight of Yemeni refugees?
The world we live in tends to only address situations that reflect our own interests. Different from the Syrian & Iraqi crisis, Yemen's situation is hardly able to interest the world's decision-makers. Even the UN still remains silent on this problem. The people of Yemen are receiving a lack of international attention because, let's face it, Yemen has been, and still is, the poorest Arab country. Therefore, it does not present any economic benefits that the Western world constantly desires. The only time Yemen ever makes its way to Western headlines is when the focus is on Al-Qaeda and its newest location. Although, it is able to grab the attention of wealthy Arab countries such as Saudi Arabia, Jordan and Egypt but only for its significant oil trade at the Bab Al-Mandeb strait (oil passage).
Therefore, I strongly believe that only social media users can make a difference and start raising awareness about the 21 million Yemenis that are in urgent need of humanitarian assistance. Nowadays, our Facebook, Twitter, Instagram, and, Snapchat accounts give us the ability to inform a community of hundreds of thousands of people; we would extremely benefit from this in order to support our fellow brothers and sisters in Islam and in humanity.  
Canada has recently made an effort to bring in many Syrian refugees, do you think we should also look to take in Yemeni refugees who are stranded in countries like Djibouti?
Yes, that is definitely something to take into account. With a population smaller than Ottawa's, Djibouti already faces its own national problems such as lack of resources, poverty, malnutrition, droughts and low employment rates. That being said, Djibouti is financially unable to accept thousands of Yemeni refugees which will negatively affect the lives of Djiboutians and the refugees themselves (same case for Ethiopia and Somalia where Yemeni refugees are also going). Thus, similar to Syrian refugees, we should look at the possibility of providing safety and stability to the people of Yemen here in Canada.
The University of Ottawa Muslim Students Association is fundraising for the Yemeni Relief Effort. Do you think it is important that Muslim student organizations don't just focus on causes that are trending on social media but do the work to learn about other parts of the world where there is great need?
To start, may Allah reward the University of Ottawa Muslim Students Association and every donor for their support.
It is extremely important to address other parts of the world that are in great need and aren't getting the deserved attention. Muslim Student Associations represent the "Muslim" community, meaning, they represent such an internationally diverse group of students giving them the task to at least try to raise awareness for communities that touch every corner of the world. Honestly, as members of these associations we should talk about these types of cases regardless if we personally know someone affected by it or not.
As Prophet Muhammad (peace be upon him) said:
"What actions are most excellent? To gladden the heart of human beings, to feed the hungry, to help the afflicted, to lighten the sorrow of the sorrowful, and to remove the sufferings of the injured." (Bukhari).
What do you want Muslim Link readers to know about what is happening in Yemen?
To whomever is reading this, please know that this conflict has been going on for 20 months and has caused 6, 000 casualties in Yemen. I would want them to know that before the war, 10 million Yemenis needed humanitarian aid and this present number has increased to over 21 million. Know that among the Yemeni refugees, there are even doctors, bankers, business owners, pharmacists, and people with diplomas that are struggling to survive. This crisis does not discriminate. Know that fathers and sons have sacrificed themselves to stay in Yemen because they only had enough money to save their wives, kids and siblings. Know that this conflict, just like any other, has also emotionally affected the Yemeni around the world.
Last but not least, understand to not rely on the media to provide you with a detailed coverage of what is happening in Yemen and in other countries because chances are, they won't. Therefore, take your time, it can be as little as 5 minutes, to inform yourself about situations that are not covered well in the media. Once you know, make the effort to share that information. Simple word of mouth can make a difference for the people suffering.
What do you want Muslim Link readers to do to support the Yemeni people in Ottawa, in Yemen, and who are refugees in the Horn of Africa?
In shaa Allah (God willing), as mentioned previously, I will be heading back to Djibouti this Christmas break. I have started a fundraising campaign to directly support the Yemeni refugees in Obock's camp. My goal is to reach $8000, by December 22nd which will be enough to provide hygienic items, food, clothes, toys and medication once I get there. Donations for the Yemeni refugees can be given through my GoFundMe Page here.
As for supporting the people in Yemen, you can donate to the following NGOs that give you the option to pick the country of your choice: Human Concern International, CARE, Save the Children Canada & Islamic Relief Canada.
Lastly, if you know any Yemenis in Ottawa or anywhere else, ask them if they need help and try to offer them any kind of emotional support; the conflict in their country is certainly not limited to having an effect physically but mentally as well. Lastly, the best thing you can do for them is to simply spread the message.
This article was produced exclusively for Muslim Link and should not be copied without prior permission from the site. For permission, please write to info@muslimlink.ca.