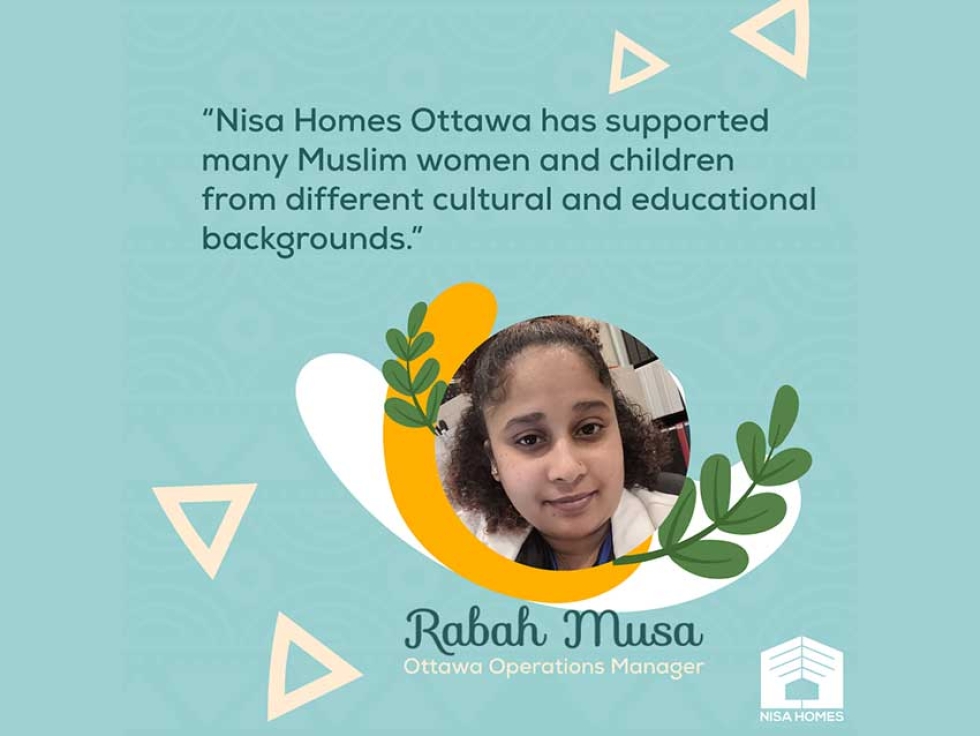 Rabah Musa is the City Operations Manager for Nisa Homes Ottawa
Nisa Homes
31
Mar


2022
Ottawa Muslim Women's Shelter That Opened During the Pandemic Fundraising This Ramadan
Written by Chelby Daigle
Nisa Homes Ottawa is a Muslim women's shelter based in Ottawa which opens it's doors on April 1, 2021 right at the beginning of the COVID-19 pandemic.
It is the seventh Nisa Homes shelter opened in cities across Canada that are supported by funds from the National Zakat Foundation to meet the growing need for temporary housing for Muslim women and children in Canada who may find themselves homeless due to financial difficulties and/or family violence.
Muslim Link interviewed Rabah Musa, City Operations Manager for Nisa Homes Ottawa, about the shelter and its upcoming fundraiser this Ramadan.
Tell us about yourself
My name is Rabah Musa and I am a Sudanese born Canadian. My parents and siblings arrived in Toronto in January 1994 as landed immigrants fleeing prosecution from the Sudanese government. As new immigrants to the country, My family did access the shelter system and was supported in acquiring affordable housing. My parents unfortunately divorced, and the process was very painful for all involved and we had to access the shelter system again. Focusing on education was a message my mother consistently gave and as a result I completed my BA at the University of Ottawa in Psychology, religious studies and Women's Studies and currently working on completing my Master's in counselling psychology. I am a mother of two energetic and beautiful boys and married to a my very supportive partner.
Why did you become interested in working in the social work field?
I have always gravitated towards helping people. I was raised to be thankful for what I had and to remember that I have a responsibility to help others if I can. My mother encouraged us to get involved with our community and also showed us how by bringing us with her when she participated in supporting others. Therefore, I naturally found myself in the social work field.
Why is there a need for a Muslim Women's shelter in Ottawa?
I personally worked in the Ottawa shelter system as a frontline worker, supervisor, and manager and a need for a Muslim Women's shelter in Ottawa is very apparent. Nevertheless, most shelters provide a standard and one size fits all model of service delivery. Within this model it is very difficult to accommodate Muslim women who may need access to halal meals, a space to pray, immigration supports, culturally informed mental health services, and even culturally specific resources. The number of Muslim women who access the shelter system has also increased due to the impact of the COVID-19 pandemic. Nisa Homes Ottawa opened its doors on April 2021 and until now we are almost always full. This speaks to the need for a safe space for Muslim women in Ottawa who are seeking support.
What are some of the reasons why people come to Nisa Homes in Ottawa?
Nisa Homes Ottawa has supported many Muslim women and children from different cultural and educational backgrounds. Our program uses a culturally responsive model that caters to immigrant, refugee, and non-status women. What makes Nisa Homes Ottawa unique is that it provides a place for women to live comfortably and feel safe in a supportive home environment, explore their cultural identity, and directly connect with their community. The core services that help foster this environment are in-home and remote casework, financial assistance, a children's program, spiritual support, mental health support and a secure location that is confidential.
Why is Nisa Homes Ottawa fundraising this Ramadan?
The funds we are trying to raise will help support the Ottawa home directly. When you support the home you are making sure our women and children are being provided with in-home and remote casework, financial assistance, a children's program, spiritual support, mental health support and a secure location that is confidential.
You can upport the Nisa Homes Ottawa by donating directly online here.
Nisa Homes Ottawa also accepts donations in the form of groceries, gift cards and more. Please reach out to our team if you want to get support in this amazing project.
Another way to support Nisa homes Ottawa is by volunteering, and we provide volunteer opportunities that are remote and in-person. 
If you are interested in getting involved reach out to us at This email address is being protected from spambots. You need JavaScript enabled to view it.
If you don't live in Ottawa and would to support a Nisa Homes near you, Nisa Homes Fundraising Iftars are also taking place in Montreal, Windsor, Brampton, Calgary, Edmonton (Drive Thru & Dinner), Vancouver