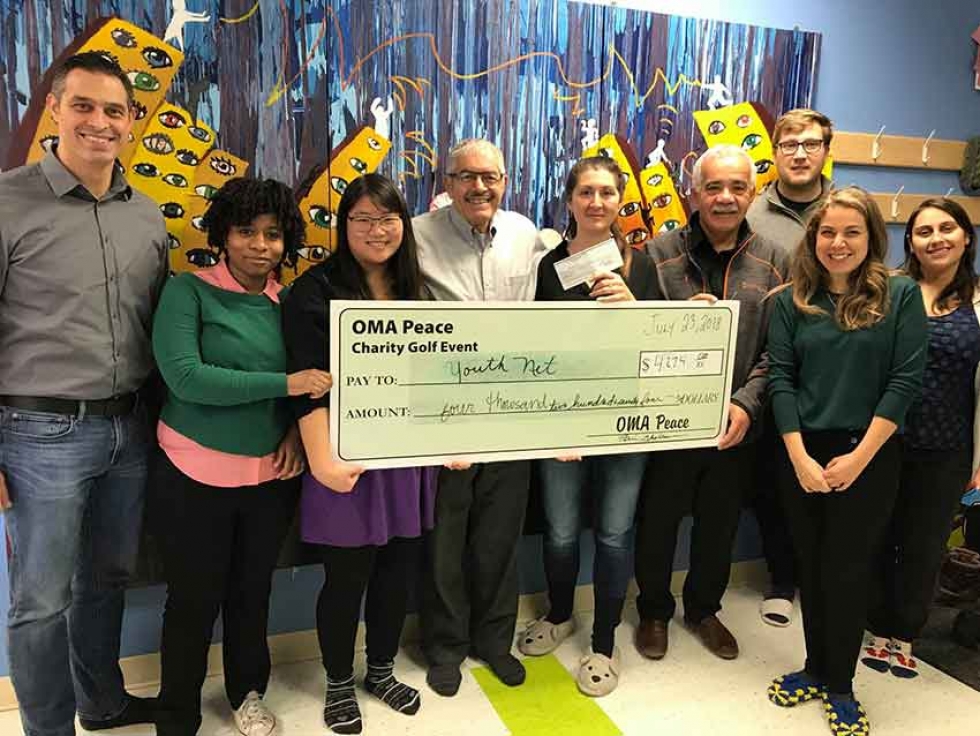 OMA Peace Charity Golf tournament presents donation cheque to Youthnet. Presented by Nazeeh Ghadban, Fred Ghadban and Theo Tannis.
26
Dec


2018
Ottawa Muslim Association PEACE Golf Tournament Raises Funds for Youth Mental Health and Cancer Care
Written by Ottawa Muslim Association
The Ottawa Muslim Association (OMA)'s annual PEACE Golf Tournament raises funds each year for the maintenance of OMA and local charitiable causes. 
This year, the tournament donated funds to the Ottawa Hospital Foundation's Cancer Care Centre and Youth Net, an youth mental health promotion organization.
The OMA PEACE Charity Golf Tournament was established in 2007 after Lebanese Canadian Hajj Ali Ghadban passed away from cancer.
Ghadban and his family were some of the earliest supporters of the building of OMA. During his illness, Hajj Ali made the following statement to his brothers and cousins: "I don't know how we are going to raise the funds to fix the dome." At that time, the dome at the Ottawa Mosque was leaking heavily. Hajj Ali's statement was so moving that it stayed with his cousin Farid (Fred) Ghadban until today.
In 2007 his brothers, friends and cousins got together and started the Hajj Ali Memorial Charity Golf tournament (OMA PEACE Charity Golf Tournament).
Hajj Ali was involved with the OMA throughout his life, and held many different positions while he was still active; the last position he held was as a member of the Council of Trustees. He was the primary individual to raise most of the funds to fix the leaky dome.
The General Hospital Cancer Care ward treated Hajj Ali throughout his illness, and the staff of the hospital treated him and his family with such kindness and respect that it was decided to share the funds raised with the hospital.
At that time the funds were split two thirds to the mosque and one third to The Ottawa Hospital Foundation. An Endowment Fund was establish with the money raised, to fund the 5 East Cancer Care wing with sophisticated beds, morphine pumps and any other equipment they deemed necessary. The OMA receives a yearly report on the fund status.
When Staff Sergeant Kal Ghadban passed away in 2014, it was decided to add the following three charities in his memory: Youth Net, Boys and Girls Club and Camp Misquah.
All the Charities have posted a plaque in their facility thanking the Ottawa Muslim Association for its generous donation.
To learn more about the OMA Charity Golf Tournament, click here.
To learn more about the Ottawa Hospital Foundation, click here.
To learn more about Youth Net, click here.