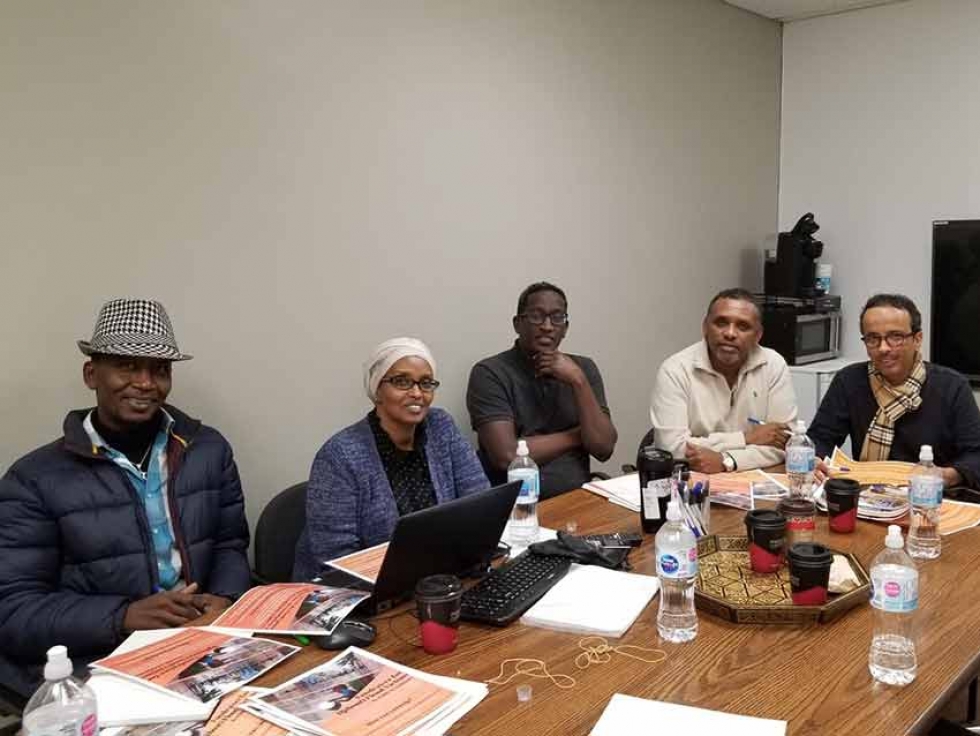 Members of Solidarité DJIBCAN Solidarity (not all members are present) Left to right: Ablis Afarson, Roda Muse, Abdi Daher, Alan Ibrahim & Sami Ahmed Mohamed.
Solidarité DJIBCAN Solidarity
13
Dec


2019
Ottawa-Based Members of the Djibouti Diaspora Are Raising Funds To Support Relief Efforts After Recent Flooding
Written by Chelby Daigle
This has caused a humanitarian crisis in some regions of the country. Funds are need to support relief efforts on the ground.
Members of the Djiboutian diaspora in Ottawa have come together to raise funds to support those in need in their homeland.
Muslim Link interviewed members of the group to learn more about their fundraising efforts.
Tell us about yourselves
We are members of the Djiboutian diaspora in Ottawa who, in light of the recent environmental and humanitarian crisis in Djibouti, have formed a not-for-profit organization named Solidarité DJIBCAN Solidarity.
Through Solidarité DJIBCAN Solidarity, our mission is to develop and create bridges of solidarity on an international scale while providing an aid to the Canadian and Djiboutian population. We aim to do so by mobilizing ourselves around initiatives supporting the solidarity of people in Djibouti and Canada, providing an emergency appeal to victims affected by natural disasters and by supporting projects focusing on sustainable development.
Tell us about the humanitarian crisis in Djibouti right now
Since November 21st, 2019, due to the severe impact of climate change, Djibouti has been hit regularly by torrential rain resulting in massive destruction and chaos throughout the entire country.
In the capital alone, it is estimated that over 30,000-40,000 families (150,000-250,000 people) have been somewhat affected by the floods, and 9 people (7 children) have reportedly been killed. Reports have shown that between November 21st and 24th, almost 300 mm of rain were recorded in Djibouti-city alone which is over three times the annual average. This disaster has led to dwellings, schools, shops, and infrastructure to be damaged. Many areas in the country have lost access to electricity.
In other parts of the country, the flash floods have affected access to several communities by damaging roads. It has been reported that at least 300 families are in need urgent humanitarian assistance.
Upon hearing of the chaotic state of the country on the first day of this disaster, we, members of Ottawa's Djiboutian diaspora, urgently got together in order to come up with ideas on how we can collaboratively bring aid overseas. During our brainstorming meeting, we've noticed that, although there is a significantly large Djiboutian population in Canada, there isn't any solid charitable organization created by members of the diaspora who are currently helping the people of Djibouti, whether abroad or on the ground. Hence, came the idea of establishing the Solidarité DJIBCAN Solidarity organization.
With a population smaller than Ottawa's, Djibouti faces many national problems such as lack of resources, poverty, malnutrition, droughts and low employment rates. Now, with the current torrential rains, the level of disaster experienced by the population is severely increasing.
Due to the urgency of this humanitarian crisis, Solidarité DJIBCAN Solidarity has launched a GoFundMe campaign with a goal of raising $15,000 for the affected families. All funds raised will enable Solidarité DJIBCAN Solidarity to provide relief, recovery and resiliency activities in response to this disaster.
Do you have previous experience delivering aid to the country?
Although Solidarité DJIBCAN Solidarity is a newly founded organization, it is composed of members with a variety of experience in charity within the Canadian and Djiboutian community in Ottawa.
Our members have, previously, worked in raising awareness on education, security, health amongst people of Ottawa.
In particular, we have one of our members, Zein Ahmed, who has gained experience in directly bringing humanitarian aid to Yemeni refugees in Djibouti; her efforts were profiled by CBC News and the University of Ottawa. Her experience has significantly helped us in understanding how to efficiently attribute funds to victims on ground as well as knowing the key organizations to, directly, work with in Djibouti to solve this crisis.
What is your approach to aid delivery in this situation?
Due to the enormity of this situation, Solidarité DJIBCAN Solidarity has carefully worked with organizations who are, currently, on the ground in Djibouti, in order to analyze the status of the victims of this flood crisis and establish all the modalities and criteria for a transparent management of the funds.
This analysis allowed us to identify 60 families who are in critical need for assistance. The collected $15,000 would help provide non-perishable items that are urgently needed by these families, such as: mattresses, bed sheets, quilts, portable stoves, kitchen and cleaning kits as well as water tanks.
What lessons have you learned from previous fundraising and aid delivery experiences that you are bringing into your efforts in this situation?
Being an organization of members of various backgrounds, experiences and age, this has tremendously helped us in solidifying our organization's long term objectives and mission by having various ideas presented at the table.
We've all learned from our past experiences, that, regardless of the distinction in backgrounds, group members who have a common objective can significantly thrive to reach their goal. In addition, being all members of the Djiboutian community has allowed us to easily create a common plan which is to help our people, our country. We hope, throughout our charity work in the Canadian and Djiboutian community, that we will be able to share our plan with even more individuals of our communities.
Is there anything else you would like to add?
As previously mentioned, we at Solidarité DJIBCAN Solidarity are working to try to reach our $15,000 goal by reaching out to our communities online and in-person.
With the situation in Djibouti severely getting worse, funds are urgently needed. We cannot help them without our community's help, thus we are calling out to everyone to donate whatever they can and to spread awareness about this humanitarian crisis.
For interac payments, donations can be directed to This email address is being protected from spambots. You need JavaScript enabled to view it. (please make sure to e-mail your password, if applicable).

Follow us on Facebook here
This article was produced exclusively for Muslim Link and should not be copied without prior permission from the site. For permission, please write to info@muslimlink.ca.