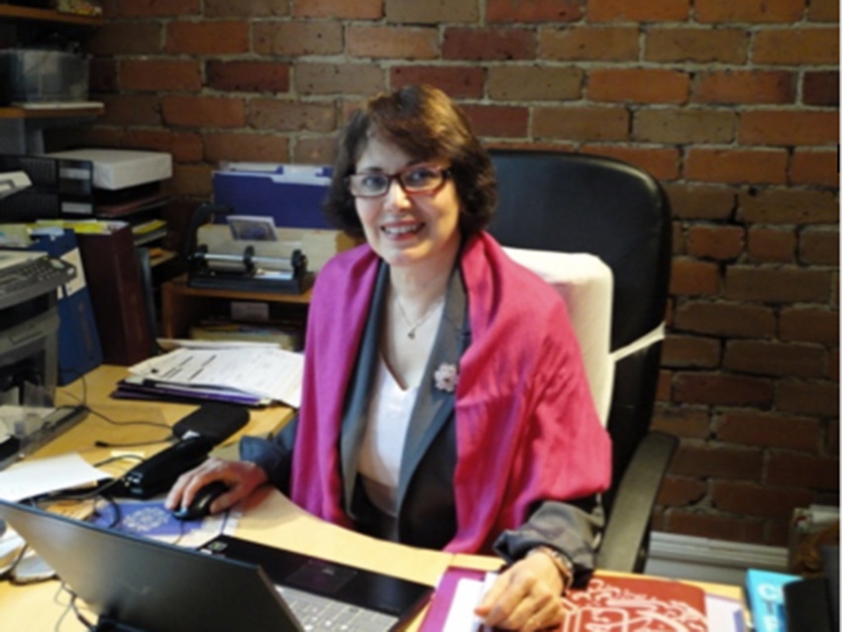 Canadian Iranian Professor Homa Hoodfar is currently imprisoned in Iran. Her students, colleagues, friends, family, and human rights activists are struggling to see her set free.
Courtesy of Free Homa
11
August


2016
On Working with Homa Hoodfar, A Canadian Professor Currently Imprisoned in Iran
Written by Rahat Kurd
Update: Homa Hoodfar has been released from prison. Read Prime Minister Justin Trudeau's statement in response to her release here
Canadian Iranian Professor Homa Hoodfar teaches in the Department of Sociology and Anthropology at Concordia University. She has been in the notorious Evin prison in Iran for over three months without charge supposedly under investigation for "dabbling in feminism and security matters". Her students and fellow academics, as well as friends and human rights activists have been rallying to see her set free. To learn more about Hoodfar's situation and how you can help, please visit the website Free Homa here
Vancouver writer and poet Rahat Kurd recounts her experience of working for Professor Homa Hoodfar as a young assistant in the Ottawa academic feminist community in the early 1990s. 
********
Fourteen engineering students were massacred at Ecole Polytechnique in Montreal on December 6, 1989. On that night it became impossible to ignore the reality that violence against women could happen anywhere, at any time. If some of us had previously heard whispers about fights between a husband and wife, or that the friend of a friend had sought shelter away from her own home, we could tell ourselves these were isolated incidents, personal misfortunes that could have nothing to do with the larger society to which we were all bound.
The deliberate and merciless way the female students were singled out by gender and shot, however, demanded that we begin to radically shift our thinking. We needed to have frank conversations about women's rights and to reflect on the disastrous consequences of denying them. It was the beginning of a memorable and turbulent time to be a young Muslim woman in Canada.
Feminism became an urgent topic of discussion in my close-knit group of female Muslim friends. As students and religious community organizers from across Canada, many of us already thought of ourselves as feminists. We had already seen that some men in our communities could get quite riled up about certain choices we made. When we spoke in public; when we lived on campus instead of at home with our parents; when we majored in politics and engineering instead of training to be nurses and teachers; or, if it came to that, when patients we nursed and students we taught started to look a little too much like men under the authority of Muslim women, officious community uncles or student-brothers could sometimes be heard offering their opinions, sometimes directly to our faces, sometimes as patronizing advice to our parents, and once, memorably, by anonymous letter, warning a close friend and ace politics major about the moral consequences of studying a subject that the All-Merciful had surely decreed was for men.
We could laugh—we often did. But we began to sense that our confidence to think and act independently as students would not be quite enough to create equality in our future relationships. As Muslim women we were expected, more or less without question, to get married, to men our parents approved of, ideally around the time we completed our education, but in any case, the sooner, the better.
We needed more role models, and we needed more knowledge. History was complicated; our own mothers and grandmothers had not been raised in strict adherence to either the letter or spirit of Islamic law; we hardly knew anyone who had. We wanted to be able to assure ourselves that, having been raised with our own contemporary Canadian understanding of Islam as a religion of equality and justice, no one could misuse it to deny our rights, least of all some hypothetical future husband. What did the Qur'an really say about women's rights? How had Muslim women defended their rights in the past?
When we began to ask these questions, key texts in Muslim feminist scholarship began to be widely available. "The Veil and the Male Elite" by Fatima Mernissi was a crucial first step to understanding how our past informed our present; "Women and Gender in Islam" by Leila Ahmed was a groundbreaking work that allowed us to see ourselves as part of a proud lineage of Muslim women who had struggled for their rights and achieved high levels of scholarship across many disciplines, including religious jurisprudence. They had made their voices heard in their own societies, from the earliest days of Islam through twentieth century colonial European rule, demanding answers to the questions we urgently wished to answer for ourselves.
During this time, I worked as a research assistant at a feminist academic organization in Ottawa. I felt supported and encouraged to develop my own ideas by my supervisors and mentors. The advent of email allowed me to continue debating and dissecting women's rights in Islam with several of my Muslim friends, but the first few of them to get married filled me with more doubts and questions about the kind of future I really wanted for myself. The first Gulf War had begun to expose Canadian Muslims to a harsh, newly politicized spotlight only the year before, and visibly Muslim women could be the targets of suspicion, hostility, and attack.
In this era of identity politics, the simplest conversations or gestures could be prickly, self-conscious, and fraught. I went to traditional gatherings for religious Muslims, academic conferences for secular feminists, and panel discussions for female Muslim community organizers who were just beginning to carve out a space somewhere in between. In all three of these spaces, emotions could run high, about how you identified and what side you were perceived to be on. In my headscarf, slouchy dresses and combat boots, I found that the words "Muslim feminist" could elicit icy disapproval from Muslims and feminists alike. I found myself being informed (indeed screamed at, loudly) that a Muslim woman could not be a feminist. To three mutually hostile perspectives, I could be considered a betrayer and a sellout.
It was also during this time that I met Homa Hoodfar.
Professor Hoodfar was teaching in the Anthropology department at Concordia University. We spoke over the phone several times before we met in person. She needed an assistant to interview Muslim women living in Ottawa who had been raised in Muslim societies. Homa was particularly interested in first-person narratives about access to education, and in how education had been regarded in general by women's families, communities, and religious authorities. Homa's curiosity about my own position was warm and genuine, but brief –her unique syntax, "You veil?" subtly transformed the inert object into an active verb. But unlike any feminist I had met until that point, she took my affirmative reply with perfect ease. She did not exclaim that with my head covered, I could not possibly be her assistant. She held no ideological stake in the matter at all. She carefully outlined the proper interview methods and questions I would need, and gave me roughly half a ton of background reading material. Then she left me to it.
The assignment was a grounding, even humbling opportunity to listen to women from half a dozen different places of origin talk about their early life experience. The point was not what side they were on, but what struggles they had faced within their own circumstances. Women of my mother's generation, of multiple places of origin, described experiences that I would not otherwise have felt curious about, or believed I could learn from, given how absorbed I was in the politics of my immediate present. The study also gave me the chance to read about important campaigns and dynamic movements initiated by feminists in Pakistan, North Africa, Iran, and Bangladesh. Because her work was rooted in and focused on Muslim women's lived experiences, Homa regarded women as their own moral agents. She was completely uninterested in the binary oppositions that characterized so much of the moralizing about what a Muslim feminist was or how she should be. Having long since rolled up her sleeves and done the work of actually gathering, compiling, and analyzing the data, she already knew there was no contradiction.
In March 1993, women of all faiths, origins, and fabric inclinations flocked to the University of Ottawa for International Women's Day, to hear Professor Hoodfar speak on a panel titled "Women's Rights Are Human Rights". The poster for the event showed a silhouette of a woman's head half inside and half out of a domed cage, creating an impression, rightly or wrongly, that the discussion might include a critical focus on the Muslim head cover.
It was the first time I had seen so many women of my religious community attending a mainstream feminist gathering. And I have to say that the sight of the ladies whom I regularly saw at Friday prayers, all sitting together, made me nervous. These were not women who read feminist literature or knew Professor Hoodfar's work. They only distrusted what she might have to say about Islam. Indeed, at first, when several of the sisters rose to speak during the Q&A, each woman was so determined to dissociate their cherished religious beliefs from the practices of oppressive regimes elsewhere in the world that she completely ignored the fact that Professor Hoodfar had spoken not spoken about religion at all, but about women's experiences in Iran and Egypt. I sank a little lower in my seat, fearful of being presumed to be one of them, even though in a lot of ways that mattered, I was.
The last Muslim woman in the line stepped to the mic, and in a kind of impassioned freestyle, roared that if her husband ever tried to make her stop wearing a scarf, she would kick him out of the house. The whole auditorium—mostly students, in a variety of piercings, shaved heads, and plaid flannel shirts—erupted in loud cheers, whistles and applause. The sister had, after all, more or less just promised to smash the patriarchy. Her facial expression went from defiance to shock to priceless delight at finding her listeners so sympathetic.
Afterwards, my mother and I had to wait a long while to talk to Homa, because several of the Muslim women who had just attended their first International Women's Day event wanted to shake her hand. However unfounded some of their apprehensions might have been, all of these women had at least decided to sit in the same room for one evening. If the Islamic sisters hadn't actually accepted Homa as a scholarly authority on Muslim women's lives, at least her presence emboldened them to show up, to take the mic, to make their own voices heard. And in the end, the sisters were not only heard but appreciated and understood. Perhaps the experience would motivate them to listen to women of differing outlooks in future, or to demand the right to be heard at the mosque as well. When I look at a Muslim world being relentlessly broken apart by patriarchy and war twenty-three years later, I cannot see that night as unimportant.
On June 6th I woke up to the news that Professor Homa Hoodfar had been arrested and was being held in Evin Prison in Tehran. They took her from her friends and family on the first day of Ramadan, and have not allowed her to contact them since. Part of my brain has not stopped emitting a silent scream of rage and disbelief at those words. For the last six weeks, my social media profile has showed a drawing of Homa's face, partly behind bars, some of which are broken, with the hashtag, #FreeHoma. Thousands of academics from around the world have spoken to the press, called for her release, written letters through Amnesty International, sent emails to the Canadian government and to the Iranian authorities. Muslim women in Canada, feminist scholars, academics, and activists alike, have taken the lead in calling on Iranian authorities to release her immediately as a matter of principle integral to the Islam the state claims to represent.
Professor Hoodfar spent her career calmly and methodically reporting the advances women make when they have the freedom to choose how to express their religious identity. Her arrest is a sickening affront to Muslim women struggling everywhere in the world against oppression. I hope this small piece of Ottawa Muslim history will motivate even more women and men to add their urgent voices in protest.
This article was produced exclusively for Muslim Link and should not be copied without prior permission from the site. For permission, please write to info@muslimlink.ca.