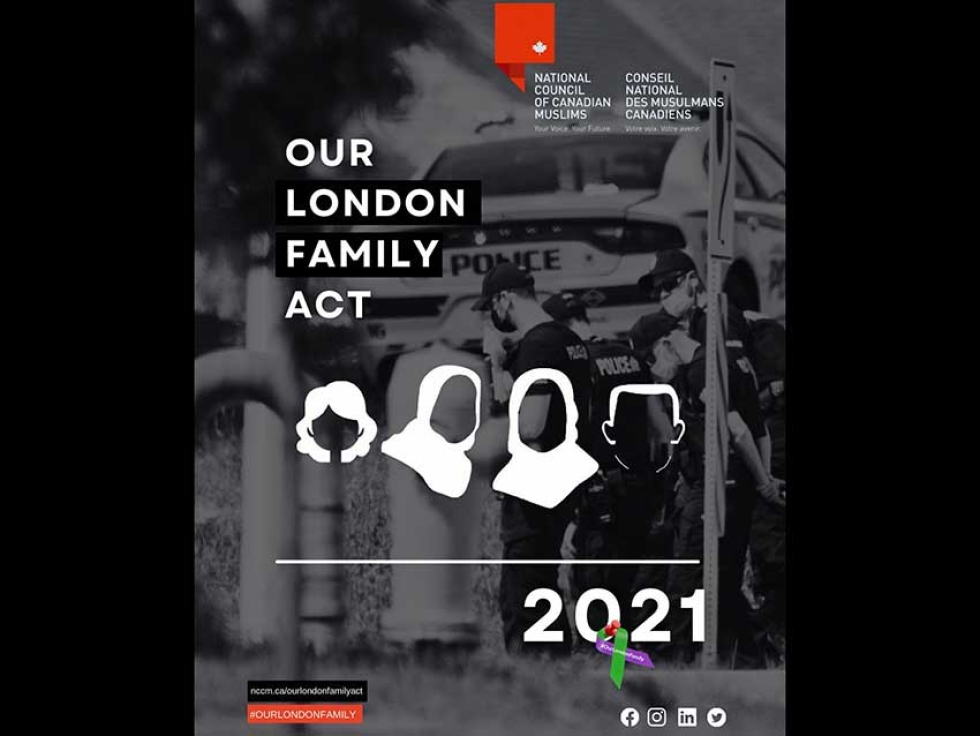 19
Nov


2021
It is hard to imagine that just about five months ago, we had the pain and heartbreak of the London Terror Attack.
A family lost three generations to Islamophobic violence in a single night.
The reason I think it's hard to imagine that it was five months ago is because the pain and fear that reverberated through our communities that day continue to grip us like it was yesterday.
I still hold my breath every time I drive back to London.
A dua'a escapes my heart every time I see Muslim families out for a walk.
But I find comfort in thinking about that same day when I walked past Yumna Afzal's mural for the first time in the basement of the London Muslim Mosque. She left us with the gift of inspiration, a legacy of going for our dreams, a call to "shoot for the moon."
It's time for us to look skyward and to the stars. We won't allow ourselves to accept fear and inaction.
[On November 8], in conjunction with the London Muslim Mosque, we launched a draft piece of legislation for Ontario - a model that can be adopted nationwide. We called it The Our London Family Act.
There can be no doubt that it has to happen, and that the province of Ontario is where we must start - we have lost five innocent lives to Islamophobic violence since last fall in Ontario alone.
We can't wait for another death, another hate-fuelled killing.
We need to see action.
We need to see the introduction and passage of the Our London Family Act before the Spring Election in Ontario.
There are three things you can do to get involved in helping us pass historic change:
On November 22nd, we will be hosting an advocacy day at Queen's Park where we will be inviting leaders of Ontario's Muslim community to come together urge all three parties to introduce and pass the Our London Family Act. While we have very limited capacity due to COVID restrictions, if you would like to attend, please email us at This email address is being protected from spambots. You need JavaScript enabled to view it. with a description of the community organization you represent.
Read through the Our London Family Act - and if you live in Ontario, pick up the phone today to urge your local MPP to support and pass the Our London Family Act.
Help support us to pass this through. Donate today to help support us in hiring more advocates at www.nccm.ca/donate
Below is a summary of key recommendations from The London Family Act:
If introduced and passed, the Our London Family Act would address six key areas:
Changes to our education system based on the calls we heard across the province to make sure young people are growing up with educational resources that help them understand Islamophobia;
Dismantling of white supremacist groups in the province by preventing them from registering as societies, preventing acts of intimidation on provincial property, as well as prevent intimidation tactics targeting worshippers at synagogues, mosques, or gurdwaras;
Enshrine a provincial hate crimes accountability unit that provides best practices, and investigates potential failures in combatting hate incidents;
Bolster the scope and strategy of the Anti-Racism Directorate to include changes from conducting regular polls to understand where the pain points of
Islamophobia lie to investing in public service announcements about Islamophobia;
More minorities in the provincial public service;
Increase the limitation period for those seeking to file human rights claims in Ontario