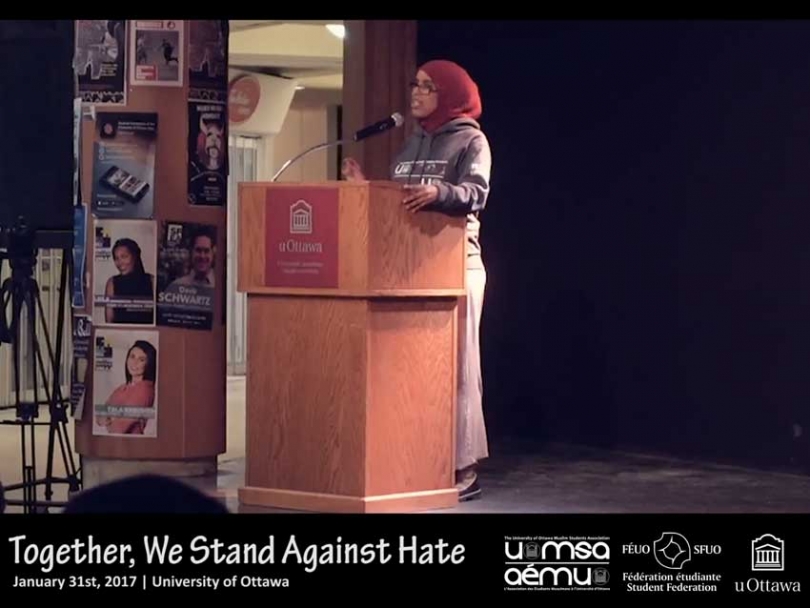 Somali Canadian Filsan Nour, the UOMSA Events Officer, shared her thoughts on recent events.
17
February


2017
My Mother's Worst Fear: Speech Made in the Aftermath of Trump's Muslim Ban and the Quebec Shooting
Written by Filsan Nour
The University of Ottawa Muslim Students Association (UOMSA) organized an interfaith session on campus on January 31st  to share concerns about the Trump travel ban on seven Muslim majority countries, including Somalia, and the shooting at a mosque in Quebec City that left six people dead.
Somali Canadian Filsan Nour, the UOMSA Events Officer, shared her thoughts on recent events. This is her edited speech.
*******
In the name of Allah, the most Beneficent, the most Merciful.
I'll start off my speech today with a conversation I had with my grandmother a few days ago. Now my grandmother, an immigrant who finally found peace in Canada after years of fleeing civil war, comes bearing so much knowledge. I sat with her on Sunday morning, and we were discussing her early teen years, she always had amazing and detailed stories of how her life used to be before and how different it is now. That's when I decided to fill her in on what the news brought upon us. See, my grandma did not know how to react. She couldn't wrap her head around how badly this would impact all of our lives.
See, what this Muslim Ban is, is far more than a simple ban to "Reduce terror attacks and prevent radicalization" like the President so clearly states.  It hits close to home.
My mother, one of the strongest women I know, grew up in a country where tribalism and hatred for your brother led to one of the worst civil wars. From then on, she would always tell me to remember a particular point in my life. As young girl, I was always very curious, so when my mother would be explaining to me the reasons why wars tore countries apart, she had a simple Somali proverb as her answer. "The world in itself is evil and evil acts are carried out by people when they are given the power to." When Trump came into presidency, he became that voice, and awakened many evil souls who finally have an outlet to express their hatred. He became the national spokesperson for Anti-"almost about everything". This ban has a deep rooted motive and it is solely out of fear of the unknown. Now, is it a surprise that the countries affected by this ban all share the common denominator of unknown-ness?
And now for myself, although not American, I have been directly instilled with a serious fear. My real home is Somalia, which means according to Donald Trump, I have a high probability of terrorist activity. But am I the terrorist or am I being terrorized? As a black, Muslim woman, I have faced far more terror in my life. Just to put things into perspective, in what world do we live in, where at every taraweeh (night prayer), my mother has to tell me to say my shahadah (testimony of a Muslim) before we walk in, in the case that we are attacked in the mosque? And then, the very thing my mother has feared for four years happened, in a city a few hours away from here! May God have mercy on their souls. And that's when it hit home. And I can't help but feel helpless, whether it be at a bus station where I am told to take the towel off my head, or at work, where I was told I "speak good English for a newcomer". A Canadian is who I am. Not a terror threat, not the "other". 
See ignorance can only drive hate. And in a world where it is so easy to be drowned in news headlines and bombarded with facts about developing countries being infiltrated by terrorists. It is important to get to know each other and our stories because sometimes there is much more to someone than just a hijab on their head.
As Muslims, wait let me reword that, as a nation, as Canadians, we need to be strong in times of despair. We need to collectively come together and stand up against hatred.
I would like to close with one of my favourite quotes that is very relevant to today. Martin Luther King Jr said "Our lives begin to end the day we become silent about the things that matter".
This matters.
This article was produced exclusively for Muslim Link and should not be copied without prior permission from the site. For permission, please write to info@muslimlink.ca.