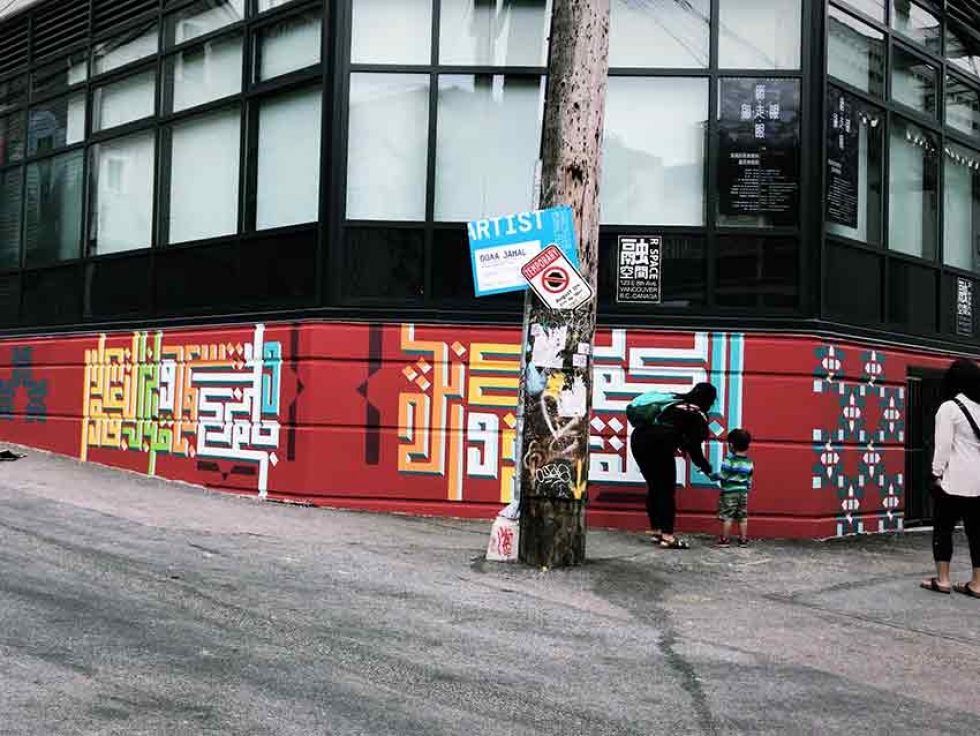 Simon Fraser University's Centre for Comparative Muslim Studies brings traditional art into Vancouver Mural Festival
12
Aug


2018
Muslims Claim Public Space at Vancouver Arts Festival
Written by Aslam Bulbulia
Muslims in Vancouver rarely see spaces in the city that reflect their religious and cultural identities.
There are very few prayer spaces in the city and the ones that do exist do not have the distinct traditional architecture of mosques in other parts of the world where many of Vancouver's Muslim
community have powerful memories of belonging.
This summer the SFU Centre for Comparative Muslim Studies was proud to partner with two prominent arts organisations to start conversations and create points of contact for critical discussions about who the city leaves out and who sees themselves as belonging here, particularly relevant in a context of North American anti-Muslim racism/Islamophobia.
The Centre has partnered with the Vancouver Biennale to activate Saudi artist Ajlan Gharem 'Paradise Has Many Gates' installation set up at Vanier Park as part of their "re-IMAGE-n" exhibition. The installation is in the shape of a mosque and made out of chain link fence. In an interview with the Saudi Gazette, Gharem explained the meaning behind the installation as follows, ""It is an Islamic, holy and social design which looks like a mosque. This work may trigger a feeling of being locked and anxious because of its framework. he work calls on all of us Muslims and non-Muslims to view what traditionally divides people and find ways to unify human experiences."
Barrie Mowatt, President of the Vancouver Biennale stated in an interview with the Saudi Gazette that "As we launch this new exhibition, with the theme re-IMAGE-n, we open with an artwork that's transparent, which invites exploration into sacred space," Barrie Mowatt, President of the Vancouver Biennale said. "In a time when we're witnessing dramatic political shifts towards nationalism and isolationism around the world, we need to re-explore our beliefs, our fears and our vision for a new interculturalism. We are excited to have Ajlan, our first Saudi artist participate in the Vancouver Biennale and we look forward to working with more young and talented artists from Saudi Arabia and the Gulf region participate through our International Artist Residency Program."
The Centre and the Biennale also hosted public dialogues on Being a Muslim Artist in Vancouver and the Gendered Experience of Being Muslim, as well as traditional Arabic Calligraphy and Geometric Design workshops.
Vancouver artist, Doaa Jamal, was commissioned by the Centre to create a mural for the Vancouver Mural Festival reflecting her own engagement with being a Muslim artist in the city. Her mural, entitled 'Why can't they see us?', draws on verses of the Quran that speak to the diversity of creation and learning from our differences, utilizing a modern version of the traditional Kufic Arabic script. Many members of the Muslim community came out to help with the painting, meet one another and build relationships around a shared love for art and expression. The mural is on display at 127 E 8th Avenue.
The Vancouver Mural Festival's Director of Engagement, Adrian Sinclair said, "We see mural art as a powerful way to tell the unique and diverse stories of the people and cultures that call Vancouver home. We have focused energy into partnering with Indigenous artists and Indigenous-lednon-profits in order to contribute to the reversal of Coast Salish cultural erasure. In a related mode, we are keen to make visible, and to celebrate Muslim visual culture in public spaces."