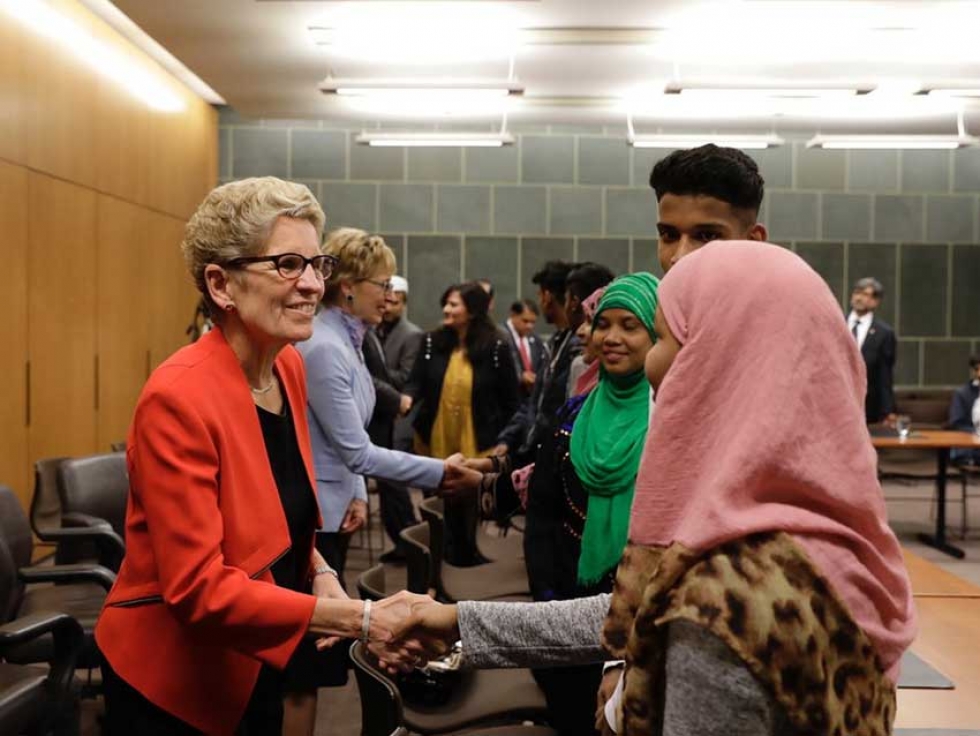 Ontario Premier Kathleen Wynne met with members of the Rohingya community living in Kitchener-Waterloo in October.
Premier Kathleen Wynne Twitter
28
October


2017
Ontario's Support for Humanitarian Efforts for the Rohingya in Myanmar
Written by Chelby Daigle
In October, Premier Kathleen Wynne met with members of the Rohingya refugee community and their allies in Kitchener-Waterloo, including many of the young actors from the play I Am Rohingya.
She released the following statement on October 25, 2017 regarding Ontario's response to the plight of the Rohingya in Myanmar:
"I am appalled by the killings and other gross violations of human rights as part of a widespread attack against the Rohingya people in Myanmar's Rakhine State. The attacks have caused an additional 600,000 Rohingya to flee to Bangladesh since August, creating what the United Nations calls the world's fastest-growing refugee crisis. These are crimes against humanity -- and responsibility for ending this ethnic cleansing falls squarely on Myanmar's military leadership and its civilian government.
Many people here in Ontario have experienced the pain and anguish of the atrocities in Myanmar. Earlier this week, I met with members of the Rohingyacommunity in Kitchener to listen to their stories of suffering and persecution. Hearing their heartbreaking experiences first-hand reinforced my belief that the international community must act urgently to end this brutality.
With similar urgency, we are compelled to provide humanitarian assistance for the people who continue to suffer at the hands of a brutal regime. To support these relief efforts, the Ontario government will contribute $1 million to two organizations. Ontario will provide $500,000 to the Canadian Red Cross, which is providing assistance for hundreds of thousands of people in Bangladesh, including shelter, food and water, hygiene and sanitation, with an additional focus on the prevention of gender-based violence. Ontario will provide $500,000 to Médecins Sans Frontières Canada to support quality medical aid, emergency sanitation and mental health services for people suffering in the crisis.
I am also supportive and appreciative of our federal government's efforts to work with other countries to exert pressure on the Myanmar regime. I am encouraged by the appointment of former Ontario premier Bob Rae as Canada's special envoy to the region. He is an excellent choice for this mission because of his long record of strong leadership on human rights.
We in Ontario must be vocal in our calls for the rights of Rohingya people and against the atrocities being committed in the region. Everyone in the world deserves a safe place to call home, freedom from persecution, and full equality under the law."