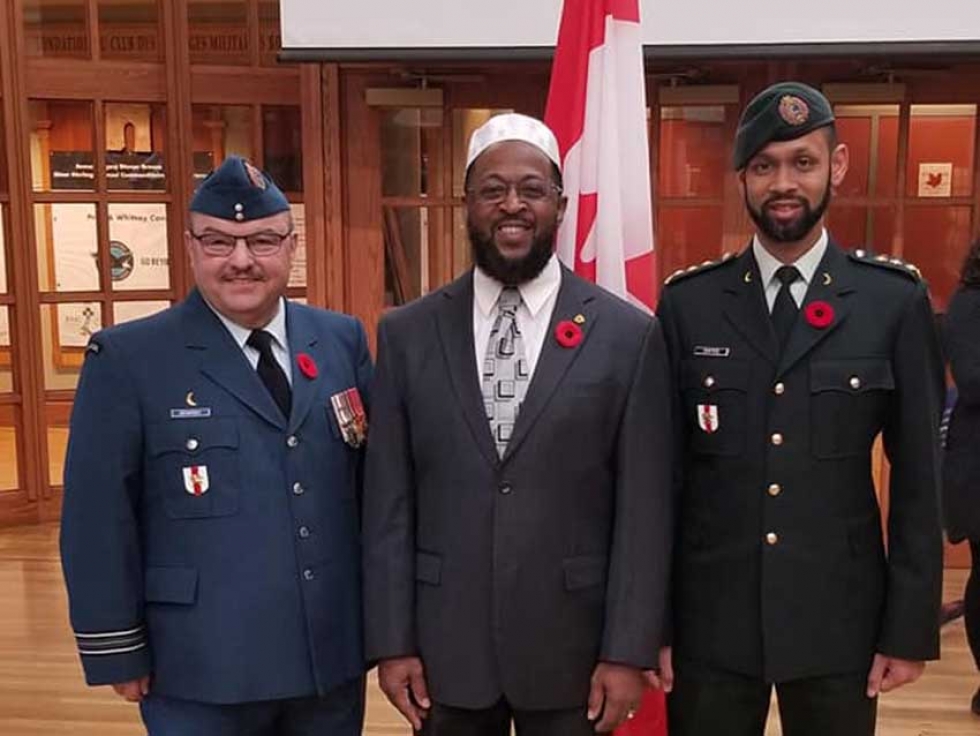 Major (Imam) Suleyman Demiray, Imam Michael Taylor and Captain (Imam) Ryan Carter at the Royal Military College in Kingston, Ontario on November 10, 2019.
Imam Michael Taylor
10
Nov


2019
Muslims Remember: Muslim Chaplains Organized Annual Gathering to Pay Respects to Muslims Who Serve in the Canadian Military
Written by Chelby Daigle
On November 10, 2019, the annual Muslim Canadian Remembrance Day Pre-Service took place in Kingston, Ontario.
This service pays respect to Muslims who have served in the Canadian military in peace and conflict by including all of the regular traditions of Remembrance Day, such as playing of the Last Post and reading of "In Flanders Fields", but also including recitation from the Quran. 
This event is regularly organized by Kingston's Muslim community and chaplains with the Royal Military College and the Canadian Armed Forces.
The Canadian Council of Imams, Islamic Chaplaincy Services Canada, the National Council of Canadian Muslims (NCCM) and The Canadian Muslim Vote were proud sponsors.
Muslim Canadian chaplains with the Canadian Armed Forces Major (Imam) Suleyman Demiray and Captain (Imam) Ryan Carter were in attendance along Imam Michael Taylor, who is the the Muslim representative to the interfaith committee on chaplaincy in the Canadian military.
Appointed in 2004, Turkish Canadian Major (Imam) Suleyman Demiray was the first Muslim chaplain in the Canadian Armed Forces (CAF). Major Demiray was deployed to Afghanistan where he helped to build bridges between the Canadian military and the local community, particularly religious leaders. Major Demiray currently serves as chaplain with the Royal Military College.
Capt. Ryan Carter, originally from Toronto, graduated from Hartford Seminary's Masters Program in Muslim-Christian Relations. Capt. Carter began working as a Chaplain in the Canadian Armed Forces (CAF) in 2012, posted first to Edmonton and then the Royal Military College of Canada in 2015. He is now posted as a chaplain in Bordon, Ontario. You can watch a Canadian Armed Forces (CAF) video profiling Capt. Carter's work as a chaplain online here. In the CAF video, Capt. Carter states "Me, as a Muslim, I'm grounded in my faith tradition, I'm educated in my faith tradition, I'm part of my faith community. That's my foundation. But certainly I work with people of all different backgrounds. And people seek our assistance for various reasons. Chaplains are advocates. We walk with people through their difficulties and their challenges. People trust us. We're that impartial member of the military where people can seek support and assistance through. And that, I think, is the essence of what Chaplains do."
In 2017, Captain Carter co-organized the first Muslim Canadian Pre-Remembrance Day ceremony to honour the first Muslim who died fighting for Canada in World War 1. Private Hasan Amat, 23, originally from Singapore, was killed in action on August 20, 1917 during the Battle on Hill 70. According to Canadian military historian Richard Holt in his book "Filling the Ranks", 22 Muslims fought for Canada in World War 1. In an 2017 CBC interview with Captain Carter, he stated "I think it was a revelation for most people. It was a revelation for me, myself, to know Canadian Muslims were involved in the very inception of World War One, and certainly continued to serve up until the present. I never realized it went that far back."
The cap badge of Private Hasan Amat was gifted to the London Muslim Mosque by the Royal Canadian Regiment (RCR) Museum in London, Ontario in a special ceremony on November 10, 2017 at Saunders Secondary School.
This article was produced exclusively for Muslim Link and should not be copied without prior permission from the site. For permission, please write to info@muslimlink.ca.