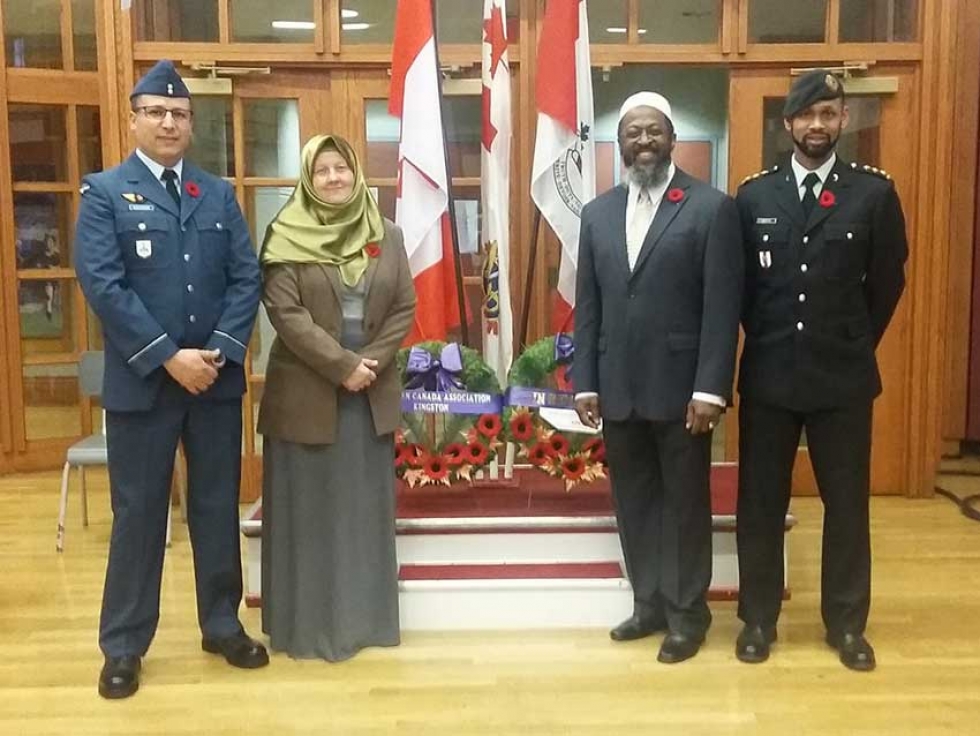 Muslims Remember Remembrance Day Service: Canadian Armed Forces Muslim Chaplains Jalal Khaldoune, Barbara Helms, Ryan Carter, along with Imam Abdurrashid Taylor.
25
Nov


2017
Muslims Remember Remembrance Day Service Pays Tribute To Muslim Who Died Fighting for Canada in WW1
Written by Chelby Daigle
On November 5, 2017, Padre Ryan Carter, a chaplain with the Royal Military College (RMC), organized a pre-Remembrance Day service at the RMC in Kingston, honouring the first Muslim to die serving in the Canadian Armed Forces in World War 1.
This service was organized by Padre Carter and Imam Abdurrashid Michael Taylor, regional chaplain with Correctional Services of Ontario and the Muslim representative to the interfaith committee on chaplaincy in the Canadian military. The service pays respect to Muslims who have fought in the Canadian military by including all of the regular traditions of Remembrance Day, such as playing of the Last Post and reading of In Flanders Fields, but also including recitation from the Quran. 
Other Canadian Armed Forces Muslim Chaplains Jalal Khaldoune and Barbara Helms were also in attendance. Padre Helms made history on October 11, 2017 when she became the first female Muslim chaplain for the Canadian Armed Forces. Padre Khaldoune is the first and currently only French-Speaking Muslim Chaplain with the Canadian military. There are currently three active Muslim chaplains with the miliary and one reservist. 
22 Muslims fought with the Canadian military in World War 1. Padre Carter only learned about Private Amat recently while reading the book "Filling the Ranks" by Richard Holt, who researched Canadian military efforts during WW1. Private Amat was originally from Singapore and died at the age of 23 in the Battle of Hill 70 in France fighting for the 1st Battalion of the Canadian Expeditionary Force. His body was never recovered. His name is on the Vimy Memorial.
In an interview with CBC about Pvt. Amat, Georgiana Stanciu, the executive director of the Royal Canadian Regiment (RCR) Museum in London, Ontario, discussed what is known about Pvt. Amat based on his service records which are kept in the museum. Pvt. Amat was originally deemed unfit for service by the RCR, but later was able to enlist in New Brunswick, and was deployed with 1st Canadian Infantry Battalion out of London, Ontario.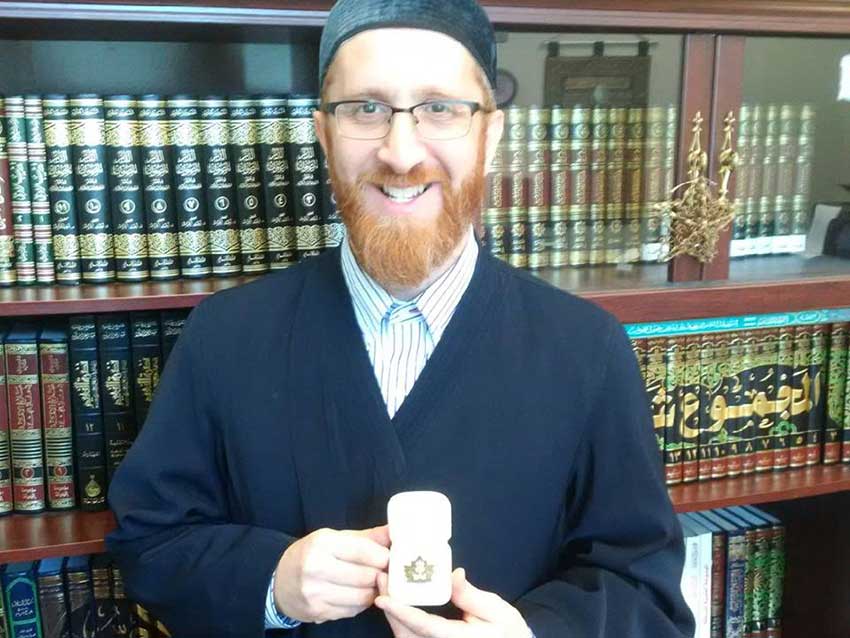 Imam Abd Alfatah Twakkal, imam with the London Muslim Mosque, was presented with the cap badge of Private Hasan Amat on November 10th in a ceremony at Saunders Secondary School. He stated on social media "I was honoured to attend the Remembrance Day assembly this morning at Saunders Secondary School where the staff and students presented to the London Muslim Mosque a cap badge of Private Hasan Amat, a Muslim of the Canadian army who was killed in action on August 20, 1917 during the Battle on Hill 70. This recognition goes to show the deep roots of Muslim history here in Canada and that our diversity as a nation is something we should be grateful for. This is also an example of how our Canadian heritage and history shows that there is more that brings us together than sets us apart. Thank you to the staff and students at Saunders for this wonderful recognition and gift to the London Muslim community!"
Read coverage about this event on CBC, The Whig Standard (Kingston), and Global News.
This article was produced exclusively for Muslim Link and should not be copied without prior permission from the site. For permission, please write to info@muslimlink.ca.