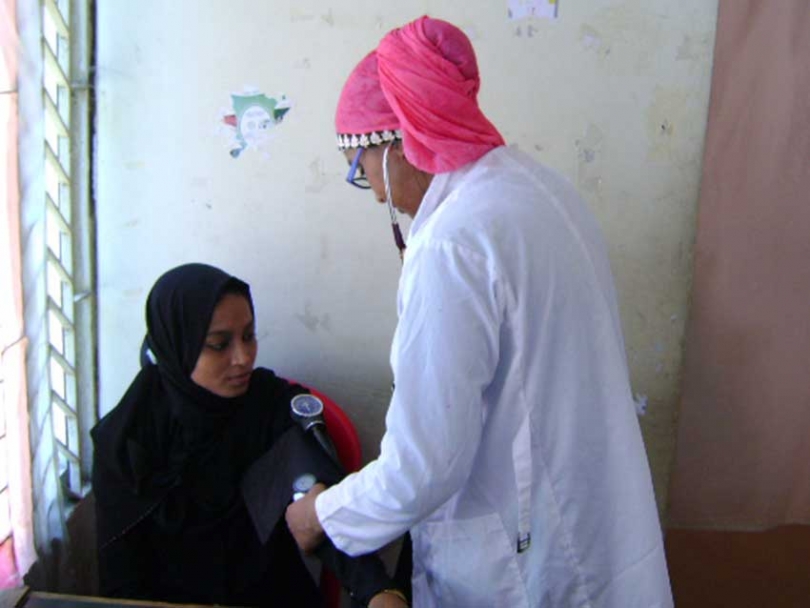 Dr. Nabiha Islam (in the pink hijab) treating a Bangladeshi woman at Hope Hospital in 2014.
22
Sep


2017
Bangladeshi Canadian Doctor Traveling To Help Rohingya Refugees
Written by Chelby Daigle
Bangladeshi Canadian Dr. Nabiha Islam is traveling to Bangladesh this month to provide medical relief to Rohingya refugees. She is currently fundraising online to help cover the costs of various medical services that will be offered to refugees through the charity Hope Foundation for Women and Children in Bangladesh.
Hope Foundation is a US-based charity run by the Bangladeshi diaspora. They run a 40-bed hospital in Ramu, Cox's Bazar, an area where many Rohingya refugees are settling in as it is only 10 km from the border with Myanmar.
Muslim Link interviewed Dr. Islam about why she is travelling to Bangladesh to help the Rohingya and what medical issues the refugees are facing.
Tell us about yourself 
I am a final year resident physician specializing in Internal Medicine at the University of Toronto. I went to med school at the University of Toronto as well. While I grew up in Markham and have lived the majority of my life in Toronto, I was born in Australia and spent several years in Qatar as well.
Why did you decide you wanted to go to Bangladesh to help the Rohingya directly?
I think doing this is a very small way of conveying my gratitude for all the blessings I have in my life. I have a very hyphenated identity, as many of us do in Toronto and across Canada. I am Muslim. I am the child of immigrants. I am Bangladeshi. Some of these identities intersect with those of the Rohingya people. So I think this really goes back to seeking to establish a link of solidarity with the Rohingya and others who are similarly persecuted on the basis of their religious and ethnic identities.
I think it is really important to be familiar with the cultural context, the religion, and the language of the people you are working with. I think that helps to promote a sense of solidarity instead of a sense of pity for those who are struggling in incredibly difficult circumstances, like the Rohingya.
For me, going to Bangladesh directly is just a natural extension of that sense of solidarity. I think in these circumstances as well, where there is very little media allowed into Myanmar, the act of witnessing this injustice is also extremely important. Being able to hear my patients' stories firsthand is a way to witness, acknowledge, and hopefully alleviate another's suffering.
Could you tell us more about the Hope Foundation, the NGO you will be working with?
The Hope Foundation is an amazing organization started by a Bangladeshi American pediatrician, Dr. Iftikher Mahmood, in 1999. They are a 501(c)3 non profit in the US. Unfortunately, with the hurricanes in Florida their American office has been closed but they have been working hard to advocate for the Rohingya and the rural poor at their Hope Hospital, a 40-bed hospital with a 24 hr emergency room, an OBGYN ward, a Pediatrics ward, a maternity ward, and operating rooms, on the outskirts of Cox's Bazaar, near the border with Myanmar. Since they have been working in that region for decades, they are uniquely equipped to provide medical aid where it is needed most. 
Hope Hospital is about 10 km from the Myanmar border. Currently, the Hope Foundation is running mobile health camps in four different locations along the border on a daily basis.
In light of the Rohingya refugee crisis, in the next few weeks, the Hope Foundation is building a field hospital even closer to the border that will have a 24-hour emergency room, OBGYN, primary care, and mental health services, as well as a patient transportation network to provide referrals to secondary and teritary centres.
You are crowdfunding to help support specific medical services that refugees will receive as part of this medical relief effort, explain the various services people's contributions will cover and why they are so critical in the context of a refugee crisis like this?
It's important to remember that the Rohingya have lived in Myanmar for centuries. Their entire lives and livelihoods are in another country. They speak a different language. Fleeing to Bangladesh is not 'returning home' for them as the Myanmar government would like you to think. They are leaving everything they know out of terror and fear. So many have suffered untold torture, physical, and sexual abuse.
Many of the Rohingyas fleeing are women, some of whom are pregnant, with small children, who have not received appropriate prenatal care, and who are severely dehydrated and malnourished.
As a 40-bed hospital with a 24 hr emergency room, operating rooms, OBGYN ward, Pediatrics ward, and maternity ward we will be providing both primary and specialized medical care.
Donations will go directly towards providing the services at this hospital like vaccinations, rehydration, medications including antimicrobials for typhoid, malaria, and other communicable diseases, along with prenatal and antenatal care.
Donate online to Dr. Nabiha Islam's Global Giving Fundraiser Page to cover the health care costs of Rohingya refugees here
This article was produced exclusively for Muslim Link and should not be copied without prior permission from the site. For permission, please write to info@muslimlink.ca.