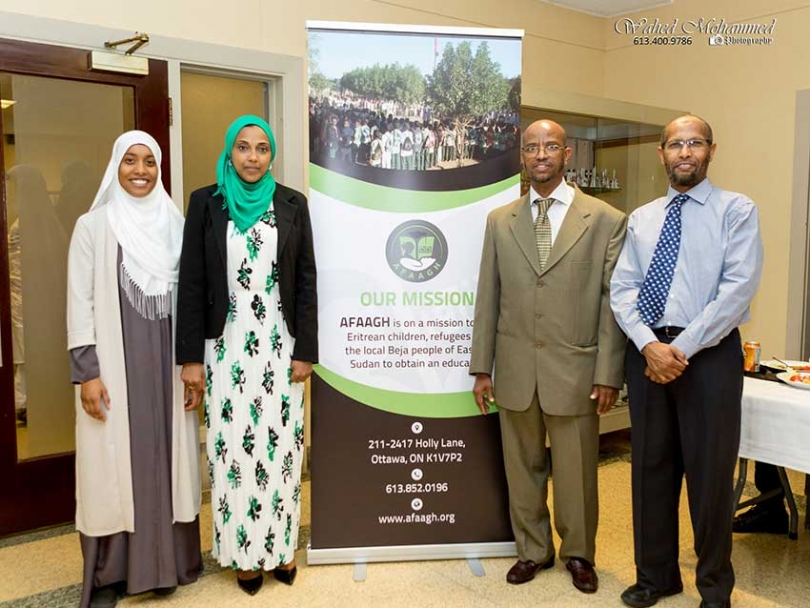 Eritrean Canadians in Ottawa raised funds to support the forgotten Eritrean refugees living in Sudan on Friday, May 19.
17
May


2017
Eritrean Canadians Launch The Charity "Afaagh" to Support The Forgotten Eritrean Refugees in Sudan
Written by Chelby Daigle
Local Eritrean Canadians have come together to found Afaagh Association, a Canadian-based registered charitable organization, dedicated to helping the forgotten Eritrean refugees living in Eastern Sudan. On Friday May 19, they had their organizational launch and first fundraising event in Ottawa with Shaykh Abdalla Idris Ali. 
Muslim Link interviewed two of Afaagh Association's members, Jamal Tulul and Muna Idris, about the situation facing Eritrean refugees in this region and how Canadians can help.
Why are there so many Eritrean refugees in Eastern Sudan and why do they need help?
Muna Idris: Eritrean refugees have been fleeing instability in the country since the late 1960s. We are looking at the fifth generation of Eritrean refugees living in Eastern Sudan. This region is close to the Eritrean border so that is why so many Eritreans have ended up there. They are living in very precarious situations. There is often no access to clean water or educational opportunities. Over time they have been forgotten by the media and international aid organizations.
Jamal Tulul: As Canadians of Eritrean origin, we have been trying to figure out ways to reach out to the people in this region because they receive very little aid. Many of us have relatives in these refugee camps or who have lived in these camps. So we know about the conditions there. We know how hard it is for these people.
Why can't the Sudanese government help and why are there not more aid organizations working with these refugees?
Jamal Tulul: Sudan is struggling with similar problems and has to focus on its own citizens. There are relief agencies working in the area but they can't offer much help.
Muna Idris: The aid in the region is very spotty. No major organizations have been active. It's not like you see actors visiting or politicians getting involved, even though the number of refugees is large; there are over a hundred thousand spread out in different refugee camps. In the 1990s, once Eritrea became independent, aid agencies thought the situation would be resolved and that refugees would just return back home. But that didn't happen.
Jamal Tulul: Instead, the refugees ended up not being able to resettle back in Eritrea and many more people ended up having to leave the country. 
Why did you decide to create Afaagh Association?
Muna Idris: We have been thinking about creating a charity for years. For many of us Eritreans, we have focused on helping our own relatives and family members who are refugees. But we hope that through Afaagh, we will develop a more proactive way of helping those in dire need and those who don't have relatives abroad. We are trying to be organized and to put our resources together because we all feel that we need to do something urgently. We are now very happy to finally have founded this new organization that is a registered Canadian charity. We hope that Afaagh can be a basis to rally Eritrean Canadians and give more visibility to non-Eritrean Canadians about what is happening to Eritrean refugees. "Afaagh" means "Horizon" in Arabic. We hope to broaden the horizons of Eritrean refugees in East Sudan.
Jamal Tulul: Our vision is to unite Eritrean Canadians in different cities to provide support for Eritrean refugees, so we can start doing our own aid work for our communities. We hope to eventually work with Canadian government agencies to help with long term development.
Are these refugees impacted by the famine happening in East Africa?
Muna Idris: No. But in this region there is extreme poverty, lack of access to clean water, lack of access to housing, to education, and to health care. Unfortunately, in this region there is a lot of human trafficking targeting these refugees. They are regularly kidnapped and relatives are asked to pay ransom. They are tortured and beaten while they are held captive. Others are kidnapped to be sold as slave labour. Women are also sold and sexually exploited. People are also taken for their organs which are then sold in other countries for organ transplants. This is what we know is happening to Eritrean refugees.
Jamal Tulul: My own cousin had to flee Eritrea. He was taken out of the country by smugglers but when they reached Sudan, he was told to pay more or he would be sold to human traffickers. The family had to raise the money otherwise we don't know where he could have been taken. That is the reality for so many Eritrean refugees. When we hear about refugees drowning when they try to cross to Europe, the majority of them have been Eritrean refugees. These drownings have been happening for years.
You are both Muslims and you are working closely with local Muslim communities for this fundraiser. But many Eritreans are also Christians. Will you be helping Eritrean refugees in the region, no matter their faith?
Muna Idris: Yes, of course. The majority of refugees in this region are Muslims, but you are seeing an increasing number of Christian refugees in the area. Historically, there has been a lot of brotherhood between Muslim and Christian Eritreans. Eritreans are often not divided along religious lines. Muslim and Christian families have long-term friendships. You see this within all of the generations of Eritrean refugees.
Why did you feel it is important to raise funds for access to education for these refugees?
Jamal Tulul: We know that the majority of young people in this region are losing hope. We want to give them some hope. If they can gain access to education, then they will feel they have a future. 
Muna Idris: We are starting very small here in Ottawa. We are trying to help youth who are interested in continuing their education by giving them scholarships to attend local schools and universities. We also want to be able to help the orphans. Because so many people die of malnutrition and contaminated water in the region, there are many orphans left behind. These will be the priorities for our organization.
Why did you invite Shaykh Abdalla Idris Ali to speak at your event?
Jamal Tulul: Shaykh Abdalla Idris Ali is very good at helping with fundraising. But also, he is Sudanese and he is from Kassala, a city in this region, so he understands the struggle of these refugees.
Afaagh Association was able to raise over $70,000 towards their first project at their May 19 th fundraiser. If you would like to contribute connect with the organization here.
This article was produced exclusively for Muslim Link and should not be copied without prior permission from the site. For permission, please write to info@muslimlink.ca.