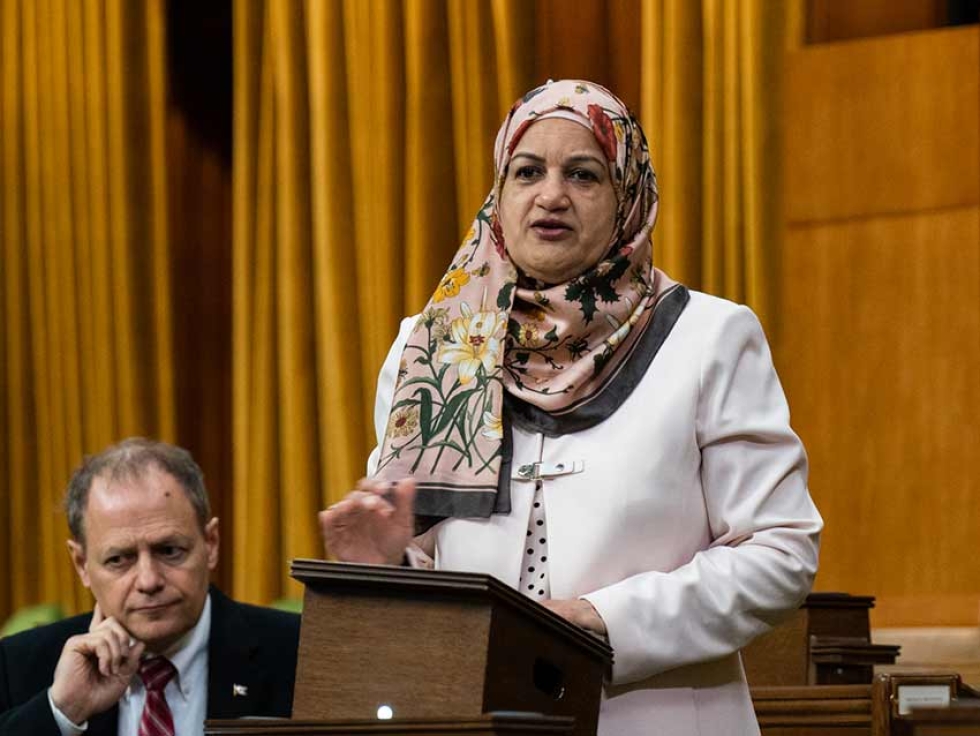 MP Salma Zahid tabling Bill C-331 in the House of Commons.
MP Salma Zahid Facebook
03
May


2023
MP Salma Zahid tables legislation to increase public accountability for CSIS around "duty of candour"
Written by Salma Zahid MP
May 2, 2023
MP Salma Zahid tables legislation to increase public accountability for CSIS around "duty of candour"
OTTAWA- Today in the House of Commons, Scarborough Centre MP Salma Zahid tabled private members legislation intended to increase transparency and accountability for CSIS and national security officials, particularly around their exercise of the "duty of candour."
Bill C-331 An Act to amend the Canadian Security Intelligence Service Act (duty of candour), which follows a public consultation process launched last summer, consists of three elements:
Include in the annual report by the Director of CSIS to the Minister of Public Safety information on the number of breaches of the duty of candour to the courts, a description of each breach, and any remedial action taken. This classified report is also provided to the National Security and Intelligence Review Agency.
Require the Minister to table annually in the House of Commons an unclassified copy of the information described above related to breaches and remedial action taken.
Amend the Oath of Office sworn by the CSIS director and employees to include duties owed to the courts, such as the duty of candour.
"I want Canadians to be able to have faith in their national security agencies. But there can be no faith without accountability, and no accountability without transparency," said Zahid. "I hope that by mandating both public and classified reporting of breaches of the duty of candour, and including it in the oath, it will emphasize to CSIS officers just how important this duty is. And that, by requiring public reporting on actions taken in response to breaches, managers will take these breaches seriously and take strong action that shows to employees the Agency will not tolerate such behaviour."
While all lawyers and witnesses must treat the court with candour, fairness, courtesy and respect, Department of Justice policy acknowledges that counsel representing the Attorney General are not an ordinary party and have broader responsibilities to the court. Policy also holds the duty of candour is heightened in ex parte proceedings, where judges do not have the benefit of adversarial submissions. This is particularly true when a warrant is applied for under national security considerations.
Despite department policy and the ethical obligations of counsel, the federal court has found in successive rulings in recent years that CSIS has failed in upholding its duty of candour to the court. This includes failing to disclose that human source information supporting the warrant may have been obtained through illegal activities, with the judges blaming "a combination of institutional and systemic negligence" and decrying a "cavalier institutional approach" to the duty of candour and the rule of law.
Over the past year, MP Zahid has met with stakeholders and racialized Canadians, who are more likely to have poor interactions with security officials. She held town hall consultations in Scarborough, London and Ottawa in Ontario and Surrey in British Columbia. She heard many stories of people's uncomfortable interactions with RCMP and CSIS officials whether at the border, in their universities, or even outside a place of worship.
"There are many issues our national security agencies need to work on, and we can't solve them all with one piece of legislation," said Zahid. "But I hope that with these targeted actions, we can send a message to them that the way they conduct themselves is important, and if they want to earn and keep the trust of the people they are sworn to protect they must be accountable for their actions."
"The actions of our national security agencies have real consequences on the lives of Canadians, many of whom belong to the Muslim community, which has been subject to intense national security scrutiny for decades," said Stephen Brown, CEO of the National Council of Canadian Muslims. "This is an important step in the right direction. Great harm has been done to affect confidence between such communities and Canada's national security and public safety organizations."
Now that the bill has been tabled, MP Zahid will work to move up the order of precedence so it can come to second reading debate.