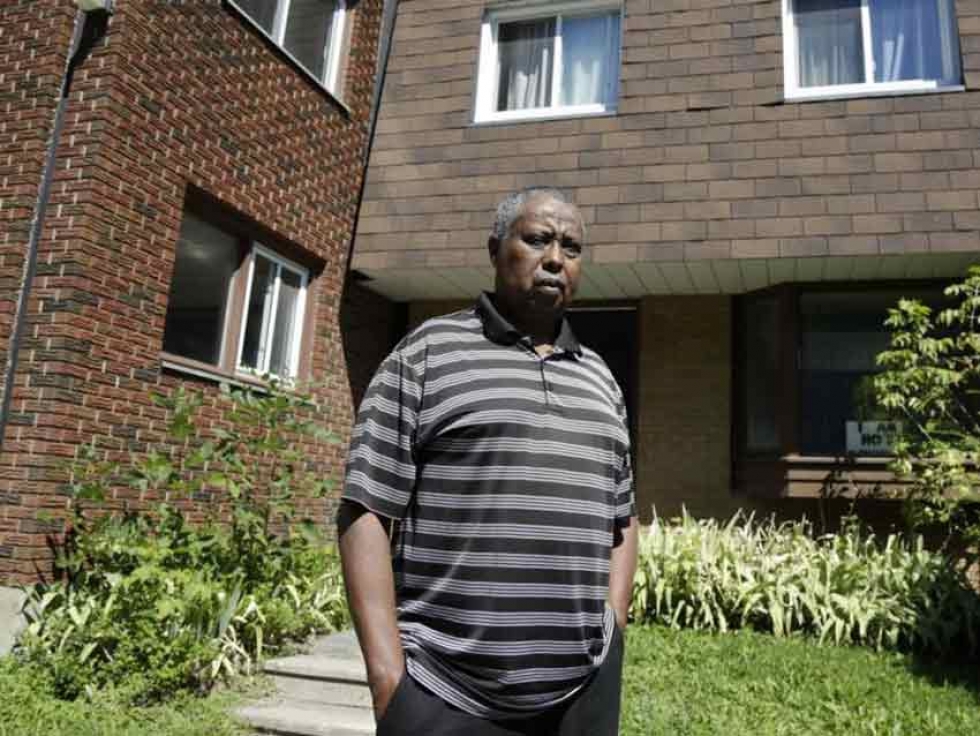 Abdullahi Ali has filed a lawsuit against Timbercreek.
David Kawai/Ottawa Citizen
01
Apr


2019
As long-term residents of Herongate, Saido Gashan and Abdullahi Ali were witness and subject to Timbercreek's strategy of systemic neglect. Furthermore, as members of the Herongate Somali community they have experienced how Timbercreek's actions have irreparably and fundamentally damaged the cultural community of Herongate.
On March 25, 2019, Saido and Abdullahi filed a legal action for $25,000 against Timbercreek for negligence, breach of contract and punitive and exemplary damages in the Ottawa Small Claims Court. As their claim details, Saido and Abdullahi were diligent in reporting the ongoing issues in their home making repeated requests for repairs. However, Timbercreek prioritized their commercial interests over their responsibility to their tenants, ignoring the seriousness of the problems in Saido and Abdullahi's home allowing it to deteriorate. Neglectful treatment of long-term tenants served to further the process of gentrification, a cornerstone of Timbercreek's business strategy in the Herongate Community. A strategy that disregards the wellbeing not only of its tenants but also the wellbeing of the community at large.
As pillars of their community, Saido Gashan and Abdullahi Ali joined their neighbours in establishing the Herongate Tenant Coalition ("HTC") in May of 2018. As their legal claim explains, Saido and Abdullahi's brave efforts to coordinate with their neighbours was used against them when Timbercreek claimed that they had conspired with the HTC to make false claims about the disrepair in their unit to a City of Ottawa Property Standards Bylaw Officer.
Lawyer Yavar Hameed who is acting for Saido and Abdullahi explains: "The legal action alleges that Timbercreek made false claims to a municipal authority in order to avoid property standards bylaws by claiming that it was unaware of the history of complaints by my clients. This deceptive practice was motivated by financial interests. Putting profits before people is never right, especially for a vital service such as housing. In the circumstances, an established landlord like Timbercreek knows better, and should have done better. My clients are seeking an award of punitive damages of $15,000 to highlight the egregious nature of Timbercreek's wrongdoing."
Saido and Abdullahi hope that through their legal action, a message will be sent to Timbercreek, so that they are conscious that all residents are human beings who deserve to be treated with dignity regardless of race or socio-economic status.
The Herongate Tenant Coalition supports the ongoing efforts of this community to seek accountability for the wrongs that have been committed. While facing a multibillion dollar multinational corporation with in the courts is daunting it is nonetheless the best chance to restore the dignity of these members of our community. Herongate Tenant Coalition will continue connect with our neighbours to build the power to resist the forces that seek our destruction.
About Herongate Tenant Coalition
Herongate Tenant Coalition was formed in May 2018 to build power, strength and solidarity amongst working class people in the Herongate neighbourhood of south Ottawa. HTC is organized and run entirely by the working class tenants of Herongate. Follow on Twitter here.