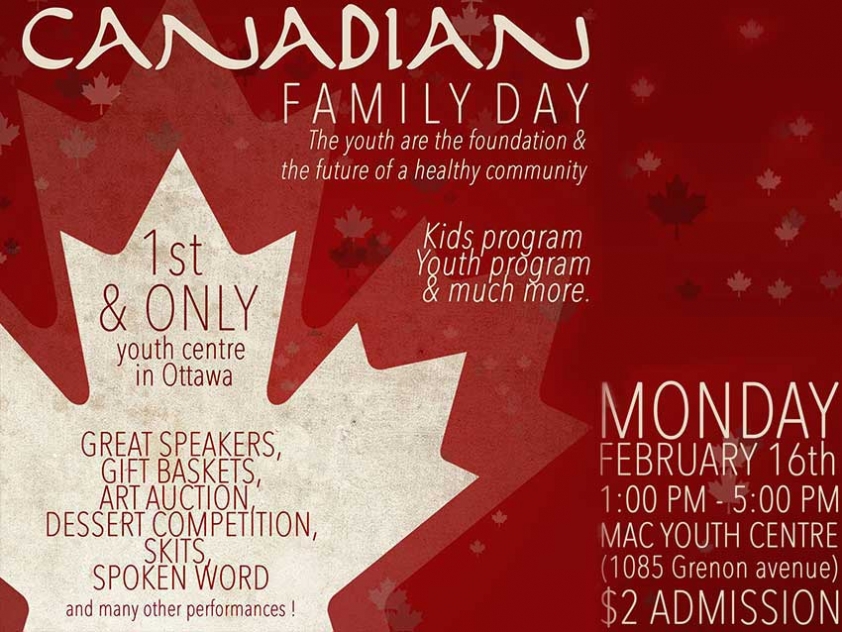 12
Feb


2015
MAC Family Day Will Celebrate Youth and Canadian Identity
Written by Chelby Daigle
The Muslim Association of Canada (MAC) invites Muslim families to take part in their Canadian Family Day program on Monday, February 16th, from 1pm to 5pm, at the new MAC Youth Centre.
This event is an opportunity for families to experience the new facility including its programs, its lounge and its athletic spaces.
The MAC Youth Centre's new Program Manager, Mozynah Nofal, is the lead organizer of the event. "The focus of the event is on youth and Canadian identity," she said, "The speakers will be exploring questions like how can Muslim youth become more engaged in their communities in order to build a strong sense of Canadian identity. We will also ask questions like what are the major challenges Muslim youth are facing?"
Dr. Aisha Sherazi, principal of MAC Al Furqan School, Ryan Fournier of Tarbiyah Learning, and Osama Berrada will be speaking on the theme of youth and Canadian identity. There will also be spoken word performances by Ali Islam and Baraa Arar.
"We have food, we have entertainment, we have speakers and then there is an opportunity to socialize and explore the space," Nofal said, "Young people can do their thing. The kids can do their thing. And the parents can also socialize."
Nofal will be bringing her experience as an executive with the Muslim Students' Association (MSA) at Carleton University and with the MSA National, which connects all MSAs across North America, to her work at the Centre. She was able to see a diversity of youth programming happening in cities across North America.
She hopes to see the Centre become a space for Muslim youth to come after school and on the weekends where they can have fun and also partake in various services already offered by the Centre such as halaqas, Home Work Clubs, and Sports programs run by trained instructors. "We want to offer regular services that youth can rely on, not just one-time events," Nofal said.
MAC currently hopes to raise $40,000 in order to upgrade and refurbish the Youth Centre's facilities. There is currently a crowdfunding campaign being run on Anfiq for the centre. 
The cost of MAC's Canadian Family Day is $2, food will be sold, and there is daycare available ($5 per child). Registration is required. You may register here.
This article was produced exclusively for Muslim Link and should not be copied without prior permission from the site. For permission, please write to info@muslimlink.ca.