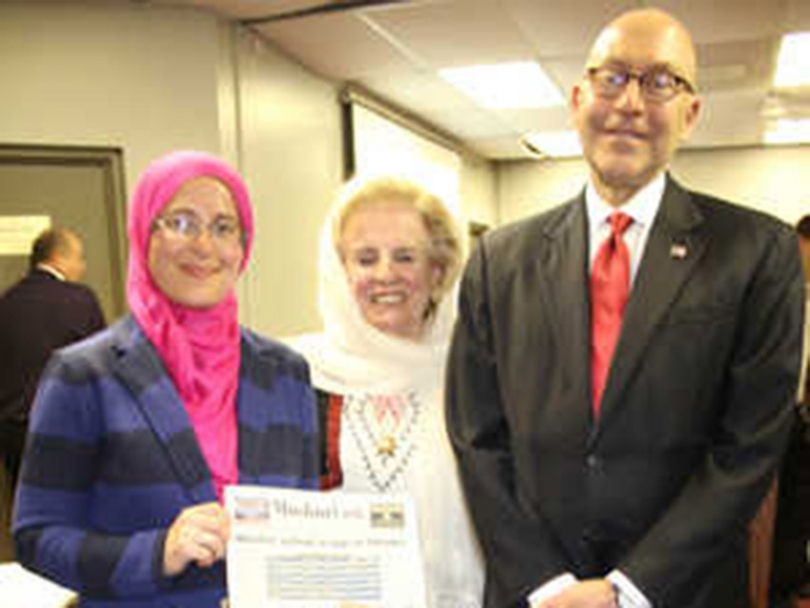 Event organizers Amira Elghawaby (CAIR-CAN) and Shano Bejkosalaj (OMWO) with Ambassador David Jacobson
09
May


2013
It was an evening of firsts as the Ottawa Main Mosque welcomed US Ambassador David Jacobson on his first official visit on April 8.
Almost 100 people attended the event titled "Strengthening Bridges & Working Together for a Better Future".  Security was discreet and the question period was uncensored which was unusual for a high-profile guest like the ambassador. But a unique set of circumstances had created the space for this gathering.  As Ambassador Jacobson explained at the beginning of his speech:
"On the 14th of December of last year, my country suffered a great tragedy, in Newtown, Connecticut, 27 people lost their lives at the hands of a deranged gunman, and among the 27 dead there were 24 very young children. A few days later, I received a card from Mrs. (Shano) Bejkosalaj (of the Ottawa Muslim Women's Organization) and it was followed by an e-mail from the Imam (of the Ottawa Main Mosque), and they asked to meet in order to express their sympathy and their support. And so on January 4 this year, the Imam and Mrs. Bejkosalaj and Mrs. (Safaa) Fouda came to my office, they came in grief, they came in respect and most importantly of all, they came in solidarity. Because when children die senselessly, needlessly, tragically all of us serve as their parents. And to me that exemplified the connection between us. It wasn't about national boundaries, it wasn't about race, it wasn't about religion. It was about people reaching out to people."
Subsequently Ambassador Jacobson was invited to visit the Ottawa Main Mosque by the Ottawa Muslim Women's Organization, the Ottawa Muslim Association (which runs the mosque), and the Council of American Islamic Relations-Canada (CAIR-CAN),  to engage in open discussion with the Muslim community.
In his opening speech, the envoy outlined a number of programs and partnerships that his embassy had undertaken with Canadian Muslim organizations. These included helping to fund the Family Honour Project of the Muslim Family Resource Centre in London, Ontario and collaborating with the Association of Progressive Muslims on an exchange for young Muslim community leaders to the US.
However, the focus of the event was the open discussion. Although respectful, the questions asked by participants did challenge US domestic and foreign policies on issues such as the rights of prisoners still in Guantanamo Bay, the treatment of Muslim-Canadians at the American border, attacks on Shia Muslims in Pakistan, US drone attacks in Northern Pakistan, the role of the US government in speaking out against Islamophobia, and the recognition of the State of Palestine.
Amb. Jacobson's responses probably did not satisfy most present but the fact that people were able to ask questions so directly, without prior approval, was remarked upon.
"Well, we didn't ask him here to just smile at us," Dr. Safaa Fouda said in response to a comment on the frankness of the discussion.  "I consider it a good start for continuing the relationship with the US Embassy. As Canadian Muslims, we think we have a role to play in terms of building peace. We will only understand this by conversation and communication. What we need to do is actually continue and come up with concrete practical projects that can help build peace among parties."
OMA Imam Samy Metwally, who studied Muslim-Christian Relations in the US on a Fulbright Scholarship, felt the event was important not only for building a relationship with the US Embassy but because the mosque should be a forum for engagement and discussion.
"This event reflects the diversity of programs that we do at the Ottawa Muslim Association," said Imam Metwally. "It's not only about giving sermons to people. We touch on community issues. We are very concerned about building bridges with other communities as well.  We are not only here to serve our own community but the larger Canadian community."
Throughout the discussion, Amb. Jacobson recognized participants as being both Canadian and Muslim and said he saw no contradiction in the duality of their identities. In an interview with the Muslim Link after the event, Amb. Jacobson made the following point:
"First of all the most fundamental tenet of American foreign policy is that the people of the United States have a good relationship with the people of every other country in the world. There are countries where our government and their government do not necessarily see eye to eye but everywhere Iran, North Korea, you name it, there is no space between the people of my country and the people of those countries.  There is no place where that is more true than the United States and Canada. And there are times when we have disagreements with governments, even here in Canada, but that doesn't in any way draw a line between our two countries it just means that sometimes we have disagreements on certain policies. The second point is that if there is one thing that I have found in Canada it is that the best way to deal with these differences is through open and frank conversation. If we talk, if we listen, we are far more likely to come to the right conclusions and work out our differences."
Chelby Marie Daigle is the coordinator of Muslim Link  
This article was produced exclusively for Muslim Link and should not be copied without prior permission from the site. For permission, please write to info@muslimlink.ca.