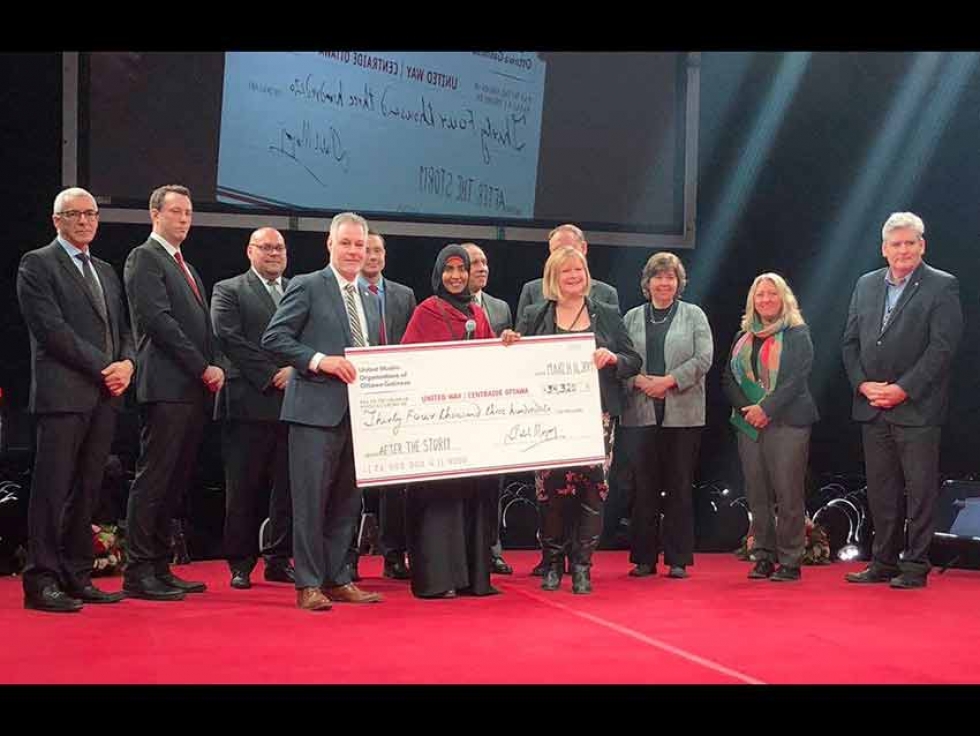 Representatives of United Way East Ontario attended the 2019 I.LEAD Conference to symbolically receive funds raised to support their After the Storm campaign.
United Way East Ontario
27
Jan


2020
Lighting the Path to Clarity: Learn More about This Year's I.LEAD Conference
Written by Chelby Daigle
The I.LEAD Conference, Ottawa's Annual Muslim Family Conference, is returning for another year running on March 21, 2020.
Muslim Link connected with this year's conference organizers about what attendees could expect from I.LEAD in 2020.
Could you explain the theme of this year's conference: 2020 Vision: Lighting the Path to Clarity?
We are now in a new decade. With one decade firmly behind us and a new one beginning, we must plant the seeds for growth to become our best selves. In 2020 we must focus. We must believe that we can achieve our goals, we must strive for success, and we must put our plans into actions. Rewriting our personal stories, can be daunting but when we have the right tools, we are setting ourselves up for success. With the right tools, the next ten years can be yours for the taking. Elevate yourself to levels you have never achieved before. Illuminate your path to success with I.LEAD's annual conference.
Who makes up the organizing team behind I.LEAD this year?
The ILEAD conference was created and is run by the United Muslim Organizations of Ottawa-Gatineau (UMO-OG). It is an initiative that acts as a coordinating group for the prominent Islamic organizations in the National Capital Region. While each member organization is operated independently, the UMO facilitates important collaboration in areas such as education, social services, charitable works, public relations and large community events such as the ILEAD conference. One thing that I.LEAD is particularly thrilled about is the increase in youth involvement in the planning process, program selection and overall conference in general. The younger generation not only bring a lot of unique ideas and perspectives to the conference, but also an abundance of enthusiasm and positive energy.
What feedback did you receive from the ILEAD Survey that you will be incorporating into improve this year's conference?
Community feedback has always been one of the top priorities of the I.LEAD team. In fact, Both the theme, as well as every single topic that will be discussed during the conference, were selected by asking the community for their input on what they believe are relevant issues to them in this day and age.
One common theme we found throughout the responses we received was the overwhelming lack of clarity and blurred lines that the youth are facing in today's society. This was actually the reason why we chose to go with "2020 Vision: Lighting the Path to Clarity" as the theme for this year's conference.
Will there be a bazaar? Are there still opportunities for vendors to purchase a booth?
Insha'Allah this year we will have a 66 booths bazaar ranging in items from hijabs, clothing, Islamic decor, perfumes, non-profits, honey, gummy candies and much more! Perfect for
shopping with something for everyone to buy!
We are 80% sold out already and the rest of the booths are selling quickly since we have a $150 off. Apply to become a vendor online here.
As the largest annual Islamic conference of the Ottawa-Gatineau region, we would like to invite you to participate as a Bazaar vendor with us in this single day event that targets 2,000+ attendees with great potential of sales, networking, awareness, and visibility to the community in Ottawa and Ontario.
We have a lot of vendors from Montreal, GTA, Ottawa, and even St. Catharines and a lot of them have been coming back for several years alhamdulillah (Thank God). You can reserve a booth for $300 fully online within 5 minutes online here.
Are there volunteer opportunities? What are some of the benefits of volunteering with ILEAD?
In order to fulfill yet another successful year, we are calling upon all volunteers, to help provide an opportunity to help our community for the sake of Allah (SWT). We are specifically looking for responsible and trustworthy volunteers, who are 16 years of age or older, to ensure the best possible experience for both the team and guests. To Volunteer with us please Click Here.
Is there anything else you would like to add?
iLEADx makes a comeback this year. iLEADx is a new and innovative idea! It's a conference for the youth by the youth, similar in style to TED, PLUS a talent show – all in one! It's in the form of a competition for the best speaker and best talent. The winners of this year's competition will get the chance to speak/perform at the main I.LEAD event itself. iLEADx has one competition this year. To sign up, please Click Here.
The deadline to sign up is Feb 22nd.
This article was produced exclusively for Muslim Link and should not be copied without prior permission from the site. For permission, please write to info@muslimlink.ca.