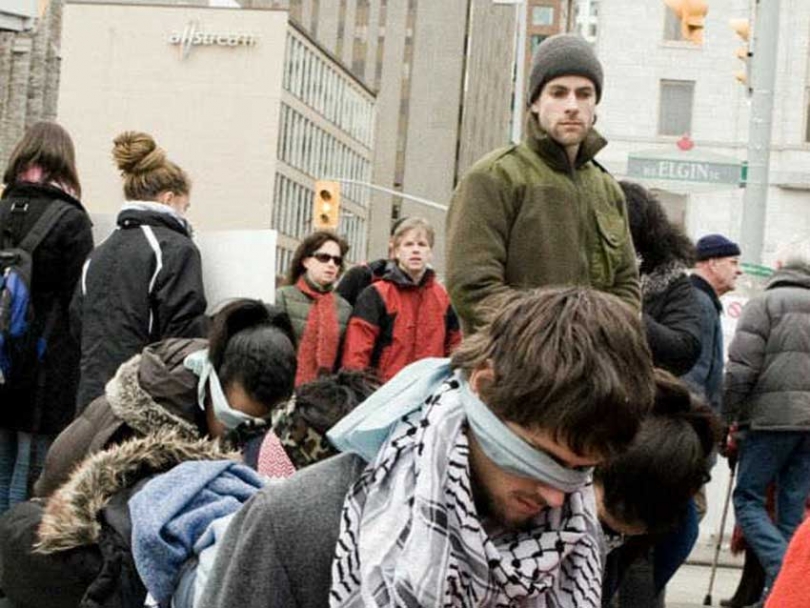 Actors kneel in line at a mock Israeli checkpoint recreated in Ottawa.
Photo Credit: Charline Dequincey
11
Mar


2012
Israeli check point "recreated" in downtown Ottawa
Written by Rana Hamadeh
A group of activists took Ottawans by surprise on Saturday, Feb. 18, staging an Israeli military checkpoint in the heart of the city.
The "guerrilla-theatre" piece was intended to demonstrate the system of apartheid which oppresses Palestinians in their own territories, in the favour of Israeli residents.
Actors posing as Israeli soldiers set up a "roadblock" outside of Winterlude festival, and other participants stood in line, attempting to cross the checkpoint and enter.
"Palestinians, have your ID cards ready, Israelis pass right on through," repeated the "soldiers".
As the lineup progressed, the soldiers arbitrarily decided whether to detain or allow entry. If detained, the actor was blindfolded, and made to kneel, head down, on the ground "" a common position used for Palestinian detainees by Israeli authorities.
The focus was a skit which involved a pregnant woman and her husband approaching the soldiers, attempting to pass to hospital because the woman had gone into labour. Soldiers ordered that the couple wait, but they continued to express their urgency.
Eventually, the husband was arrested and the pregnant woman grabbed the megaphone, delivering a powerful monologue, giving testimonies of real women: "I am Hurriyeh Mir'ieh, who waited at checkpoint for six hours before she began hemorrhaging. When she was finally allowed through she was denied a car and walked 2km while bleeding before fainting. She lived but her unborn daughter did not."
Global call to open Shuhada Street
The protest was organized in solidarity with Palestinians in their struggle against Israeli occupation and in particular with the residents of Hebron (Al Khaleel).
The mock checkpoint coincided with the annual call to open Shuhada St. in Hebron. That very week, Palestinians in Hebron were peacefully protesting and were met with extreme violence from the Israeli army. Dozens were injured including a journalist.
Hebron in the occupied West Bank has for decades been a microcosm of apartheid and segregation practices all across Palestine. Five hundred Israeli settlers illegally occupy downtown Hebron around Shuhada St., and due to their presence, the Israeli army is positioned at every corner and 170,000 Palestinian residents have had their freedoms greatly obstructed. Israeli settlements in the West Bank are illegal under international law as stated in the Fourth Geneva convention.
Shuhada St. is a principal street connecting the North and South of the city, and the location of what used to be an active market place. For nearly 20 years now, Shuhada St. has been prohibited solely to Palestinians, while Israelis and tourists may use it.
In 1994, an Israeli settler opened fire on Palestinians as they prayed in the Ibrahimi Mosque, killing twenty-nine and injuring over one hundred. Following this, Shuhada St. was closed to Palestinians, while settlers continued to travel freely and carry arms. Furthermore, a wall was built in the Ibrahimi Mosque, dedicating half of it to the Israeli settlers. Thus, rather than dismantle the settlement, which was in clear violation of international law, or at least to recognize that the settlers posed a threat to the safety and comfort of Palestinians in their historic city, Israel instead punished the Palestinian residents.
"The phenomenon of Israeli settler violence has been, since the early 1980's, a key factor undermining the physical security and livelihoods of Palestinians in many areas throughout the West Bank," a Nov. 2009 United Nations report stated.
Israeli settlers are not required to submit to searches, unlike the Palestinians who face constant searches and checkpoints.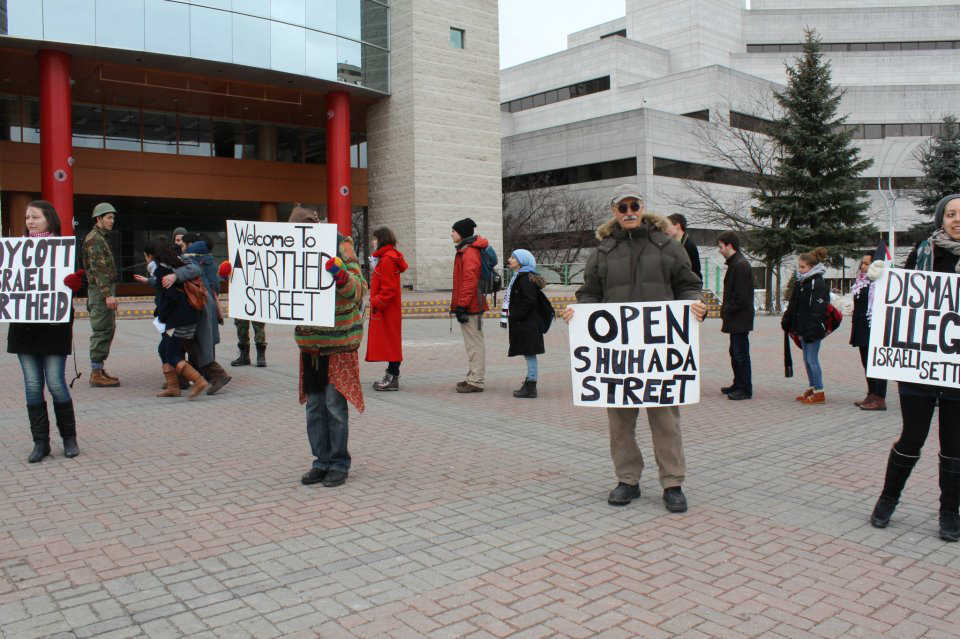 Palestinians who still live on Shuhada St. now face arrest if they use their front doors. Since they are not permitted on the road, they must use back doors, or in many cases, climb onto a rear neighbour's roof, then climb into their own houses.
So far, almost 2000 Palestinian stores have been forced closed as a result of military orders, curfews, and Israeli policies of closure. All the Palestinian stores on Shuhada St., were sealed shut and their owners prohibited from accessing them.
Several people handed out flyers at the action in Ottawa, informing passersby of the story of Shuhada St. The demonstration was organized independently, but in coordination with other local groups.
For more information on future events, contact This email address is being protected from spambots. You need JavaScript enabled to view it..
Rana Hamadeh is a Palestinian-Canadian student living in Ottawa. She was most recently in the Occupied West Bank of Palestine from October-December 2011 and had a central role in the guerrilla theatre event held in downtown Ottawa on Feb. 18.  
This article was produced exclusively for Muslim Link and should not be copied without prior permission from the site. For permission, please write to info@muslimlink.ca.