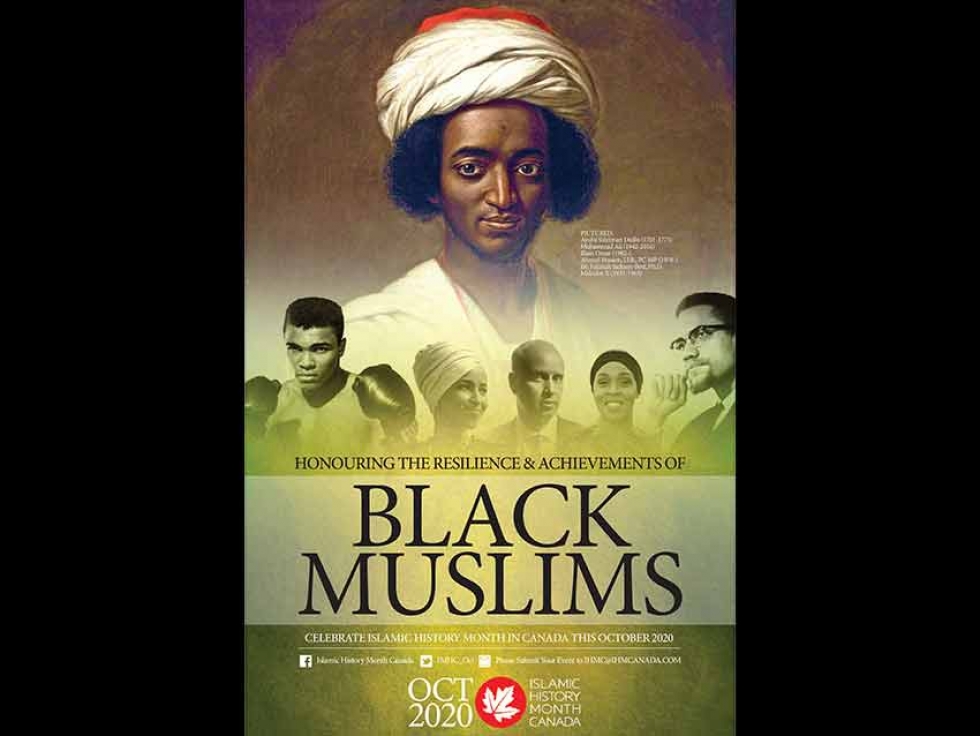 30
Sep


2020
Islamic History Month and Islamic Heritage Month Events Across Canada
Written by Making Headlines
This year, Islamic History Month Canada (IHMC) invited you to learn, share and celebrate Islamic History Month in Canada throughout the month of October.
This year's theme was "Resilience and Achievements of Black Muslims".  
This year's poster features Ayuba Suleiman Diallo (1701–1773) who is best known for his memoirs as a Muslim who had to endure the Atlantic slave trade and enslavement in colonial America.
His personal history was published in 1734 by Thomas Bluett as Some Memories of the Life of Job. To this day, they serve as one of the few primary sources on the Atlantic slave trade and life in slavery in eighteenth-century America.
Here are videos from events that focused on Black Muslims in Canada:
Young, Black & Muslim: My Canadian Experience (Simon Fraser University Centre for Comparative Muslim Studies)
"On October 31, we were honoured to host our first National Panel for Islamic History Month Canada featuring our strong, young, Black Sisters from across the nation. It was an evening of insightful, brutally honest, eye-opening conversations of experiences of being young, black and Muslim in our Muslim communities and communities-at-large. We are grateful to our speakers for sharing their experiences: Asmaa Heban (Vancouver), Hagir Sail (Calgary), Sawsan Mohammed (Kingston) and Mowahib Hassan Doualeh (Quebec)."
From Resistance to Revolution: The Impacts of Black Muslims in North America (Islamic History Month Kingston)
"From Resistance to Revolution: The Impacts of Black Muslims in North America. Join us as we explore the various spheres by which Black Muslims have made impacts in North America with our distinguished panel of speakers. Dr. Moustafa Bayoumi will address "The History and Remarkable Stories of Muslims from West Africa who were Enslaved in the New World, and how they fought for their Rights, Dignity, and Faith". Dr. Fatimah Jackson-Best will speak upon "Black Muslims in Canada: Gaps and Opportunities in Existing Research". Imam Yasin Dwyer will introduce us to the topic of "Muslim Jazz: Islam and the Genesis of Black Culture". Imam AbdurRashid Taylor will delve into "Historical Memory and Influences of Islam on Black communities". This discussion will be moderated by Chaplain Ryan Carter, student of history and military chaplain at CFB Borden."
Muslim Link created a list of events that took place in recognition of the month in Ontario and other parts of Canada. We will update the list throughout the month.
If there is an event you would like to add, please email details to This email address is being protected from spambots. You need JavaScript enabled to view it..
Virtual Events
October 1: A History of Muslim Activism in Canada (National Council of Canadian Muslims NCCM)
October 3: Vancouver Islamic History Month Opening Ceremony with with City Councillor Sharmake Dubow (Victoria, BC) (Centre for Comparative Muslim Studies, Simon Fraser University)
October 5: From Resistance to Revolution: The Impacts of Black Muslims in North America (Islamic History Month, Kingston)
October 7: Can Islam Provide The Antidote To Racism in North America? (Edmonton Council of Muslim Communities)
October 13: A Brief History of Black Muslims in Canada (Muslim Association of Canada MAC)
October 15: Peace is Possible: Lessons of Medieval Interfaith Relations between Muslims, Christians and Jews (Queen's University)
October 15: Elevating Voices of our Black Muslim Community (Muslim Educators Network of Durham)
October 16: Stop Racism Meetup with Muslim Anti-Racism Collective (Vancouver Madinah)
October 22: Taking Care of Mind and Soul During COVID (Muslim Educators Network of Durham)
October 24: Sacred Voyage Journey of Islam to Kerala and North America (Malayali Muslim Association of Canada)
City Based Events
Kingston
October 1: Illumination of City Hall in Green for Islamic History Month (Islamic History Month, Kingston)
Vancouver 
October 1: Illuminating Vancouver City Hall for Islamic History Month (Centre for Comparative Muslim Studies, Simon Fraser University)