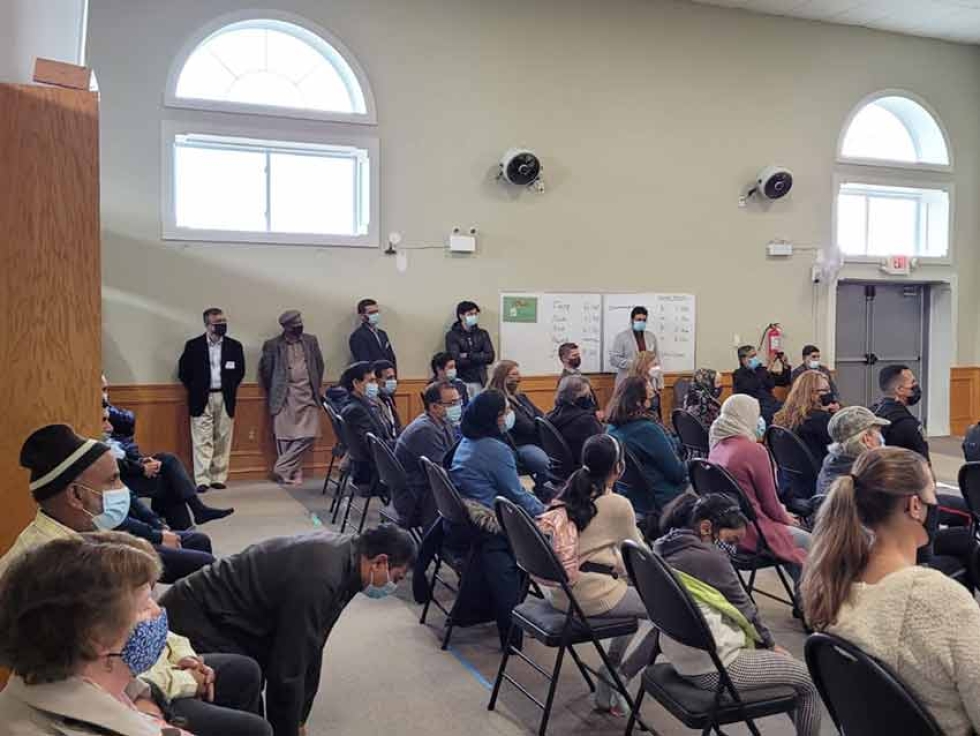 It was a full house at Al Falah Islamic Centre's Islamic Heritage Month Open Mosque Day
Al Falah Centre
02
Nov


2021
Islamic Heritage Month Open Mosque Day at Al Falah Centre in Oakville
Written by Khurram Musti Khan
"I always wanted to read the Quran," Beverly, a non-Muslim visitor said to me. "You have come to the right place," I replied.
This place was the Al Falah Islamic Centre in Oakville which held an Open Mosque Day in celebration of the Islamic Heritage Month on Oct 23 from 11am to 3pm.
The event was organized by the Islamic Circle of North America Canada mainly for non-Muslims to have an opportunity to visit the mosque and learn about the Islamic faith, its rich history and civilization, as well as the contributions of Muslims to human progress and development throughout the ages in the fields of science, medicine, arts, architecture, education, philosophy, and a whole lot more.
It was an effort to build bridges of understanding between Muslims and non-Muslims by educating the public about the true teachings of Islam – peace, tolerance and mercy towards all humans -- and the importance of education in the lives of Muslims.
There was a booth that highlighted the achievements of some Muslim Canadians such as the first Hijab-wearing Muslim female TV anchor Ginella Massa, and educationist and interfaith activist Dr. Ingrid Mattson. Visitors were informed about the achievements of both male and female Muslim scholars, scientists and philosophers in history who made significant contributions to various scientific and educational fields. For instance, Hasan Ibn al-Haytham or Al-Hazen is referred to as the "father of modern optics" who explained how vision works in his Book of Optics. Muhammad Ibn Zakarriyah Al-Razi (commonly known Al-Razi or Razes) who was considered one of the greatest physicians in his lifetime wrote a pioneering work on smallpox and measles called A treatise on smallpox and measles.
Then there was Fatima Al-Fihri, the woman who established the world's first university, the University of Qarawiyyun in Fez, Morroco in 859 AD. According to the Guinness World Records, it is the oldest existing and continually operating educational institution in the world. Al-Fihri hailed from a rich family and after her father's death she used the wealth to build a mosque-cum-university for the benefit of the community. She became a symbol for Muslim women's place in academia and was a living example to an important message of Islam – acquiring knowledge is mandatory for every Muslim. It is said that her idea for an educational hub for advanced learning spread throughout the world, leading to the founding of Europe's oldest educational institutions including the University of Bologna (founded 1088) and the University of Oxford (founded around 1096) – a fact that maybe many people don't know about.
The day also included an interactive session on `Meet your Muslim Neighbours'. Dr Sabeel Ahmed, a Muslim preacher and Director of Gain Peace, came all the way from Chicago to give a presentation about basic Islamic beliefs and fielded questions from the audience about contemporary issues in the west on Muslim religious and cultural practices. His message was that human life is sacred in Islam, irrespective of their religious affiliation.
As the moderator for the event, the writer impressed upon the audience, which included representatives from both municipal and provincial governments, to counter hate and Islamophobia through public education campaigns and events like this that tell people about what Islam really is and who Muslims really are. It is doable in the immediate term and Muslim organizations are willing to work with all levels of government to dispel the negative stereotypes that inflame Islamophobia. It is also part of the 61 recommendations released by National Council of Canadian Muslims (NCCM) to combat Islamophobia in Canada.
The safety of Muslim Canadians does not lie in building fences but it lies in having strong relationships with their neighbours. It lies in increasing the capacity of communities to engage positively with their neighbours.
Many visitors who walked through the door appreciated the opportunity to visit the centre and increase their understanding about the Muslim faith and traditions – an indication that public education and awareness makes a big difference to changing misperceptions and pre-conceived notions.
Khurram Musti Khan is a Member of the Islamic Circle of North America Canada (ICNA) and Volunteer Outreach Coordinator with Justice for All Canada.