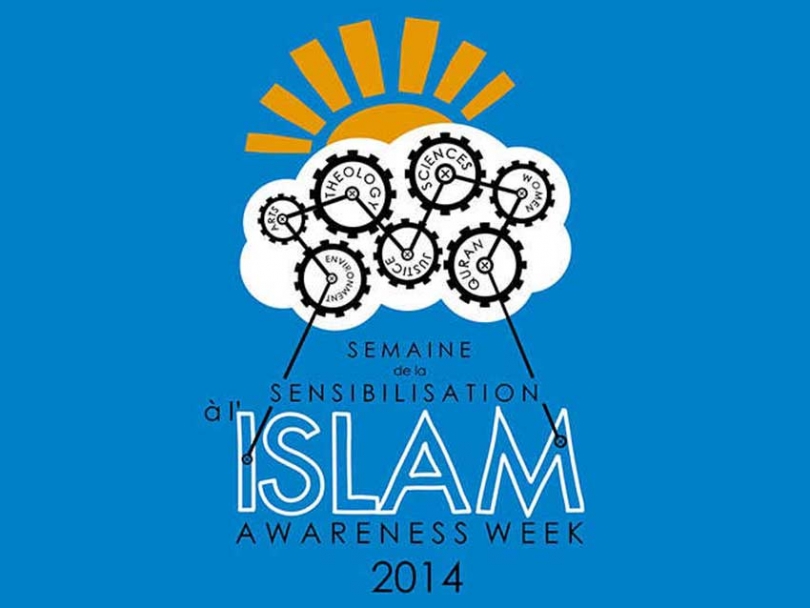 IAW Logo
16
March


2014
Islam Awareness Week 2014 at the University of Ottawa
Written by Chelby Daigle
Students with the University of Ottawa's Muslim Students' Association (MSA) organized this year's annual Islam Awareness Week (IAW), from March 3rd to March 7th around the theme of the sustainability of Islam.
Shahad Khalladi, a second year student studying biomedical science, developed this year's logo in collaboration with other IAW volunteers. The logo demonstrates the various intersecting gears which have helped to sustain Islam over the centuries.
"It's a machine, and the way a machine works is that you have gears, and all of the gears have to be turning, and they have to be turning properly. This is a reminder to Muslims before anyone else that in order for Islam to "˜work' we have to implement all parts of Islam and implement them properly. So you can see the gears include Quran, justice, science, women and all of these things work together to give us Islam," explained Khalladi.
University of Ottawa students were invited to visit various tables which explored different aspects of Muslim beliefs. Khalladi explained it was important to emphasize common ground instead of going straight to religious teachings.
"We had the idea of starting with materialistic things related to Islam, like scientific ideas that arose from Islam, things like health issues that the Prophet addressed," she explained. For example, at the "Environmentalism" table, IAW volunteers creatively explained the Islamic teachings by the Prophets on proper treatment of the environment. At the "Arts" table passersby could have henna done while learning about the history of Islamic art and calligraphy. At the "Science & Engineering" table, IAW students currently studying science informed visitors about the accomplishments of Muslim scientists. "We want to show that you can be a successful scientist who helps the scientific community but at the same time be a person of faith," added Khalladi.
Ahmed Hussein, MSA president and an international development student, underlined that this year's theme demonstrated that Islam is a dynamic religious system which does provide "a way forward" which is sustainable in a modern society. He discussed at length the Women's Table and how Islam emphasizes how men should behave towards all women. He addressed the current controversy surrounding four members of the University of Ottawa's Students' Federation having a conversation on Facebook about wanting to sexually violate the Federation's president, Anne-Marie Roy. This case, along with allegations of sexual assault against the university's hockey team, has led university administrators to strike up a task force to address sexism and violence against women on campus.
As a board member of the University's Students' Federation representing the Faculty of Social Sciences, Hussein has been involved in the current discussions around addressing "rape culture" on campus. He felt that Islam, when properly practiced, does address "rape culture" by making it clear how women should be treated not only physically but in conversations between men. "Men in Islam are not supposed to say bad things about women. We are not supposed to degrade women. We cannot demean them through our words or our actions," he shared. He felt that during the current crisis on campus, it was important for Muslim students to stand up and share what their faith has to say about this serious issue in society.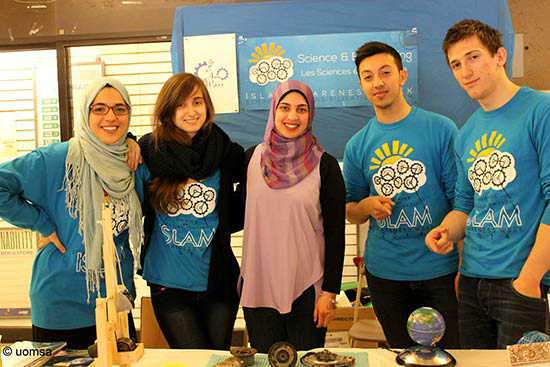 Hussein was also passionate about the table on "Social Justice and Human Rights".
"With the Arab Spring, the political uprisings around the Muslim world, with the rise of factions and terrorism and poverty being within Muslim countries, we need to ask what does Islam say justice is?" he pointed out.
"At the table, we try to explain that Islam is a just religion although Muslims around the world are not being just. Just because I am Muslim and follow Islam doesn't mean I act upon it in the proper manner. Even within Canadian society, we are all Canadian but why do people break the law? One of the important things Islam Awareness Week tries to portray is that the actions of certain Muslims do not reflect Islam as a whole."
MSA students also used IAW as an opportunity to fundraise for local organizations. Over the week, students managed to fundraise $6000 for programs at the Islam Care Centre and collect money and food items for Sadaqa Food Bank.
Carleton University and Algonquin College are also holding their own Islam Awareness Weeks throughout March.
To learn more about the University of Ottawa Muslim Students' Association visit www.uomsa.ca.
This article was produced exclusively for Muslim Link and should not be copied without prior permission from the site. For permission, please write to info@muslimlink.ca.