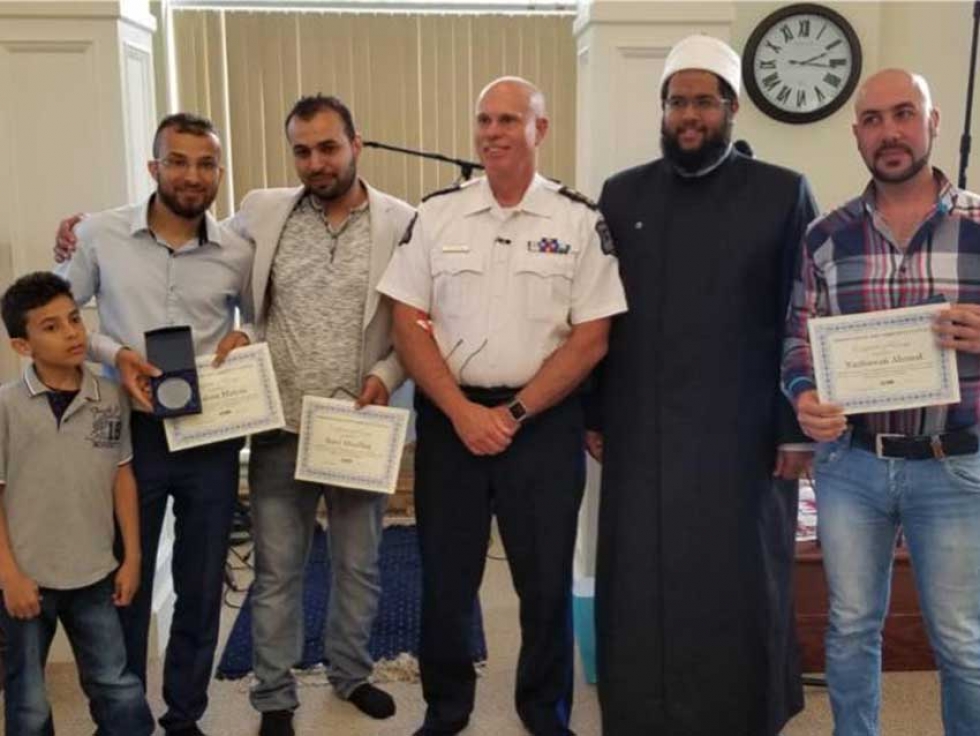 Nashwan Ahmed, Ibrahim Manna, and Raed Abualhaj with Halifax Police Chief Jean-Michel Blais and Imam Abdallah Yousri
Courtesy of Ummah Masjid and Community Center Facebook Page
11
August


2018
Halifax Police Honour Muslim Men For Heroic Bridge Rescue
Written by Staff Writer
Three Arab Muslim men were honoured for their bravery by Halifax Regional Police at a special ceremony at the Ummah Masjid and Community Center in Halifax, Nova Scotia on July 13th.
Nashwan Ahmed, Ibrahim Manna, and Raed Abualhaj intervened in a suicide attempt on Halifax's A. Murray MacKay Bridge.
According to CTV: "The men were driving across the A. Murray MacKay Bridge on their way home from a weekend camping trip when they saw something unusual and didn't hesitate to take action. 'I was shocked when I see a woman who wanted to jump from the bridge,' said Abu Alhaj. He stopped suddenly and woke up everyone in the truck. 'When we saw that, we stopped the truck in traffic right away and the three of us ran out of the vehicle,' said Manna. 'We ran to rescue her.' Ibrahim and Raed tried to speak to the woman, while Nashwan came from the other side and held on to her....'We had to take action as quick as we can to save somebody's life,' said Manna. 'And what we believe in, if you save one person's life, you save those whole of humanity and that's what we were thinking the whole time.'"
According to Halifax Police Chief Jean-Michel Blais, who spoke at the ceremony, ""It's very important to be able to recognize these men for what they've done, because this is part of community building," Blais said. "This is what we call social capital, where people risk themselves in order to save another."

In an interview with The Chronicle Herald Manna stated, "It's a great thing to be recognized by the police chief. But at the end of the day I think people are out there to do the right thing. We feel better about having saved someone than about the reward."
View coverage of this story on CTV Atlantic News here