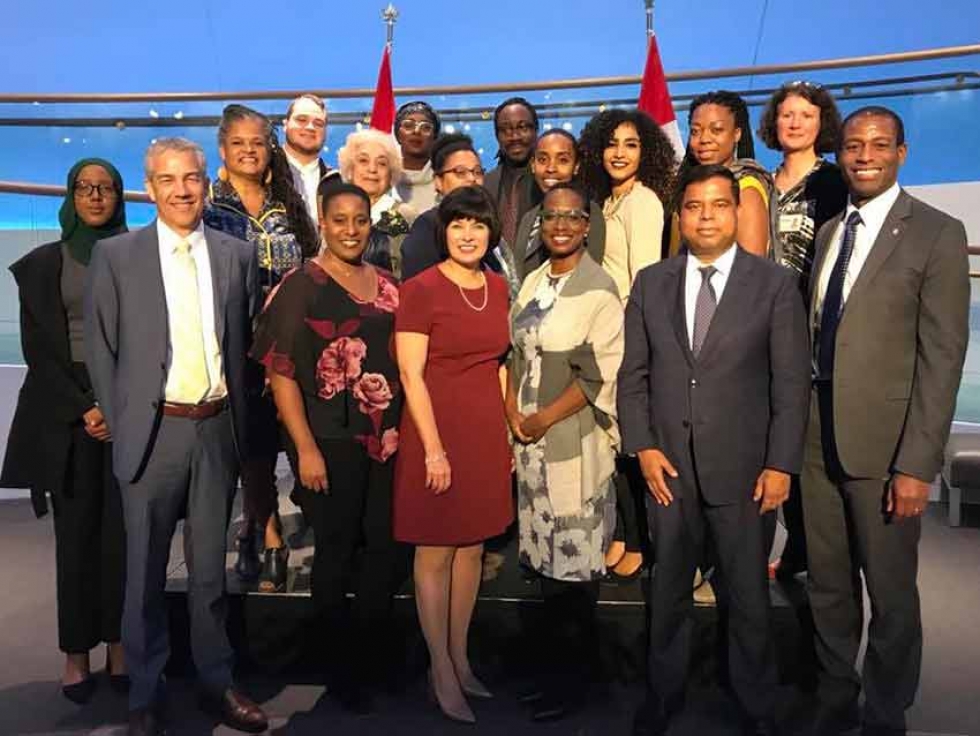 Habon Ali with Canadian Members of Parliament and members of the Public Health Agency of Canada at the launch of the "Mental Health of Black Canadians Fund."
Habon Ali
15
Oct


2018
Government of Canada Announces Funding for Black Mental Health
Written by Habon Ali
On September 25, The Federal Minister of Health announced $10 Million in funding for community initiatives addressing mental health and its determinants in diverse Black communities across Canada. The new Promoting Health Equity: Mental Health of Black Canadians Fund will support Black Canadians to develop more culturally focused knowledge, capacity and programs to improve mental health in their communities
As I am an active member of the Prime Minister's Youth Advisory Council, the Public Health Agency of Canada gave me the opportunity to share my lived experiences related to mental health at the launch of this important funding announcement.
The following are some of the thoughts I shared:
I am so happy to provide a youth voice. I think it is important to note that I am not a representative of all youth voices and I speak from a perspective of my experiences as a young Black Canadian.
I am currently a student and when I am not studying science I am actively involved in health promotion advocacy within my community. From a young age, I was exposed to the many families within my community supporting children with disabilities. More specifically, families supporting children with developmental disabilities in my community. This experience was challenging and eye-opening for me. I quickly realized the health barriers that many families in my community faced. Moreover, I was exposed to systemic racism and how that directly impacted health outcomes of vulnerable communities.
These experiences catapulted me into community service at a young age and were fundamental to my personal development and growth. Unfortunately, I quickly realized the experiences faced in my community weren't unique. I couldn't wrap my head around the drastic and long-term impacts of systemic racism on individuals mental wellness as well as that of their support systems. I still can't.
The experiences of young Black Canadians cannot be understood without context. It is important to note that Black communities within Canada aren't monolithic. Our communities have diverse backgrounds and lived experiences. Furthermore, systemic racism isn't limited to the healthcare sector. Racism has the ability to effect a young person's health, education, life trajectory and subsequently the quality of life. The barrier that exists for marginalized communities to access health care is truly unacceptable.
Which is why I am truly happy to see initiatives such as this one in which allow for a holistic community approach to dealing with this challenge. Taking an individual's health seriously doesn't just impact their overall quality of life but allows that of their families.
I know many groups and organizations are already conducting this essential work.
If you're interested in applying, follow this link to learn how.