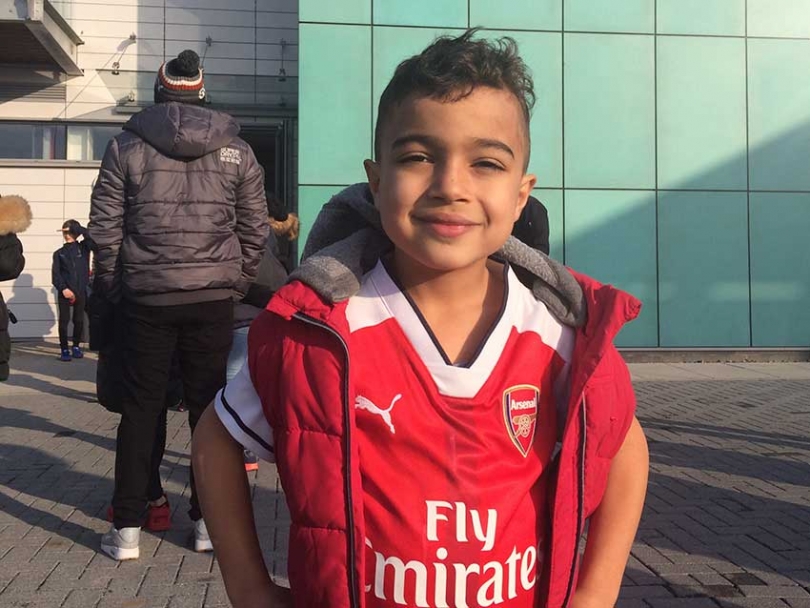 Malik Higazy at Arsenal Academy in England. Malik and his family are setting up a soccer academy in Ottawa with premier league players and coaches.
Courtesy of Sharif Higazy
29
Apr


2017
GNW Lions Brings Premier League Soccer Players and Coaches to Ottawa
Written by GNW Lions
Soccer academy opening in Ottawa with professional soccer player Gifton Noel Williams at its head.
When 10 year old Ibrahim Higazy moved from Ottawa to England, he had no idea his world was about to change with a chance meeting. Now, his family and friends, spearheaded by Gifton Noel Williams, are preparing to give back to the community they love in the form of the GNW Lions, a professional soccer academy that will offer world-class training in Ottawa.
For Ibrahim, it began while playing soccer in a park in England with his little brother, Malik. They and their father, Sharif Higazy, were approached by a man who introduced himself as Gifton. Gifton noted Ibrahim's tenacity and talent, but also noticed that Ibrahim needed considerably more training. Sharif explained that they had just moved from Ottawa, Canada, where the soccer ecosystem was somewhat lackluster, and quality training that would prepare his sons to play in Europe was simply not available there.
Gifton offered free training for both Ibrahim and Malik, including regular private sessions. "There was a notable difference in the quality [of training] with Gifton," Sharif says. "Ibrahim improved significantly, and suddenly with Malik there was uncovered potential." After looking on the internet, Higazy realized that Gifton was actually Gifton Noel Williams, a professional English soccer player. After only a few months of training with Williams, Malik moved to the Arsenal academy. As for Ibrahim, after a six month trial with a top academy, he will be signing next month.
The success of his sons has left Sharif with the desire to offer the same kind of opportunities to like- minded children and youth in his old community. He wants to offer Ottawa a soccer academy that is focused on training players to the level expected by European academies, rather than on making a profit. The GNW Lions is coming to Ottawa to fulfill that desire and the coaching staff will be spearheaded by none other than Gifton Noah Williams. Gifton is not the only big name in the GNW Lions ranks: Carlan Edgar, an Arsenal FC coach, will be the U5-U15 lead coach; and Mikhael Jaimez, a former pro who played in the English, Romanian, and Venezuelan leagues, and who now coaches QPR U21 Goalkeepers will become the GNW Lions Goalkeeper coach.
"We have international players and coaches. It's about passion, wanting to make a difference. Big legends are moving to Ottawa for the first time. [This is] very different than anything else in town. This is not a money making machine, it's not about a logo, it's about quality," Sharif says. "Every player will be trained by and interact with these big name, professional coaches. We have coaches lined up to come train you. If we get more kids, we get more big coaches."
The academy doesn't end with star coaches, however; Williams says, "we are carefully building a world-class network of scouts, sports scientists, and coaches from Arsenal, Chelsea, Watford, QPR and other pro clubs. " Similarly, Edgar notes that the academy is interested in cultivating "long term development."
The academy will open this summer with summer camps beginning July 10 for ages 5-18, with programs for all levels, for both girls and boys. The camps will take place at the Terry Fox Athletic Facility in Mooney's Bay Park, and despite the big names on the coaching roster, the camps will remain affordable. At $275 per child per week, Sharif stresses that the academy's goal is not profit: the goal is to add value to the community. He also stresses that the academy will welcome and support children who just want to play for fun, not just those who hope to play professionally; "the club will be non-elitist," Sharif states.
Gifton, along with Ibrahim and Malik, will be coming to Ottawa soon to get everything set up and begin advertising in earnest.
More information can be found on the GNW Lions' website.
Follow GNW Lions on Facebook here
This article was produced exclusively for Muslim Link and should not be copied without prior permission from the site. For permission, please write to info@muslimlink.ca.