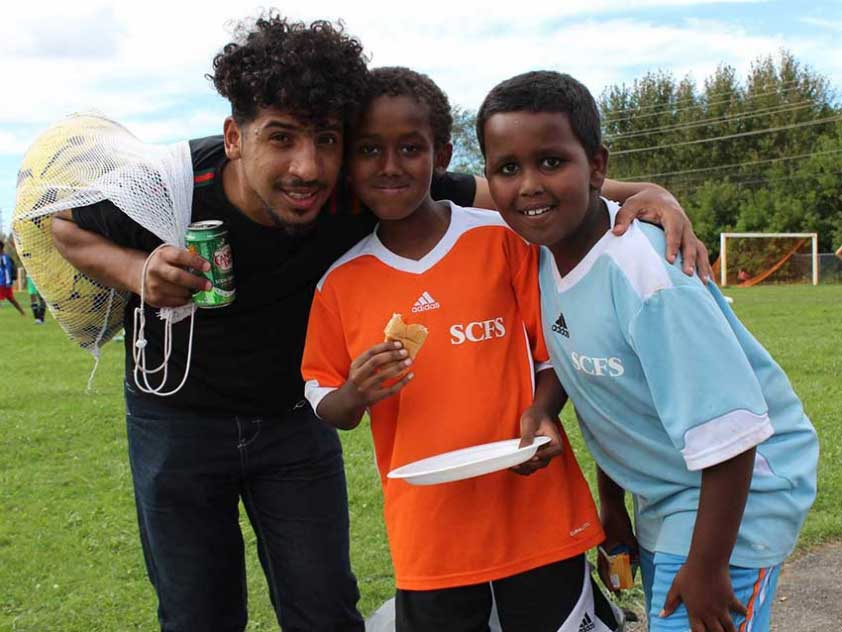 Members of the Somali Centre for Family Services Soccer League
Courtesy of SCFS
01
Oct


2014
A Tool for Integration: The Somali Centre Soccer Program
Written by Naima Shegow
Goal! A cheer recognized across the globe by enthusiastic fans. Soccer, or football as it is internationally known, is just one of the programs offered for multiethnic Canadians and newcomer youth between the ages of 5-18 at the Somali Centre for Family Services (SCFS).
The SCFS Soccer League has been around for close to nine years and is been growing rapidly. In the program, youth learn valuable skills such as teamwork, communication, and sportsmanship while having fun. SCFS recreational programs go beyond the traditional components of language and community integration. The organization has attempted to unite its youth population from various ethnic backgrounds through a shared love of sport and recreation. Soccer is very popular in all the countries our clients come from, such as Somalia, Iraq, Syria, Yemen, and Mexico. To give them the ability to play and compete in soccer as an organized sport, develop new life skills, and make new friends is something we as organization and youth department take pride in.
In 2012 there was a large influx of newcomer children in our community. In time, the demand for soccer programs has also grown. The diversity of the program stems from the fact that we are open to the general public. This enables our players to build bridges with all walks of life. Our mission for the program is to promote a healthy lifestyle through physical activity. This summer we had had 21 teams in our SCFS Soccer League and roughly 320 players in total.
Since there was huge demand for junior teams, this year we are introducing two indoor soccer teams: one for children seven and under, and another for children between nine and eleven years old. Registration for this program opens Monday October 6th from 6:00pm to 7:00 pm at Ridgemont High School and Charles Hulse Public School.
To learn more about SCFS's Fall recreational programming visit http://www.scfsottawa.org/events/events-24-09-2014.php or contact Samatar Yusuf at 613-526-2075 ex. 226 or This email address is being protected from spambots. You need JavaScript enabled to view it.
Naima Shegow is the Youth Projects & Programs Manager of the Somali Centre for Family Services. ■
This article was produced exclusively for Muslim Link and should not be copied without prior permission from the site. For permission, please write to info@muslimlink.ca.