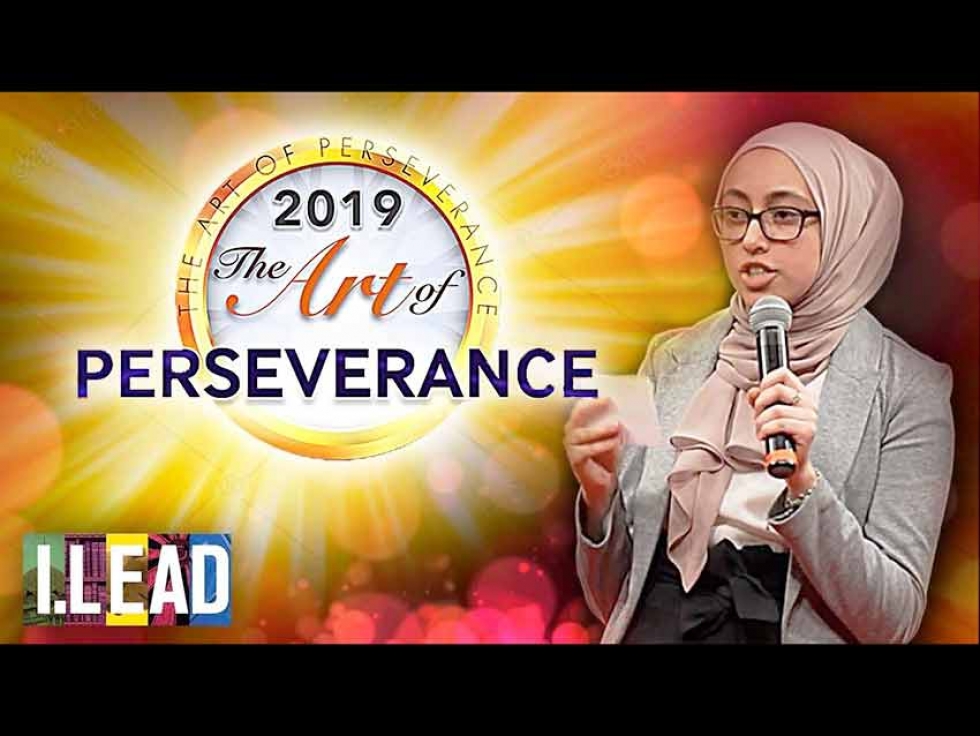 Yumna Nummer participated in iLEADx and presented her speech on Social Justice in Islam at the annual I.LEAD Conference in 2019.
ILEAD
03
Mar


2020
For Ottawa Muslim Youth By Ottawa Muslim Youth: Innovative ILEADx Puts the Next Generation's Voices Centre Stage at This Year's ILEAD Conference
Written by Chelby Daigle
Starting in 2019, Ottawa's annual Muslim Family Conference, the I.LEAD Conference, launched iLEADx, a speech and talent competition for local Muslim youth by local Muslim youth, organized in a style similar to TEDx Talks.
The iLEADx Speech and Talent Competition is taking place this Sunday, March 8 at Carleton University, the competition is free to attend, for more details click here.
Winners of the competition will then present at the I.LEAD Conference on Saturday March 21, for details about the conference click here.
Muslim Link interviewed Yumna Nummer, a past winner of iLEADx and the current coordinator of the competition, about the importance of this innovative addition to the annual I.LEAD Conference.
1. Tell us about yourself
My name is Yumna Nummer, I'm a second generation immigrant from Egypt and was born and raised in Canada. I am currently in my first year of Political Science at Carleton University, alhamdullilah (Thank God). I am passionate about volunteering in the Muslim community and I love reading! I am interested in Middle Eastern and Western politics and in Islamic studies.
2. How did you become involved in the annual ILEAD Conference?
I was involved in ILEAD a couple of times both as an attendee and a volunteer. Last year, I saw the advertisement about the first ILEADx competition, and I was excited to sign up because I always had a passion for public speaking, but I didn't really know where to start. I had spoken a couple of times at my high school but this would be the first time I could study an Islamic topic in depth and speak about it, which is something I always wanted to do.
3. How did the concept of ILEADx come about?
ILEADx is a new concept as it was only introduced last year. It follows the idea of TEDx, where individuals are given the opportunity to share their ideas and learn from others. In ILEAD's case, the platform is given to youth to give them an opportunity to do just that. There are two streams: a speech competition and a talent competition.
4. Tell us about your experience auditioning and then participating in ILEADx last year.
I loved the experience of ILEADx. I chose the topic of social justice in Islam, and did some research online and from books. This was probably one of my favourite parts because I love learning about Islam and once you start researching, you realize that there's a lot more to your topic than originally thought! I took part in the audition and received good feedback from the judges. They gave me tips on how to make my message more effective and how to present Islamic knowledge in a reliable manner. I competed at the ILEADx competition, received more feedback, and got third place alhamdullilah! This meant that I could speak at the ILEAD event itself, which was pretty nerve wracking but also a great way to push myself out of my comfort zone.
(You can watch Yumna's speech at the I.LEAD Conference in 2019 below, it make take a few moments for the video to load from YouTube)
5. What role are you playing as the iLEADx co-coordinator this year?
I work with the ILEADx team. The team works on advertising, updating the website, and finding judges. My focus is delegating tasks to the rest of the team and also booking rooms, coordinating the auditions and competition, and updating competitors about dates and other important details regarding the competition.
6. Why do you feel it is important that youth speakers be incorporated into the program of a Muslim Family Conference, like Ottawa's annual I.LEAD Conference?
The more that anyone gets involved in something, the more they will learn, grow, and be able to find their passions. This is definitely the case for youth who need to be provided with spaces to attempt doing Islamic research or practising a talent or improving their speaking skills. It's easy for youth (including myself) to look at older, more qualified speakers or performers and think that they can never be in the same place of that speaker or performer (this is not denying their value as we all surely learn from our blessed scholars' knowledge and wisdom). Having some youth in that same position can inspire others to learn those things that they might not have otherwise.
Not only that, but our Muslim youth have some seriously good talent and valuable insights to share with the rest of the community. We can all learn from each other if we are given the spaces to, and hopefully, ILEADx can be a starting point for that in Ottawa.
7. What advice would you give to other Muslim organizations that would like to create a similar platform to iLEADx in order to amplify youth voices in their spaces?
I would say something really important to keep in mind is that size doesn't matter. Even if you only start with 5 or 10 participants, it's better than nothing, and it will get the momentum going. Sometimes, people are hesitant to start great initiatives like this because of the "go big or go home" mindset, but it really shouldn't apply here. Running something like this also doesn't take a lot of work necessarily, you only need a few people with the drive to serve the community. Even if one person benefits, with the right intentions, you will gain lots of reward inshallah (God Willing).
To learn more about the iLEADx Speech and Talent Competition taking place on Sunday, March 8, click here.
To learn more about Ottawa's annual Muslim Family Conference, I.LEAD talking place on Saturday, March 21, click here.
This article was produced exclusively for Muslim Link and should not be copied without prior permission from the site. For permission, please write to info@muslimlink.ca.