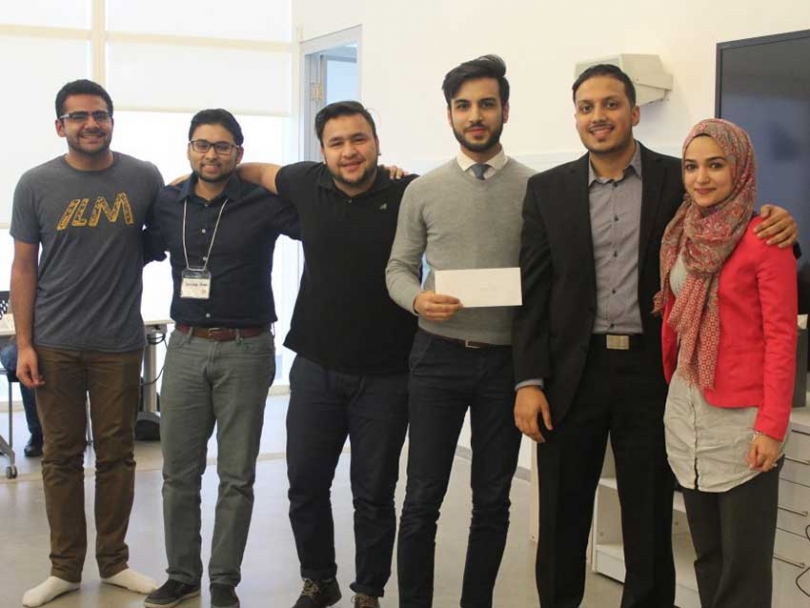 Davoud Sarfaraz (holding the envelope) and his team members won first prize at ILM Weekend for their product SeerahBOX.
07
Mar


2017
SeerahBOX Wins First Prize at Hackathon for Muslim Canadian Entrepreneurs
Written by Chelby Daigle
ILM Weekend, a "hackathon" for Muslim Canadian entrepreneurs, debuted in Toronto this past January.
Working over two days, with access to some of the top mentors in the fields of entrepreneurship and technology, teams of contestants developed innovative ideas and products to address problems Muslims currently face.
Muslim Link spoke with ILM Weekend's first prize winner Davoud Sarfaraz who worked with his team to develop the idea for SeerahBOX, an innovative product designed to help Muslim children learn about their faith in a fun and interactive way.
Tell us about yourself and your team.
We have a team of five dynamic individuals with diverse backgrounds. I am a former grade 12 English teacher and presently I work with the Ministry of Education. We have two physicians in our group; one who is a father of three young kids and an entrepreneur; the other has a keen interest in education and mental health. Another team member is studying Kinesiology and has lot of experience with coaching kids. Finally, we have a grade one Islamic school teacher who enjoys teaching and engaging young children.
We have all been either born or raised in Canada. We all realize how important it is to have positive role models when growing up. That is why we came up with the idea of a Muslim subscription box with quality educational material to help kids develop a confident and strong character, Insha'Allah (God Willing).
How did you learn about the ILM Innovation Weekend and why did you want to participate?
We heard about the ILM Innovation Weekend through word of mouth. One of our team members frequents Ryerson University regularly and happened to hear about it on campus. We were very excited to participate in the event as it was a unique opportunity to develop and present an idea for the Muslim community.  We are also very supportive of fostering Muslim entrepreneurship so we can contribute to society by building companies, creating jobs, and reinvesting in the community.
Tell us about how you came up with your product?
Our first step in coming up with SeerahBOX was to examine some of the needs of our community. Every parent wishes their child to grow up with a strong character and good values. We have plenty of incredible role models in Islamic history, particularly from the Seerah (life story) of Prophet Muhammad (peace be upon him).
The challenge we face is how to make this material interesting and engaging for young children. We hope with the SeerahBOX kids will be able to learn about Prophet Muhammad (pbuh) and his companions in a fun and interactive way. They will receive the SeerahBOX every month, and it will be filled with fun and exciting activities and surprises. Each month will focus on a different character from the Prophet's Seerah and in the process we hope kids will not only learn about amazing role models, but will also develop strong Islamic characteristics and morals.
Why do you think there is a gap in the market for this type of product?
Children learn in a variety of ways. Some are keen on spatial activities, others on visual or auditory, and some explore logically and socially. With SeerahBOX we plan to incorporate a multitude of research-based learning styles designed to engage children. Most importantly, the activities will be fun. They will combine aspects of reading, listening, independent crafts, and family projects. The content in the box will be high-quality and uniquely designed by our team through research in collaboration with teachers, scholars, and experts. Currently there is no other product that incorporates all these aspects in a subscription box that is delivered conveniently to the child's home.
Tell us about the ILM Innovation Weekend experience. What were some of the highlights for you?
It was a phenomenal experience! The organizers did a great job getting everyone excited about the event and providing an opportunity to showcase amazing talent in the community. I believe the event was open to even non-Muslim participants to develop a product for the expanding Muslim population. It definitely brought attention and awareness to the Muslim cause and some of the challenges we face balancing our religious, personal, and professional commitments.
Before the event, we received good support from the organizers helping us get registered, letting us know what to expect, and setting up a Slack group to network with participants online. The event had some amazing guest speakers, mentors, judges and, of course, delicious food! The venue at the Launch Zone, Ryerson's Student Learning Centre, was very conducive to brainstorming ideas and working as a team in some of the multimedia rooms. The best part was having the opportunity to interact with and learn from all the other individuals and teams. It was very encouraging to witness the cohesiveness and skill everyone brought to the table. The highlight for us was having the opportunity to network with many successful Muslim entrepreneurs who all had inspiring stories.  
What was one of the toughest questions the panel of judges asked you?
The toughest question they had asked us was "What is your break-even point?" This was tough because we actually hadn't calculated our financials in that much detail.
How did it feel to win first place? Tell us about your prize.
It was a great honour and an amazing feeling to win first prize at the event. We competed with 13 other teams with incredibly creative ideas. Many of them were very technological and heavy on coding. Because of that we really didn't think that we would win with our simple idea. The first prize was a cash value of $1,500 which will go a long way in getting us started with our business. Winning the first prize meant a lot because it also gave us strong validation about our product and what we hope to accomplish. All the encouragement and support we continue to receive gives us a big boost to make our idea become a reality very soon, Insha'Allah.
Why do you think events like ILM Innovation Weekend are something more Muslim communities should try to organize?
The ILM acronym stands for "Innovate. Lead. Mobilize." There are numerous reasons why more communities need to have entrepreneurship-oriented events and resources like the ILM weekend. Firstly, it helps to network with people with skills and business backgrounds to facilitate new ways of solving problems. Finding a mentor is a key factor in reaching one's full potential, especially for budding entrepreneurs. Events like these bring together like-minded people who are trying to make a positive difference to make the world a better place. That is infectious!
These events encourage creativity and innovation that are essential in building a stronger community and economy. For example, just a few days ago, Starbucks announced that it would hire 10,000 refugees around the world and Br. Mohamad Fakih of Paramount Fine Foods made a similar commitment of hiring Syrian refugees at his restaurants. We can only imagine how these jobs change the lives of people!
The more we can encourage people to think big and think inclusive, the more we can progress as a society by giving back to the community, helping support humanitarian initiatives, and strengthening our economy. Events like ILM Innovation Weekend are much needed in order to foster a sense of creativity and innovation in our youth and community to help improve the life of others.
What are the next steps you will be taking to make SeerahBOX a reality?
Our next step is to work very hard to develop our business plan and finalize our product. We wish to develop a quality product that will have a real impact on kids' and people's lives in a positive way. Right now we are focusing on developing our content and sourcing the right material for SeerahBOX. In the upcoming weeks we will be doing a lot of research with our potential market to help finalize a product that will be well received by all.
The term "Seerah" means travel, and we want to take kids on a fun journey to learn and get inspired by all the wonderful Islamic role models. We encourage you to visit our launch page at SeerahBOX.com and register so we can keep you updated on our latest activities.
Thanks to ILM Weekend we are off to a wonderful start, and with the support and feedback of the community, we hope to launch SeerahBOX later this year, Insha'Allah.
Stay Tuned!
This article was produced exclusively for Muslim Link and should not be copied without prior permission from the site. For permission, please write to info@muslimlink.ca.