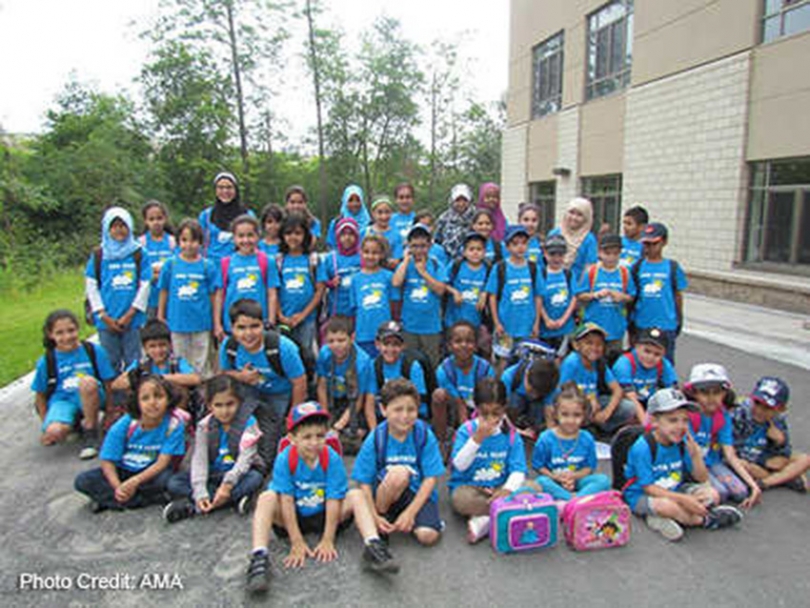 12
Aug


2013
Where can you make the yummiest treats, go on the most amazing field trips, make creative crafts, listen to exciting Islamic lessons, prepare for the most entertaining talent show and meet the coolest friends?
The correct answer is Assunnah Muslim Association's Summer Day Camp. The AMA's first ever day camp took place from July 1-5 at the AMA Mosque on Hunt Club Road. The camp provided a place for kids aged 6-12 to have fun, prepare for Ramadan, and share in exciting adventures with Muslim friends in an Islamic environment. The theme of the camp was "Pray and Play at AMA" so the campers participated in sports and activities, arts and  crafts and learned a lot about prayer and its importance in Islam throughout the week. Campers began each day with supplications and Quran recitation, played games together, attended their daily Islamic lesson and made crafts. They also played outdoor sports, learned about gardening by planting flowers, made fruit kebabs and "dirt cup" snacks and enjoyed presentations from different community members.
The Ottawa Fire Department provided an interesting and fun-filled presentation on fire safety, which involved the kids trying on the fire fighters' clothes and dousing a fire via an interactive station.  One of the campers' favourite activities was when they got to make their own sundae and eat it. They also loved the presentation by Little Ray's Reptiles and the field trip to Saunders Farm. 
 "It was the best trip ever," said Ahmed, a six- year-old camper, "especially the jumping pillows!"
There were 47 children enrolled in the camp and more than 15 volunteers helped to ensure the camp remained organized and on schedule. 
"We are very grateful to the wonderful volunteers who helped ensure the camp's success.  We couldn't have managed without their dedication and commitment," said Salma Haslam, one of the organizers from the AMA Sisters' Committee.
Many kids enjoyed the wide variety of arts and crafts, especially the art workshop by a local artist.   Seven-year-old Betul Ben Ghwilah enjoyed making an Eid card and thinks the only way to improve the camp would be "to add more art!"
Gardening was also very exciting as many of the campers never tried it before and were thrilled when they found out that the flowers they grew were arranged to spell out "AMA". As a result, AMA now has a beautiful garden in front of the mosque thanks to little green-thumbed campers.
Every morning there was an Islamic lesson about prayer with topics such as Israa and Miraj, how to tell the time for prayer by using the sun and, for the younger campers, how to make wudu'. 
"We were very pleased with the overall success of the camp," said Heba Mohamed, another camp organizer, "There is always room for improvement, of course, but everything went smoothly considering it was our first year."
The camp culminated in a Talent Show and BBQ for the community on Friday evening which was a great success. Now that the campers have spent a week together playing, praying and forming new friendships, many are already excitedly anticipating next year's camp!  
This article was produced exclusively for Muslim Link and should not be copied without prior permission from the site. For permission, please write to info@muslimlink.ca.