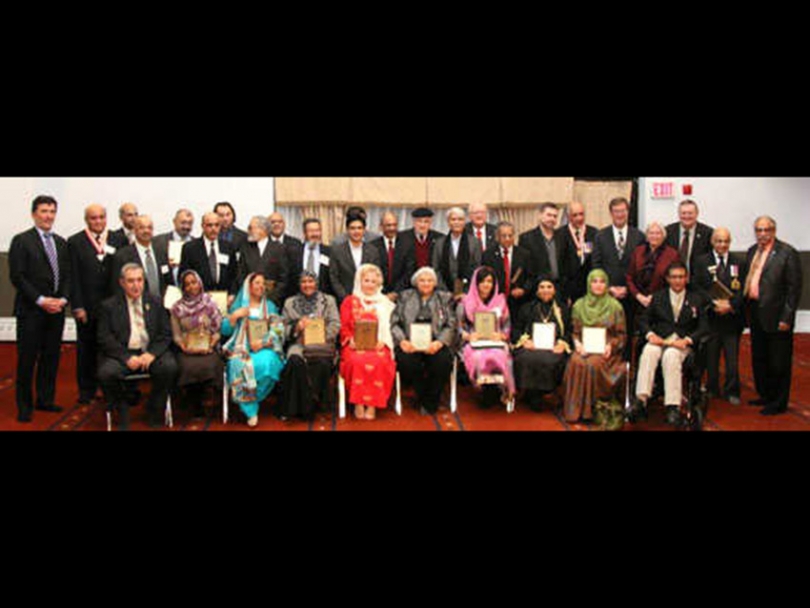 19
Feb


2013
It was a defining moment for the growing Muslim community as members of disparate organisations and associations came together to celebrate the achievements of their own.
The Jan. 19 event, hosted by the Muslim Coordinatin
g Council (MCC) and the Ottawa Muslim Association (OMA), honoured 20 Ottawa Muslim recipients of the Queen's Diamond Jubilee Award.
"This is the first time in Ottawa that 42 Muslim organizations joined hands in a community-wide celebration of our contributions to Canada," the MCC said in a statement issued after the event.
The reception took place in the prayer hall of the Main Mosque. Organizers felt that it was symbolic to host such an auspicious event at Ottawa's first mosque.
The Ottawa Muslim Association took the opportunity to honour the families of the late Hussein Ghadbane, the late Mohammad Ghadban, and Shano and Nusret Bejkosalaj who helped build Ottawa's first mosque, and who have supported the initiatives of OMA since its inception in 1962.
The current president of the OMA, Mohamed Ghadban was visibly moved during the presentation of awards in memory of his late father and uncle. Mr. Ghadban shared a personal story of how Nusret Bejkosalaj gave him his first job at the age of 13 at his restaurant and spoke about how Nusret was instrumental in giving many Muslim immigrants their first jobs when they arrived in Ottawa.
Mayor Watson took the time to acknowledge the work and dedication of Nazira Tareen in particular, who was nominated for the Queen's Diamond Jubilee Award by Liberal MPP Bob Chiarelli, and back in November 2012 was also awarded the Order of Ottawa by Mayor Jim Watson.
"I can't tell you how proud I am as mayor, of the dedication, the calibre and quality of individuals who are being recognized and the breadth and depth of your gifts to our community," said Mayor Jim Watson during his speech at the reception.
Mayor Watson continued his speech by stating that, "it is inspiring to see communities such as the Muslim community working together with wisdom, discipline, mutual respect, with open minds and spirits to make our city the great place that it is."
"The people who we are honoring tonight have done great things, but I hope that they will inspire the next generation of Muslim Canadians and others from our community," he added.
When Conservative MP Royal Galipeau stated, "we are recognizing 20 meritorious citizens, not just Muslims, but Canadian citizens", the hall rang with applause.
NDP MP Paul Dewar took the opportunity in his speech to emphasise his understanding of Canadian values as a respect of diversity and a desire to help those in need. He stated that "all of us know that we are all better when we help each other out and at some point in our lives every single one of us has needed a helping hand, the people we are celebrating tonight understand that, I think we all get that, but it's a matter of to what degree we actually exhibit that."
He went on to share his own definition of what it means to be Canadian, "a Canadian is not about what you look like or where you were born, it's about how you live your life and what you do that defines who we are and how we demonstrate ourselves as Canadians."
The MCC acknowledged the support of Liberal MPP Yasir Naqvi who encouraged his constituents to nominate members of their communities for the award who have demonstrated exceptional community service.
The Muslim Coordinating Council also showed appreciation for the work of some of their most dedicated volunteers such as Sarwat Humayun who has spearheaded MCC's e-mail newsletters which have grown to become one of the most reliable sources for the community to learn about events, job opportunities, and other useful information.
City councillors, provincial and federal members of parliament, members of the Ottawa Police Service and the Royal Canadian Mounted Police were invited to attend the reception and came out in large numbers. The event also drew the attention of mainstream media such as CTV, CBC, Rogers Community Television and the Ottawa Citizen.
The Government of Canada has honored some 60,000 Canadians with the Queen's Diamond Jubilee Award which marks the 60th anniversary of Queen Elizabeth's accession to the throne.
Selected List of Muslims who were honoured at this event:
Abdulnaser Ali Atef played a key role in the Yemeni community`s integration with the mainstream. He published the first Yemeni newsletter across Canada as a Yemeni Voice in Canada in Arabic and English and established an Arabic school classes for Yemeni children.
Mobeen Khaja promotes peace and cross-cultural understanding between Muslims and other religious and ethnic groups. He founded the Association of Progressive Muslims of Ontario and Canada. To fight intolerance Mr. Khaja has worked with churches, the police, tourism officials, governments, schools and communities to break down cultural stereotypes and misconceptions and replace them with understanding.
Dr. Sheema Khan has written a monthly column for the Globe and Mail since 2002. She is the author of "Of Hockey and Hijab: Reflections of a Canadian-Muslim Woman". She holds an M.A. in Physics and Ph.D. in Chemical Physics from Harvard. She founded CAIR-CAN and served as its chair. She contributed to the anthology "Omar Khadr: O Canada". In 2012, she, along with the Muslim Resource Centre of London, Ontario, established "The Family Honour Project" to combat the honour-based violence.
Ernest Tannis is a pioneer in Alternative Dispute Resolution (ADR) mediation/negotiation and has written books and articles on the subject. He is co-founder of charities, including Reach Canada which provides free legal services and educational programs for Persons With Disabilities. He co-founded the Canadian Institute for Conflict Resolution. He is pro bono lawyer for GAATES, a world leader in advising governments on serving persons with disabilities. He has received awards for his weekly radio series on CHIN radio.
Hodan Mohamed is a policy analyst in the public service. She is also a PhD candidate in Population Health at the University of Ottawa. She works from an anti-oppression perspective and social justice. She serves grass-roots organizations including Sahan Literary Forum""enabling writers about the Horn of Africa to give free public talks"" and the Canadian Somali Mothers Association, which combats youth delinquency.
Nasir Islam served as Chairman of the Department of Political Science at Laval University and Director of the MBA Program at the University of Ottawa. His academic work has been published in international journals. The international Association of Schools and Institutes of Public Administration gave him the Pierre de Celles award for academic excellence in 2003. He provided sensitivity training for the Canadian Armed Forces Personnel and Foreign Service Officers posted to Afghanistan. His contribution was lauded by the Privy Council Office.
Mazhar Mufti was nominated by the RCMP for his dedicated volunteer services as national treasurer for the RCMP Veterans Association.
Lt. Cdr. Wafa Dabbagh became the first Muslim woman wearing hijab to join the Canadian armed forces. As she lay in the hospital dying of cancer she was presented the award for "her dedication to duty, her cheerful spirit and for improving understanding between Muslims and the Canadian military." Deceased 5 June 2012.
Altaf Sovani is the Chair, School of Hospitality, Tourism & Wellness at Algonquin College. He is a certified Hospitality educator and has provided leadership, management and administration at Algonquin and has forged partnerships with Industry.
For more biographies of Ottawa Muslim award recipients read this article.
This article was produced exclusively for Muslim Link and should not be copied without prior permission from the site. For permission, please write to info@muslimlink.ca.