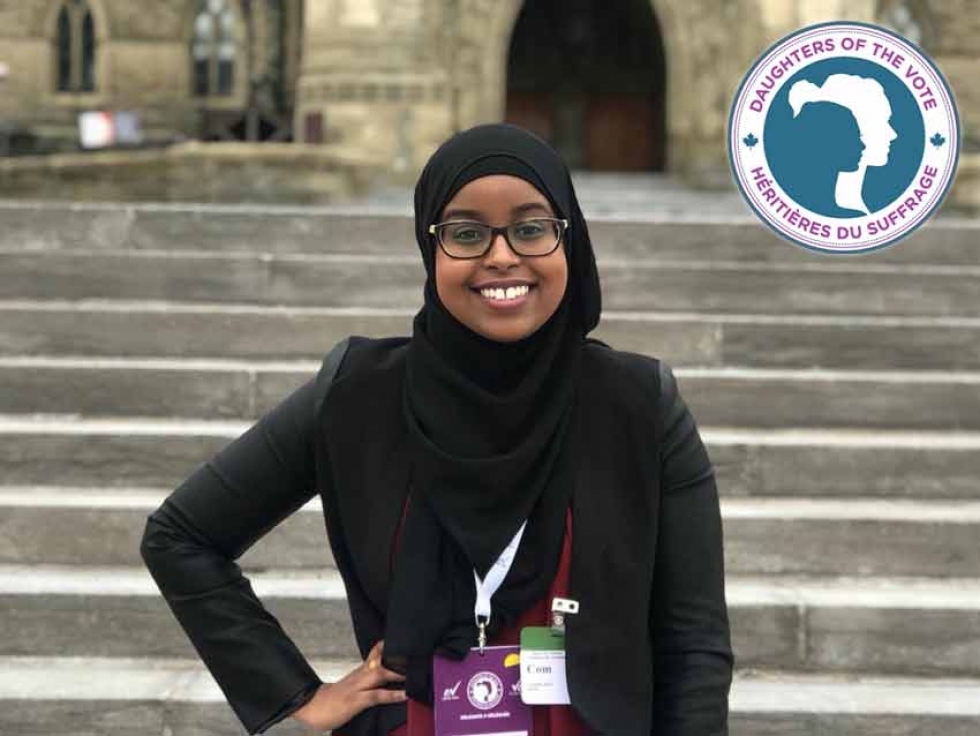 Somali Canadian Yasmin Dini represented the riding of Brampton-East, Ontario at Equal Voice's second Daughters of the Vote gathering in early April 2019.
04
May


2019
Muslimahs on Parliament Hill: Yasmin Dini from Brampton-East, Ontario
Written by Making Headlines
Somali Canadian Yasmin Dini represented the riding of Brampton-East, Ontario at Equal Voice's second Daughters of the Vote gathering in early April 2019, which brought together 338 young women between the ages of 18 and 23, representing each Canadian riding and take their seat in the House of Commons during a historic sitting of the House of Commons. They were addressed by every federal party leader, and engaged with an array of Ministers, critics and advocates.
Daughters of the Vote (DoV) was aimed at encouraging more young women to become involved in Canadian politics, a space where there are still challenges to gender equity.
Muslim Link had the opportunity to interview several of the young Muslim Canadian women who were selected to participate in this historic event, including Yasmin.
Tell us about yourself.
As-Salaamu `Alaykum! I am a documentary enthusiast, a stroke survivor, and a news fanatic. I am the daughter of refugees who had made Canada their home after the Somali Civil War broke out in the early 90's. I have grown up with a deep understanding and pride in my Somali Canadian identity. During Daughters of the Vote (DoV) I had the honour of representing my riding of Brampton East, a diverse and vibrant riding.
I study Global Health at York University which has allowed me to explore my interests of social justice, healthcare, and technology. My real pride and joy is grassroots organizing on issues such as gender equity, housing, and health promotion with a specific focus on youth empowerment. This has allowed me to connect with fantastic advocates across the GTA who all have the common goal of working towards a more fair and just society.
As part of the Girls on Board initiative of G(IRLS)20, I was selected as a 2019 Young Director and have now joined the Board of Directors of the Canadian Mental Health Association, Ontario.
Tell us about the riding your represented in the House of Commons. What challenges socially and economically is the riding facing? Do you feel that many in Canada know about and/or understand these challenges? How do you hope to increase awareness about the challenges your riding faces to broader Canadian society?
Brampton East is a fast-growing diverse community. This community faces similar challenges as other communities across the country. Some of the key issues are affordable housing, poor healthcare services/infrastructure, employment, and education. Brampton East, like many other communities, has rising housing costs for both renters and homeowners alike. This makes it difficult for those who want to enter the real estate market or just need an affordable place to call home. Secondly, healthcare infrastructure in Brampton is chronically underfunded and with a population of 600,000 people, we have only 1 full service hospital operating with constant hallway medicine does not meet the demand. Moreover, there is a lack of employment opportunities for both older adults and youth alike, this causes people to have to constantly leave the city for work. Finally, Brampton ranked as the 9th largest Canadian city in 2018, however it was only 1 of 2 on the top ten list that does not have a university in its region. Hence, the issues facing people in my riding of Brampton East are merely symptoms of larger systemic issues and I think Canadians from coast to coast can relate. I hope that by raising awareness about the root causes of these issues, particularly lack of investment, there can be widespread solidarity and collective action.
As a young woman involved in politics, what challenges, if any, do you face? Do you feel that the presence of more young women is changing politics? If so, how?
The main challenge I find as a young woman in politics is the intense pressure to conform; aesthetically, ideologically, etc. Politics has never been and continues to be a space that is exclusionary to womxn. Even as womxn's rights began to be a topic of discussion in this nation, it didn't deviate from the established norm of homogeneity with cis-white males. Certainly as a Black, Somali, veiled Muslim woman who believes in extremely progressive policies, I do not fit into that mold.
I am quite happy with the increased presence of of young womxn in politics. I believe it is important to have women well-represented in policy development. I was pleased to see womxn introduce policies that identify or address key issues such as the pink tax, childcare, healthcare, or the wage gap. This comes with a small critique that there needs to be a concerted effort to ensure that diversity is surpassed to have meaningful inclusion and that the womxn who are elected are committed to change, not continuing the status quo.
By attending Daughters of the Vote (DoV) you had an opportunity to meet young women from across Canada. Did any of the realities they shared challenge you to unlearn some assumptions about your fellow Canadians or seek out knowledge about issues you had otherwise not known about your fellow Canadians ? Please elaborate.
DoV allowed me to connect with individuals from across Canada and have meaningful discussions about the challenges they face. It was humbling to hear the resilience of these individuals in the face of great adversity. I was particularly pleased to be able to sit with my sisters from every background, religious groups, Indigenous groups, and other intersecting identities to have discussions that highlighted that we are all one. The challenges we face were often quite similar at its root and to be able to provide support navigating the difficulty of sharing your story was precious to me.
As it is an election year, what will you be doing to try to get out the vote in your riding?
I will be working with a grassroots organization in my riding to promote civic engagement amongst all peoples, especially youth. I truly believe that in order to be a real democracy we should be actively educating people about the process of voting, ensuring people are not excluded or stripped arbitrarily of their right to vote, and that they have a say on what issues are important to them. I wish to see more of those most disenfranchised by the system exercising their right to vote.
What is the key lesson you learned from your experience at DoV that you will be taking back into your work in your riding?
The key takeaway I gained from my DoV experience was that one should value learning. My time at DoV was consistently characterized by actively listening to what people had to say. I learned so much by just sharing values and experiences with my fellow delegates. Valuing learning also allowed me to be able to find the knowledge to formulate counter-arguments when someone was spewing hateful rhetoric or ill-advised policies. I call upon all to use whatever knowledge they wish; elder/Indigenous knowledge, academic knowledge or lived experience to share and continuously learn.
DoV solidified the idea that the liberation of my communities; black, muslim, womxn, or differently-abled are all deeply connected to the liberation of each other and other communities such as Indigenous, LGBTQ+, other religious groups etc. I wish to see the self-determination of all marginalized groups now, not later. This vision requires active collective organizing amongst us all and deep solidarity.
Fighting for your own rights does no one good, we must stand side by side with all peoples and demand change. Educate yourself on the root causes of systemic issues, recognize your own bias, and be prepared to call in or call out. I want to help build capacity within people in my riding to take up space and become leaders. I will return to my riding with a renewed commitment to be intersectional and maintain a feminist, anti-colonial, anti-capitalist, anti-oppressive, LGBTQ+ affirming perspective in my personal and professional life and I implore others to do the same.
Remember the quote, "None of us are free until we all are".
Follow Yasmin Dini on Twitter and LinkedIn
This article was produced exclusively for Muslim Link and should not be copied without prior permission from the site. For permission, please write to info@muslimlink.ca.